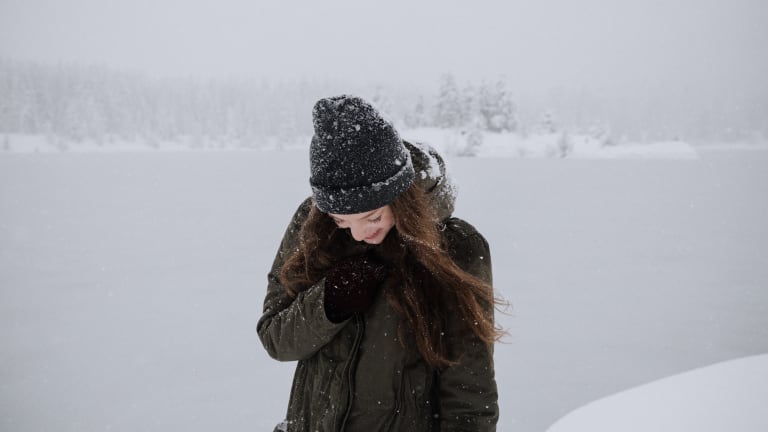 Winter Survival Guide: Creating a Winter Bucket List
Bucket lists don't need to be summer-exclusive— give yourself a fun direction this winter.
I am what they call a freeze baby. I absolutely love being curled up inside with a cozy blanket with a steaming cup of cocoa in my hands, watching soft flakes of snow fall from the sky—but being bundled up outside like a snowman is not something I anticipate with the same happy sentiment. Especially in the Midwest, where winter weather can linger as late as April, my poor disposition toward cold weather can make the winter months seem long. I usually just try to get through them.
But this year I have decided that just trying to make it through winter is not going to cut it; I am determined to make the best of it—to embrace whatever January, February, March and even April have to offer. To help me maintain a positive attitude, I've created a winter bucket list. Having a list of goals for the winter gives you something to look forward to and will make the cold, dark nights of winter something to think of fondly. Whether your goals are weekly or monthly, they'll give you the fun rhythm of a new activity to look forward to throughout the winter season. Before you know it, you may be sad to see the snow go!
First, get outside! Try one of the following ideas:
01. Snowshoe
When I was in elementary school, I went on a field trip to a nature preserve where we learned how to snowshoe . . . at least in theory. At the time, I couldn't quite get the hang of it. Thanks to technology, snowshoes have come a long way and I am looking forward to giving it another shot! If you don't have snowshoes of your own, they are inexpensive to rent—some state parks rent them for less than ten dollars a day. If you are a beginner, I would recommend starting on flat terrain. Once you get the hang of that, you can rent rolling and mountain terrain snowshoes, equipped to transfer you through steep hills and icy conditions.
02. Candlelight Events
Though the sun has started to set later, we still have many long nights to go—nights full of opportunity for candlelight events. Check your state's Department of Natural Resources to search for outdoor evening adventures in your area. Where I live, the Department of Natural Resources website has a schedule of events throughout the winter, showing which parks remain open after sunset and when visitors can enjoy easy, walkable trails illuminated with lanterns or other kinds of lights; some even offer cross-country ski or snowshoe rentals.
03. Make a Door Swag
Is your Christmas wreath turning brown? Replace it with a DIY winter swag! I made my very first swag this year, and I was amazed by how simple it was to assemble—plus, it was so fun to pick out materials. You can follow these instructions and make your swag with just four pieces. Now go find some fun craft wire and ribbon!
04. Go Ice Skating
Although I need to build up motivation to get outside in the cold, I can't help but pair together ice skating and hot chocolate, and when you add thick, fluffy snowflakes falling from the sky, it makes the activity all the more appealing! Plus, in many cities there are outdoor rinks where skating is free. If you don't have skates, check to see if the rink offers rentals. With some research, you may even be able to find an outdoor rink with a fireplace nearby where you can warm up your hands and sip that piping hot cocoa during your skating break.
A few things to do indoors:
01. Visit A Museum
When it's simply too cold to spend the day outside, a visit to a museum can be the perfect way to spend a winter day. There are many museums that don't charge an entrance fee, or if they do, they may offer a few free-admission days each month. If you are a tree-hugger, look for an indoor arboretum in your area; or, if you are into politics, art, and history, find out when you can go on the next free tour of your State Capitol. Are you a star-gazer but can't find a dry spot to lay out a blanket in the winter? Consider visiting a planetarium or learn more about outer space at a science museum.
02. Tour a Distillery
Touring a vineyard isn't quite the same when the vines aren't green and the grapes aren't growing. This offers a great opportunity to switch up the summer vineyard tour with a winter distillery tour. Many distilleries offer hour-long tours, ranging from around $10–20 a person, where they show you how and where their craft spirits are distilled. Sometimes they even throw in a free cocktail! If you still (no pun intended) want to learn more, ask the distillery if they offer classes where you can learn how to make your very own cocktail with their house spirits.
03. Volunteer at a Food Bank
Winter doesn't let up for anyone, and this includes those who suffer from poverty and struggle to put a healthy meal on the table. Consider volunteering an hour or two of your time at a local food bank. Feed America delivers over four billion meals every year. You can find your local food bank on their website and serve with them in a variety of ways. May food banks are looking for volunteers to pack, sort, and label food as well as deliver food to schools and make phone calls. Just think of how you will make someone's day by giving a few hours of your time! Be sure to call the food bank ahead of time so they can put you on their schedule.
04. Learn a Family Recipe
In one of your remaining long evenings, give your mom or grandma a call and ask her for a family recipe to try. Not only will you have a chance to catch up with a loved one, but you may learn a thing or two about the history of your favorite cake or entree. Spend some time trying your hand at the recipe, or recreate a family recipe with your own personal spin on it. Every Christmas my mom makes a dish called Himmel Futter, which translates from German to "Heavenly Food." Think deconstructed cake. The crust is mixed with cut-up dates and ground walnuts, while the topping consists of mandarin oranges and bananas. Once the crust is baked, you crumble it on a dish, sprinkle the fruit over it, and top with whipped cream. It is unexpectedly tasty.
There you have it, eight ideas to help you build your own winter bucket list. If you try one of these a week, that's already about two months through winter—when the weather starts to get warmer, you may just be wishing for a few extra days of ice and snow. 
Our "Winter Survival Guide" articles are weekly pieces dedicated to help brighten up your post-holiday winter! Join our "Winter Survival Guide" Verily Facebook group to bond with other women through what can be a difficult season.