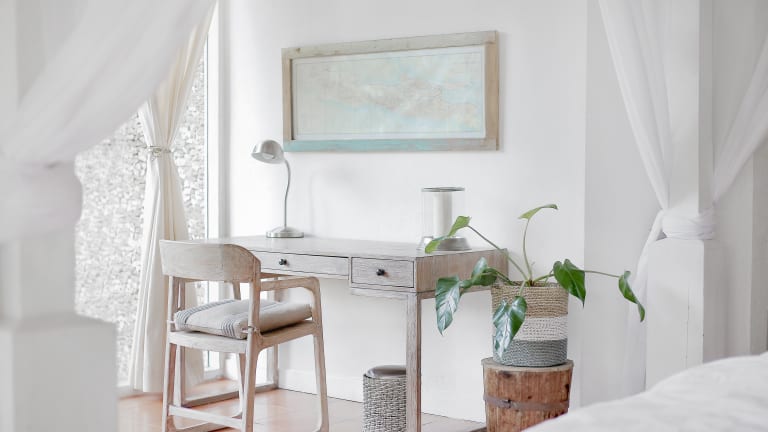 Sprucing Up Your First Apartment without Breaking the Bank
A beautiful home is within reach.
If you are renting or buying your first home or apartment, chances are that you are due for an upgrade from the dorm decor of yesteryear. While the cutesy bedspread (mine was teacup print!) and publicly-displayed pop-up hamper once had their place, you deserve a beautiful and adult living space as you embrace the next phase in your life.
However, many of us who are early in our careers and/or are moving out for the first time are decorating on a tight budget. We drool over Pinterest and Pottery Barn catalogs while we pinch pennies.
What's a girl to do?
Fortunately, the combined powers of your local secondhand store and access to online treasure troves in the digital age have made it possible to create a charming home on a shoestring budget. And I have the success stories to prove it.
Here are some tips on how to make your new place feel like home on the cheap:
01. Start popping tags.
Thrift stores often house unique finds in the way of furniture and decorations. The trick is to look with a creative eye and never compromise on quality.
Little details make a difference. I always make a beeline for the dishware at my local Goodwill. I love blue-and-white pottery, so I am perpetually on the lookout for orphaned cups and plates to hold my makeup and jewelry. Right now, I like to keep all of my earrings in a blue-and-white china saucer that I scored for 50 cents! Find a color scheme that strikes your fancy and scan the store for items that fall within that range.
Other small touches you can easily find at your local thrift store include antique books, tablecloths, and entire sets of dishware. Think in terms of color schemes and patterns.
If you prefer a more traditional look, opt for decorative items that fall beside each other on the color wheel—blue items paired with green items, red items with orange items, and so on. If you like to decorate boldly, choose items the fall on opposite sides of the color wheel—blue and orange, purple and yellow, etc.
Mixing patterns is becoming increasingly popular. You can follow the same guidelines you would for mixing patterns in your wardrobe when it comes to your living space!
You can find larger household items like lamps and curtains at thrift stores too. If you decide to purchase something made of fabric, be sure to wash the item when you get home. This step is especially important if you have allergies and asthma like I do. If the previous owner was a smoker or owned pets, a quick cycle in the washer will take out any allergens!
If you are in the market for larger items like a dining set or sofa, examine items closely before signing on the dotted line. Make sure that nothing is damaged. Check that electronics actually work. Small repairs are negotiable (try asking for a price discount when you check out!), but large problems—a kitchen table that won't stop wobbling or a couch that reeks of cats—are not.
Pro tip: If you make a larger purchase, ask the store whether they deliver. Sometimes the store will bring the item to your door for free or for a delivery fee, so you can skip hiring movers or accidentally hurting yourself in a DIY move. My best friend took this tip and purchased a nearly new treadmill—including store delivery, it cost under $50!
02. Use apps.
Craiglist, LetGo, and other websites and apps allow people to trade, sell, or even give away great stuff that would look perfect at your place. Pour yourself a cup of coffee or tea and spend an hour browsing the internet. You can also check out places like Poshmark or Ebay and search for home goods.
A friend of mine scored a nearly brand new cream loveseat in mint condition for a mere $75—a steal! All she had to do was find a friend with a truck to pick it up with her.
Which reminds me: Be smart. Make sure that you thoroughly research the condition of these items, trust your gut, and never meet up with someone you met online by yourself. Bring a friend or family member with you and plan a safe, neutral meeting spot to seal the deal.
03. Everyday household items can be pretty too.
Practical things don't need to be boring. Wherever possible, allow form and function to overlap. Dishware becomes decorative in a charming pattern; books on the shelf become conversation pieces when organized by color. Invest in beautiful things and you will be investing in yourself.
You don't have to break the bank on buying new, charming home goods, either. Your house is supposed to be expressive of who you are, which means that you should be free to use whatever items you find most pleasing! The Marie Kondo method—only keep something if it gives you joy—definitely applies here. Just think how delightful it will be to use things regularly that brighten your day.
In my case, I get a little thrill every time I pour coffee from my sleek French press into the fancy china mug that I bought new in the box from Poshmark. I get the same feeling when dusting my cherry wood bookshelf or turning off the lamp my parents received for their wedding and now have passed onto me.
Some of these items look like they came out of a catalog, and I enjoy their beauty whenever it comes time to use them. Others are more a matter of taste. The lampshade on that lamp is a tad outdated, but just looking at it makes me feel close to my family, which makes my apartment feel more like home. And the best thing about using pretty or personal things for everyday use is that you get to enjoy these items again and again and again.
As always, the secret to all of these tips is to think creatively and invest in the little joys of life. Decorate with colors that cheer you up. Make the items you use every day little treasures that give you joy.
So, just because you are decorating on a budget does not mean your first apartment needs to be sparse. With some creativity, you can create a beautiful space that is one hundred percent your own.