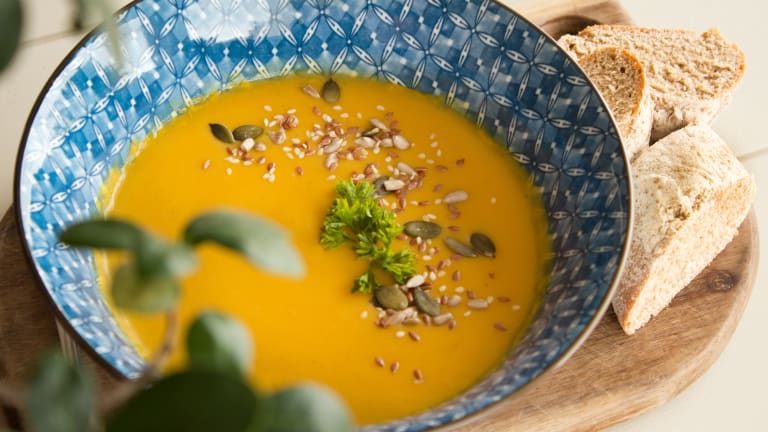 Winter Survival Guide: Cozy Winter Batch Recipes
Tasty soups and chilis you can make and freeze ahead to stay warm through the week
If you live anywhere that gets remotely cold in the winter, you know there's nothing better on a chilly night than cozying up to a warm bowl of soup or chili (no pun intended). Stocking up on winter soups, stews, and chilis for dinner not only warms us up (so we don't have to crank the heat so high!) but they are easy to make ahead of time or prepare in batches.
So, if you're busy working, studying, or parenting and don't have time (or the desire) to make new meals every night; if you don't want to waste money on takeout; or if you want something healthier than frozen pizza (again), then look no further. These soups and chilis are filled with protein and veggies, so they are healthy, filling, and perfect for a cold winter night. Bonus—they make for an easy all-in-one meal when hosting guests or friends!
The recipes listed below make a big pot, so you can freeze them in batches and warm-up as necessary. When freezing them, I recommend using medium-sized tupperware or large mason jars so that you can reheat the meals in batches. If you put the entire soup into a giant container, it makes it difficult to reheat in portions when you decide to eat it (plus, it's hard to fit huge containers into most freezers). So, freeze the soups in sizes you would want to heat up and serve at once.
Ina Garten's Winter Minestrone Soup
If you are at all familiar with the Barefoot Contessa cookbooks (my mom's go-tos), you know Ina Garten is a cooking mastermind. I don't think I've ever tried a recipe of hers that wasn't amazing. This winter minestrone is packed with veggies, has some beans for protein, and adds pancetta for flavoring. Personally, I omit the white wine that she adds at the end if I don't have it on hand, as I don't find it necessary. I also wait to add the spinach and pesto into each bowl until right before I eat it; these toppings don't freeze well and can easily be added when serving.
Averie Cooks' Easy 30-Minute Homemade Chicken Noodle Soup
I don't think there is a winter meal as iconic and nostalgic as chicken noodle soup—especially if you're sick. Add "30-minute" and "easy" to the recipe title and I'm sold. This recipe uses rotisserie chicken for ease, and I use whole wheat noodles (fusilli or the like) instead of the recommended egg noodles to up the nutrition factor. Averie also mentions you can double the amount of chicken broth, which I recommend—both to make more soup and because the noodles soak up so much of the broth already. I also appreciate that she tells you not to bother with any spices or herbs you don't already have on hand—it's silly to go out just to buy a few spices if you won't use them again for anything else. Add whatever herbs/spices you have or will use again for another recipe.
This is actually a recipe my husband adapted from a New York Times chili recipe he found. We make (he makes) it all.the.time. We always use ground turkey to keep it a bit healthier, but you can use ground beef as well (you may need to adjust the cooking times, however). You can adjust the spiciness to your liking, as noted in the recipe. This chili is packed with two types of beans and various veggies so that it's full of fiber and protein—very filling! A word of caution: Be careful chopping the jalapeño… it's worth the time to read how to cut them properly.
The Barefoot Contessa does it again! If you're looking to switch up more classic chili recipes (they tend to use ground beef or turkey) Ina Garten's is sure to please. My mom taught me to take it a step further and use rotisserie chicken instead of the chicken breasts the recipe recommends. So much easier, same great taste. This saves you at least 35 minutes of cook time in this recipe. Just shred a rotisserie chicken with your fingers (no need to cut or be precise; however the meat comes off is just fine!), and add it to the chili at the end for the last 20 minutes. Bon Appetit! 
Our "Winter Survival Guide" articles are weekly pieces dedicated to help brighten up your post-holiday winter! Join our "Winter Survival Guide" Verily Facebook group to bond with other women through what can be a difficult season.