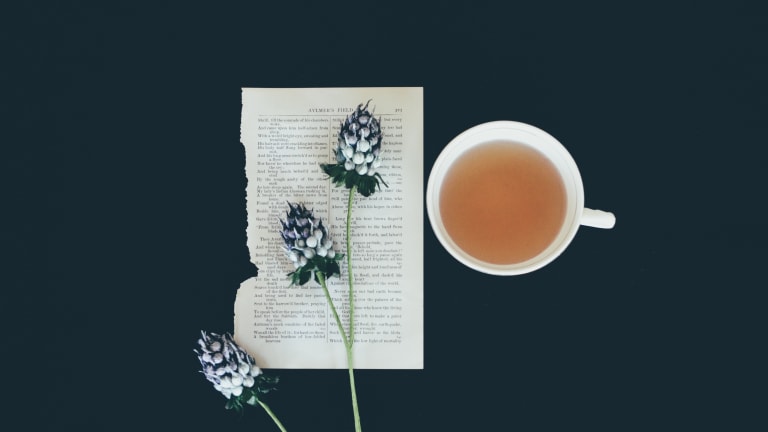 Winter Survival Guide: 5 Cozy Winter Reads (and Teas to Match!)
Curl up with a perfect book & tea pairing
Winter is the best time of year to curl up on the couch with a hot beverage and a good book. Yet even though I have a recommended reading list a mile long and more kinds of tea than I can count, sometimes it can be difficult to decide where to begin.
To make your search easier, I have compiled a list of five cozy reads for the colder months—each paired with an equally cozy tea. I hope these suggestions will inspire you to enjoy a lovely night in!
01. The Lion, the Witch, and the Wardrobe (C.S. Lewis) + English Breakfast
It is always winter and never Christmas in Narnia, a magical land where animals talk and all are subject to Aslan, the great and powerful lion. In order to free Narnia from the curse of the White Witch, the four Pevensie siblings must leave England behind and do their part to fulfill the prophecy that promises peace and prosperity. This tale makes for an excellent seasonal read, complete with wintry teatime with Mr. Tumnus the faun and a visit from Father Christmas.
To accompany the book, you can't go wrong with a cup of English Breakfast tea, a hearty and traditional black tea that will transport you to the Pevensies' native land. I enjoy mine with a splash of milk and one cube of sugar. Just about every brand of tea produces this classic blend, so go with your favorite!
02. The Enchanted Sonata (Heather Dixon Wallwork) + Peppermint
I love The Nutcracker, Tchaikovsky's classic ballet based on E.T.A. Hoffmann's story "The Nutcracker and the Mouse King." I think the music is one of the most magical parts of the Christmas season. So imagine my delight when Heather Dixon Wallwork released a novel last fall that re-tells this classic tale!
Clara Stahlbaum is an accomplished pianist who is all set to marry the famous musician, Johann Kahler, although he may not know it yet… or know her yet, for that matter. Clara's plans to impress Johann at the holiday concert are interrupted when she receives a mysterious gift on Christmas Eve. Soon she is whisked away to Imperia, a far-off country where the children have been turned into toys and the soldiers into wooden nutcrackers. It is up to Clara and Nikolai, the emperor-to-be in disguise, to save Imperia before Clara misses her concert and Nikolai is stuck as a giant nutcracker forever.
I highly recommend pairing this fairytale with peppermint tea, which will remind you of the famous "nevermints" produced by Polichinelle's Candy Emporium, the most famous candy store in Imperia.
03. Emma (Jane Austen) + Irish Breakfast
The young and beautiful Emma Woodhouse is so busy trying to make matches for her friends that she hardly pays any attention to her own heart. Emma is nosy, opinionated, and snobbish—in fact, Jane Austen predicted no one but the author herself would much like her. Yet you can't help but root for Emma as she comes to see the error of her ways and the real object of her heart.
A dash of Irish intrigue makes Irish Breakfast the perfect tea to sip while reading Emma. The eponymous heroine occasionally tries to spite the beautiful Jane Fairfax, who happens to be Emma's superior when it comes to feminine accomplishments, by bringing up Mr. Dixon, the husband of Jane's particular friend. The Dixons are traveling in Ireland—and Emma thinks Jane declined to join them because she secretly has feelings for Mr. Dixon. I expect that Emma might indulge in a cup of Irish breakfast tea to see how Jane might react.
04. An Old-Fashioned Girl (Louisa May Alcott) + Chamomile
Little Polly Milton is sent to spend her vacation with Fanny Shaw and her family. She soon finds herself overwhelmed by the fashionable urban life of the Shaws and withstands a lot of teasing from Fanny's younger brother, Tom. Eventually, Polly wins them over with her kindness and becomes a family favorite. As she continues to make visits over the years, Polly's old-fashioned customs are pushed aside for the metropolitan way of doing things. But when times become tough for the Shaws, Polly is there to guide them to what really matters in life.
This novel is so heartwarming—and, lucky for you, in the public domain, so you can download it for free wherever you get your eBooks. You will love the scene where Polly joins all the boys to go sledding—it brings back memories of how exciting snow was as a child!
I recommend pairing this story with a hot cup of chamomile and a spot of honey. I am partial to "sleepy time" chamomile myself—I love any blend that includes lavender!
05. A Little Princess (Frances Hodgson Burnett) + Chai
Confession: I have never read this book. It's on my to-read list for 2019. I read the abridged version as a little girl but never the real deal! I loved the adaption I read as a child, so I already know that I am in for a treat.
Young Sara Crewe is used to a life of luxury—but then, her father tragically passes away, and Sara is sent to work at a boarding school without a penny to live on. Despite her troubles, Sara is generous and kind—the real marks of royalty.
Sara befriends many people due to her kindness, including Ram Dass, Mr. Carrisford's Indian assistant, and his pet monkey. I recommend pairing this book with chai, a spicy and delicious Indian tea. You can stick with a straightforward cuppa, or you can try a chai latte. However you take it, this blend is a great way to warm up in the winter months.
Whatever genres you enjoy reading, and whatever hot drink you like to indulge in when the temperature drops, I hope that both books and beverages warm you up from the inside out this winter!
Our "Winter Survival Guide" articles are weekly pieces dedicated to help brighten up your post-holiday winter! Join our "Winter Survival Guide" Verily Facebook group to bond with other women through what can be a difficult season.