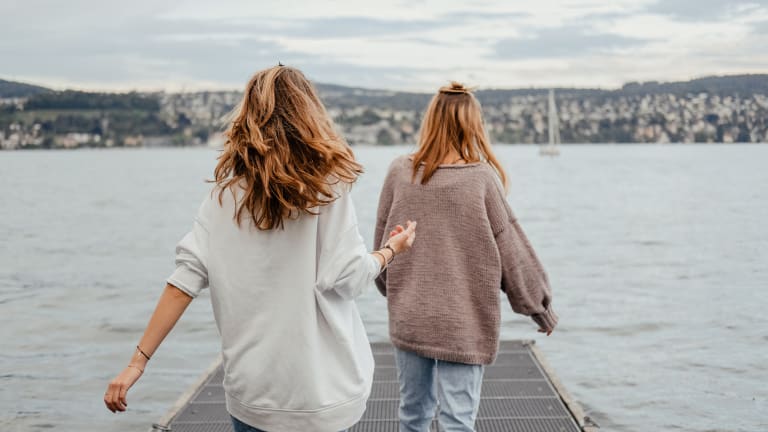 Inspiring (But Affordable) Trips to Book With Your Besties
Pack your bags, ladies!
Ever since I saw the film version of The Sisterhood of the Traveling Pants, I've dreamt of going on a dreamy girls' trip to Greece with my best friends. Fast forward more than a decade later and we haven't made it there yet. But I have managed to squeeze in a few girls only trips: a $400 all-inclusive week-long cruise to the Bahamas, a trip to Las Vegas to see Celine Dion, a weekend at Disney World, and whirlwind trip to Manhattan for the sole purpose of dining at one fancy restaurant.
My only wish is that I had done more of these trips sooner.
One of the finest things about traveling with your bests is that the destination almost doesn't matter—you already know you have fun together whether you're eating at a French café or an NYC hot dog stand. So what are you waiting for? This year, plan a girls' trip to explore all the exotic things the United States has to offer while deepening or rekindling your most cherished friendships—and all without breaking the bank!
Visit a UNESCO World Heritage Site
Yellowstone, the Grand Canyon, Yosemite, the Everglades, the Great Smoky Mountains, Glacier Bay, San Antonio—if you haven't crossed these or other UNESCO World Heritage Site's off your list, who better to share them with than your own list of epic friends? Camp, rent a cabin, or just take a day trip to one of 23 world-class heritage sites here in the United States. People from all over the world travel to see World Heritage Sites established by UNESCO (United Nations Educational, Scientific and Cultural Organization) which has "been preserving, protecting and promoting the most valuable heritage places in the world," The Washington Post reports.
Eat at the best night markets or best food markets in the United States
If you and your friends are foodies, you'll get a kick out of hitting up the best night markets and food markets in our nation. You don't need to travel to Southeast Asia to sample authentic culture and cuisine. The Manual reports, "One of the largest, 626 Night Market (held in the LA region's Santa Anita Park) boasts "the largest Asian-themed night market in the United States … with hundreds of food, merchandise, crafts, arts, games, music, and entertainment attractions in one jam-packed weekend of festivities for the whole family."
Those on the East Coast are in luck too. "Philadelphia, Queens, and Chicago are getting in on the action with The Food Trust Night Market, Queens Night Market, and Sauced Night Market, respectively," according to The Manual, "and smaller cities such as Cleveland and Charleston have also gotten in on the act."
For those who prefer to explore during the day, Thrillist shares "13 American Food Markets You Must Visit Before You Die." Wander around Pike Place Market in Seattle with a hot cup of coffee and Beecher's Handmade Cheese. Or stroll along the Bay with a cone of Boccalone Salumeria ham from inside San Francisco's beautiful Ferry Building market.
Enjoy the breathtaking buildings of America's best cities for architecture
For history, architecture, or photography nerds, a trip to a camera-ready city could be right in your own backyard. Travel + Leisure's list of America's Favorite Cities for Architecture does not disappoint. See a musical or concert in a massive modern concrete and glass version of Rome's Pantheon in Norfolk, Virginia. Or stroll the same streets as the characters of Dawson's Creek and One Tree Hill in Wilmington, North Carolina, where both shows were filmed.
Check into a hotel, then check out free museum days
Nearly any town that has a zoo, botanical garden, or museum has a free pass day. More than two hundred U.S. museums are part of the Bank of America's Museums on Us program, which offers free admission on specific dates throughout the year for BoA, Merrill Lynch, and US Trust customers. If you're not a card member, you can plan a trip around free museum days at The Met in NYC, The Art Institute of Chicago, The Getty in Los Angeles, The Kennedy Space Center in Florida, and more on Forbes' list of the top 10 museums in America.
Tailgate at a hot air balloon festival or local Lights Fest
Lots of my friends have reserved hot air balloon and lantern festivals for grand marriage proposals, but experiencing these gorgeous feats of human ingenuity with the most intelligent and loving women in your life is other-worldly. Pack your bags and a car with a picnic and hot cocoa before driving to one of the world's largest hot air balloon festivals in Albuquerque, New Mexico. Or mark your calendar for the next Lights Fest near you, and revel in the romance of thousands of floating lanterns dancing in a night sky à la Disney's Rapunzel.
Are you ready to pack your bags yet?