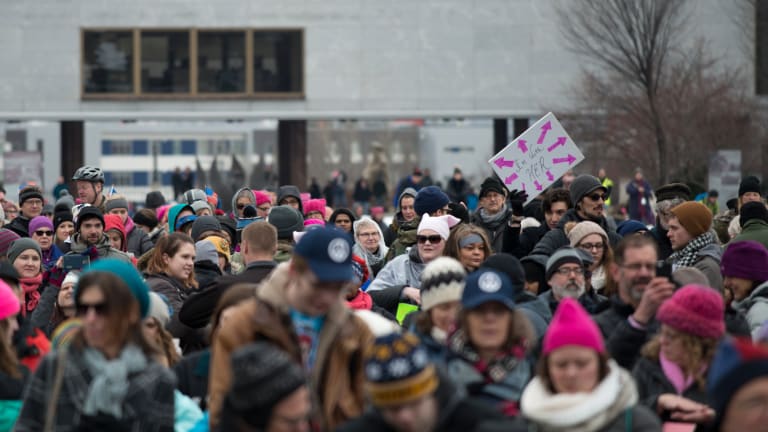 As Women's March Nears, Concerns of Anti-Semitism Increase, and Other News from the Week
Catch up on all the news you might have missed with our handy summary of the week's top stories.
We're pleased to bring you "While You Were Out"—the Verily editors' quick takes on the happenings of this week.
Government Shutdown Affects Thousands of Americans
Due to a standoff between President Trump and Congress over border security and Trump's resoluteness to fulfill his campaign promise to build a wall along the Southern Mexico-United States border, the American government has been partially "shutdown" since midnight on December 22nd. Every year, Congress has to pass, and the President has to approve, the overall budget for the next fiscal year; a partial government shutdown takes place when Congress fails to appropriate funds (or the President refuses to sign the appropriations legislation) for federal agencies and government programs, thus leading to non-essential federal programs discontinuing function.
Around 800,000 federal workers have been directly impacted by the government shutdown, with about 380,000 currently furloughed from their jobs and another 420,000 workers currently working without immediate pay. Among these affected federal workers are employees for government services like the I.R.S. and National Park Service, and 400,000 employees from nine different government agencies, including the Departments of Homeland Security, Justice, Agriculture, and Treasury. Although Congress usually approves legislation to cover back pay for furloughed or working employees during the shutdown, many of these employees are struggling to make ends meet in the meantime. After all, mortgages and rent are still due, not to mention that this time period immediately following the holidays is typically one rife with large credit card statements and extra end-of-year expenses.
Even though this is the third partial government shutdown in 2018, it has, by far, been the longest lasting, as Thursday marked day 13 of the shutdown. However, the new Congress convened Thursday, and House leaders are expected to vote on various proposals to reopen the government very soon. Here's hoping that Democrats and Republicans can come together and reach some kind of agreement so that government employees can resume regular work and pay and start this New Year on the right foot. —Madeleine Coyne
Prince Harry Reportedly Quits Alcohol and Caffeine With Pregnant Meghan Markle
They say everything changes when you have a baby, but in reality a whole lot changes even before giving birth. For pregnant women like Meghan Markle—and apparently for her husband, Prince Harry—that can mean abstaining from alcohol and caffeine. In October, the couple announced they were expecting their first child, and just a week later, the prince drank a toast with water rather than champagne at a state dinner in Fiji. More recently, it's been reported that he has also given up tea, due to the caffeine it contains, opting instead for still mineral water.
Reports vary on whether Markle "banned" Prince Harry from cocktails and tea or he made the decision in solidarity with her choices to help maintain a healthy pregnancy. Either way, he is said to be "more chilled and relaxed," now that he's taken on these lifestyle changes.
Meghan Markle was known for her emphasis on healthy living before she became the Duchess of Sussex last May. Her influence on Prince Harry prompted him to give up smoking before they wed, so it's not surprising that he seems to have taken further steps towards healthier living now that their family is growing. We know the early stages of parenthood can be exhausting. Royal or not, getting in top form ahead of time is definitely a good choice. —Lindsay Schlegel
Miley Cyrus and Liam Hemsworth Celebrate Surprise Wedding
Miley Cyrus and Liam Hemsworth tied the knot in a small, private ceremony on December 23. Cyrus confirmed the news on Instagram by posting a handful of intimate photos of the happy couple embracing, candid shots with her parents, and some of her stunning Vivienne Westwood wedding gown. Cyrus and Hemsworth met while filming the 2010 film, The Last Song. They became engaged for the first time in 2012, and briefly broke up only to be reunited in 2016. The happy couple were congratulated by fans and fellow celebrities, including author Nicholas Spark who wrote the novel, The Last Song.
Congratulations to the newlyweds! I for one will be celebrating by joining countless others in streaming the movie that marks the beginning of their love story. —Gabriella Patti
Women in India Protest Temple's Menstruation Ban
Women in Kerala, India are protesting a religious policy that bans females of childbearing age (from ages 10 to 50) from entering the sacred Sabarimala Temple, the site of the largest annual pilgrimage in the world. The protest and consequent uproar began after news broke that two women entered the temple last week, prompting a Hindu priest shut down the temple for "purification rituals," which typically occurs when blood is spilled or a child accidentally urinates. Some of those offended by the entry of two women into the temple began protests of their own, forcing shop closures, vandalizing a government office, blocking traffic, and injuring police.
Nonetheless, the women, named Bindu and Kanakadurga, were within their legal right to enter the temple; in the fall of last year India's Supreme Court ruled that the religious ban was unconstitutional. Following the ruling, officers were commanded to ensure the safety of women entering the temple. Unfortunately, thousands of Hindu traditionalists who supported the ban also gathered to block them from entering.
Fed up with traditionalists' denial of their legal right to entry, those protesting the ban joined forces on New Year's Day to form a "human chain," creating a wall more than 300 miles long and consisting more than 3 million people. The chain included both women and men from all walks of life, standing shoulder to shoulder as they called out their prerogatives in a resounding chant. Their call for justice addressed not only the temple ban but also addressed the more widespread issue of female inequality in a nation notorious for its treatment of women as second-class citizens. "We will stand for equality for women! We will fight for secularism!" While their solidarity is inspiring, their opponents have grown more violent over the past week, causing increased unrest. —Mariel Lindsay
Kim Kardashian-West and Kanye West Hire Surrogate to Carry Fourth Child
TMZ reported this week that Kim Kardashian-West and Kanye West are expecting their fourth child, due in May. They reportedly hired a surrogate to carry a leftover embryo which is a boy.
Kardashian-West has a condition called placenta accreta that makes pregnancy risky for her. As Business Insider put it, "Kim Kardashian has a common health condition that made her need a surrogate." But suggesting "common health conditions" are reasons to pursue the controversial practice of surrogacy (which is outlawed in places like the European Union) overlooks many ethical concerns, including that most women do not have the means to pursue such an option. Most of all, given the severe health risks surrogates face with pregnancy as well (as Jennifer Lahl pointed out in this 2017 piece hooked to the Handmaid's Tale), I would love if we could focus more on encouraging the medical community to find solutions to these health conditions, instead of expanding risks to other women. —Mary Rose Somarriba
Netflix Removes 'Patriot Act' Episode in Saudi Arabia Due to Censorship Laws
Streaming service Netflix is embroiled in international controversy after removing an episode of the comedy show, Patriot Act with Hasan Minhaj due to demands by the Saudi Arabian government. The show, which premiered in October explores current trends and cultural and political issues, through a sharp comedic lens.
As part of the episode in question, Indian-American comedian Hasan Minhaj, best known for his stand-up routines, criticizes the Crown Prince Mohammed bin Salman after evidence mounted that he was behind the brutal killing of Jamaal Khashoggi. Minhaj declares: "It blows my mind that it took the killing of a Washington Post journalist for everyone to go, 'Oh, I guess he's not really a reformer…'" He then refers to the fact that many of the September 11 hijackers were Saudis, stating that "Saudi Arabia was basically the boy band manager of 9/11."
Saudi authorities took offense, contacting Netflix to inform them that the episode breached the country's anti-cybercrime law, by "impinging on public order, religious values, public morals, and privacy." Netflix complied, removing the episode from the nation's streaming service and causing an additional stir as some decried the move as unethical. A Middle East director at Amnesty International called it proof that freedom of expression in the kingdom was being increasingly and concerningly squelched.
On Monday, Minhaj himself commented on the controversy, tweeting sarcastically that "the best way to stop people from watching something is to ban it, make it trend online, and then leave it up on YouTube." While the current controversy may be making the episode even more widely viewed, the underlying issue lingers as people question heatedly whether local laws should be allowed to supersede freedom of expression. —ML
As Women's March Nears, Concerns of Anti-Semitism Increase
As we approach the third annual Women's March this January, controversy mounts over the organizers' alleged lack of inclusivity, particularly in concern to Jewish women. According to the New York Times, Vanessa Wruble, a Brooklyn based activist said that she was part of the original group of women who met to organize the flagship Women's March, but she claims she was pushed out due to her Jewish heritage. Two other activist leaders, Tamika Mallory and Carmen Perez allegedly told Wruble that, "Jews needed to confront their own role in racism." These accusations were first published in Tablet, an online Jewish magazine.
The rift has led to the formation of two separate Women's Marches on the same day in New York City, and some have called for Mallory and Perez to step down from their leadership roles. Mallory and Perez have denied that Wruble was pushed out due to her heritage, and have since spoken out against anti-Semitism, but others who were present at this initial meeting have corroborated Wruble's assertion.
These accusations have led many to reconsider whether or not to participate in the Women's March, which espouses "unity principles": "We must create a society in which all women—including Black women, Indigenous women, poor women, immigrant women, disabled women, Muslim women, lesbian, queer and trans women—are free." This isn't the first time that the integrity and inclusivity of the march have been questioned. In 2017, there was controversy when pro-life feminist groups were excluded from being partners of the Women's March. On first glance, it seems that participating in the Women's March comes with stipulations, which seems counterproductive and off-message for a group that claims to champion freedom for all women. —GP
View Host Abby Huntsman Pregnant with Twins
In more pregnancy news, View co-host Abby Huntsman announced that she and husband Jeffrey Livingston are expecting twins, a boy and a girl. The pair has a thirteen-month-old daughter, Isabel Grace. Twins do not run in their families, nor did they use fertility treatments to conceive. Huntsman shared that the news so shocked her husband that he passed out during her ultrasound examination. In an interview with People, she said, "Another doctor had to come in, and they were wiping him down with towels and giving him sugar. I was sitting there with my feet still in the straps. I'm like, 'This is ridiculous. I'm the one that has to physically do this.'"
Huntsmans' co-hosts, especially her best friend, Megan McCain, have been very supportive of the pregnancy. While the prospect of three children under age two can be daunting, Huntsman sees value in a larger family. One of seven children herself, she explains that having multiple siblings "teaches you independence . . . , how to grow up quickly, and also just [how to] be a good friend and be a good sister." And in case you're wondering, Huntsman is craving Cap'n Crunch and Cool Ranch Doritos. —LS