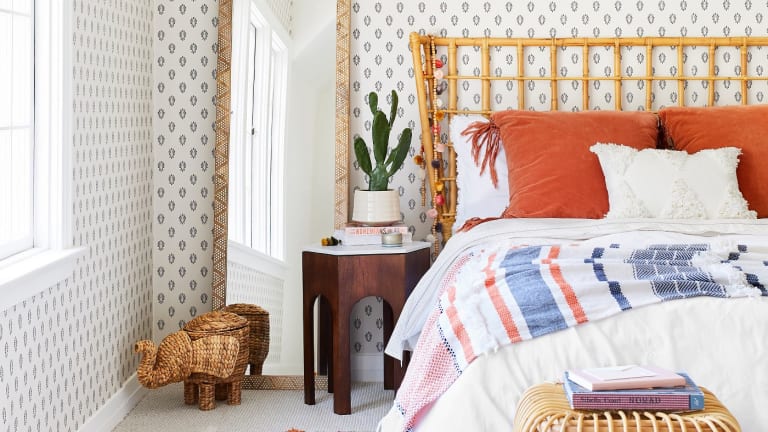 Affordable Ways to Update Your Space with Pantone's Color of the Year
Living Coral coming at ya!
Each December, Pantone releases the next year's Color of the Year, a piece of news that can refresh and inspire your entire year. Pantone's pick for 2019—Living Coral—is no exception. The not-quite-orange shade with golden undertones "is evocative of how coral reefs provide shelter to a diverse kaleidoscope of color," Pantone said in its press release, "symbolizing our innate need for optimism and joyful pursuits."
Scientific research proves that indoor color affects our mood and cognitive performance. So here are a few affordable ideas to start your year off with this "life-affirming coral hue...that energizes and enlivens with a softer edge."
Hang a vivid piece of artwork on a bare wall. You can find gorgeous printable art online at very reasonable prices. Blow up the image at your local print shop, pop it into a frame, and be prepared for it to capture attention every time. – Agate Photo, Etsy, $6
Coral is the perfect complementary color to blue. But they also make other neutrals pop. Pair an accent pillow, rug, or blanket with neutrals like gray, white, taupe, and brown. – Coral Velvet Pillow, Target, $28
Brighten your day with a coral bouquet. Peonies, daisies, roses, ranunculus, dahlias, and more adorn their petals with this pretty pigment. So keep an eye out at the market for possible flower arranging projects. – How to Arrange Flowers, Brit & Co.
Swap small home accessories. A new shower curtain, hand towel, soap dish, or bath mat won't break the bank, but it will give your space a whole new feel. – Hand towel, World Market, $10
A little bottle of coral goes a long way. From a plain vase to an old sculpture, you can paint nearly any object in this bright hue, proudly display it on your bookshelf or coffee table, and call it a good day. – Vases, Etsy, $16
If you don't want to commit, you don't have to. Take a trial run with single-use items like paper napkins or pillar candles. If you find that they don't quite suit your style, they'll be used up anyway! – Candle, Anthropologie, $30