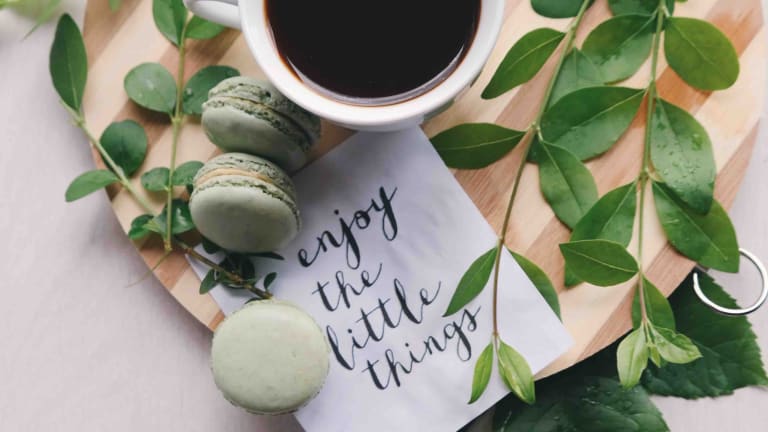 5 Ideas to Cultivate Gratitude in the New Year
Gratitude with a touch of intentionality can be the key to a good year.
In Make Something Good Today by HGTV Home Town stars Erin and Ben Napier, Erin shares that for eight years straight, she kept an online journal as a way to document the best thing that happened each day. Doing so altered her life in an unexpected way. She writes, "Writing was a performative act; I wasn't just passively recording what happened but also actively choosing what had happened. On bad days, I'd consciously try to search out the positive or make good things happen so I wouldn't be empty-handed at night when it came time to write. In this way, the practice has changed my life."
Inspired by the Napiers, I've resolved to incorporate gratitude into my life more, but I know I'll need some help. It's easy to talk about being grateful, but it can be difficult to make that mental shift, especially when challenges arise. So, I did a little research on concrete ways to keep track of daily, weekly, or monthly gratitude. The ideas I found are creative, practical, and relatively simple.
01. Make a scrapbook
Every year since the beginning of their marriage, Ben Napier has made Erin an "anniversary book"—a short scrapbook with a spread for each month of the past year they've shared. For every month, there is a short story and an illustration. "There's always more I want to remember than the space on the page," Ben writes. "I guess that's a good problem to have, an embarrassment of riches."
Whether you use paper, pens, and stickers or an online service like Shutterfly, making a scrapbook is a good way to reflect on the positive parts of your past. For me, the process of telling a story through photos and other mementos helps me reflect on how I got to where I am. As I arrange the pictures, I get lost in both the fun of the aesthetics and the sweet memories. When I look back on a completed scrapbook, I can't help but be grateful for the journey.
Something Erin wrote about journaling captures the way I feel about scrapbooks: "I make a space where the beautiful moments will live, undisturbed. Later, after time has smoothed over the bumps, it'll seem as through those moments filled all of it, leaving no room for the sad memories."
02. Be Mindful of Your Social Media Posts
Our social media accounts are a bit like a journal or scrapbook, though we may not think of them in that way. And because we spend so much time on social media, gratitude ought to extend to this area of our lives.
Don't use social media as a place to vent about life's little difficulties. That doesn't mean every post has to be happy; when we're walking through the dark parts of life, comments from friends and loved ones can provide much-needed support. Rather, I'm talking about the minor annoyances of everyday life—the person who uttered a rude comment in the checkout line, the horrible traffic, or the bad weather. When we give these little difficulties a platform, it gives them room to fester. Every "like" is a reminder that we have something to complain about.
On top of that, our posts remain for posterity. When we document our complaints, we give those negative moments a way to live on, rather than allowing ourselves to move on. Do we really want life's little nuisances to pop up in one of those Facebook memory posts five years from now? I certainly don't.
According to the Yale Center for Emotional Intelligence, taking note of the things we're grateful for rather than focusing on the challenges can even have physical benefits. The center mentions a study in which some people were assigned to keep a gratitude journal, while others were assigned to write about "hassles or neutral events." Those who kept gratitude journals "exercised more regularly, reported fewer physical symptoms, felt better about their lives, and were more optimistic about the upcoming week."
I know there's a lot of talk about social media being a "highlight reel." But it's important to remember that the highlights are just as real as the hassles. While it may seem inauthentic to curate one's social media presence in this way, I would argue that it's possible to be authentically joyful, with the hope that the joy will spread to others.
03. A Gratitude Journal
Another way to build gratitude is to follow Erin's lead and keep a gratitude journal. She used an online journal, but you could also take a more old-fashioned approach with pen and paper.
For 2019, I have committed to adding this practice to my life. My journal of choice is a partially filled one I already have, and it features a relevant quote from Jane Austen's "Emma" on the cover: "You must be the best judge of your own happiness."
If you'd rather have something more structured than a standard journal, you can buy a one-line-a-day journal, which has a short space to write every day over the course of a few years. There are even apps that fill the role of a gratitude journal. My Gratitude Journal, 365 Gratitude, or Five Minutes of Gratitude are just a few.
Even journaling just a few times a week is beneficial. According to the Greater Good Science Center at the University of California, Berkeley, "Writing in a gratitude journal three times per week might actually have a greater impact on our happiness than journaling every day."
Regardless of which approach you take, a gratitude journal not only forces you to look for the beauty in each day, but also gives a glimmer of encouragement when times are difficult. As Erin notes in their book, "When you document every single day of your life, you're forced to notice the pattern of blessings. In the aftermath of despair, you find the gift of perspective."
04. A Gratitude Jar
A gratitude jar is a spin-off of a gratitude journal. The idea is simple: Every day, take a small strip of paper and write down one thing you're grateful for. Place that paper in a special jar. At the end of the year, you'll have a whole jar of goodness to look back on. Reviewing the contents at the end of each month could also be a meaningful practice.
In the book The Gratitude Jar: A Simple Guide to Creating Miracles, Josie Robinson writes about the transformative power keeping a gratitude jar had on her life. She has a simple method for reflecting on gratitude using the mnemonic device Give THANKS.
If you're the crafty type, you can decorate the jar with a design that matches your home decor. Or, you can keep it simple with a printable label or a pretty ribbon. You can also buy gratitude jars on Etsy, or channel your inner Oprah with the jar that made her "Favorite Things" list in 2017.
The jar is not only a place to document your blessings, but a visual reminder to look for them in the first place.
05. A Quote Board or Inspirational Calendar
While it's important to examine our lives for things we are grateful for, sometimes we need some external inspiration.
You can set up your own quote board and feature different quotes about gratitude, changing them daily, weekly, or monthly, depending on what suits your needs and tastes. Felt letter boards are trendy at the moment, but a chalkboard, dry erase board, or good ol' sticky note would work just as well.
A daily or monthly calendar with uplifting quotes is another way to shift your focus in the right direction. A few years ago, I had a daily Mary Engelbreit calendar that regularly brought a smile to my face and provided a good dose of perspective. I liked one of quotes so much, I laminated it and turned it into a magnet. The old proverb reads, "The world is full of cactus, but you don't have to sit on it."
There are many things in life we can't control. But through cultivating gratitude and focusing on the good, we can control our perspective. As Erin explains in the book, "Writing down only the good moments of each day was my way of controlling the narrative of our life." We have a say in whether our narrative will be one of despair, or one of hope and gratitude.