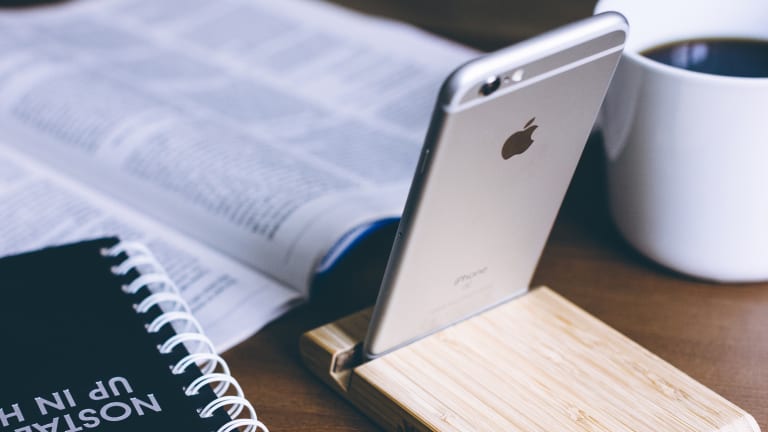 Investigation Reveals How Screen Time Affects Kids, and Other News from the Week
Catch up on all the news you might have missed with our handy summary of the week's top stories.
We're pleased to bring you "While You Were Out"—the Verily editors' quick takes on the happenings of this week.
Human Rights Day Commemorated Around the World on Monday
Monday marked the 70th anniversary of Human Rights Day, the day when the UN General Assembly signed the Universal Declaration of Human Rights in 1948. The document "proclaimed the inalienable rights which everyone is inherently entitled to as a human being—regardless of race, colour, religion, sex, language, political or other opinion, national or social origin, property, birth or other status." According to the UN's website, the declaration is the most translated document in the world and is available in over 500 languages.
The day was acknowledged across the world by leaders and activist groups alike. While the day celebrates the historic signing of this declaration of goodwill, it can serve as a more important reminder to not become complacent in the face of human rights violations throughout the world. —Gabriella Patti
Two Tragic Shootings Take Place Tuesday in Brazil and France
Tuesday night saw two tragic shootings—one in São Paulo, Brazil and one in Strasbourg, France. In France's well-known Strasbourg Christmas market, a shooter opened fire on shoppers, killing two people and injuring 12. The shooter was heard shouting "Allahu Akbar" ("God is Great" in Arabic) before firing bullets, which unleashed chaos into the crowd. The suspect Chérif Chekatt, a native of France, has an extensive criminal record and was one of 200,000 people flagged by the French security services for possible radicalization. France has officially declared the shooting an act of terror.
In São Paulo, a man opened fire during Mass at the Metropolitan Cathedral in Campinas, killing four people and injuring four others before taking his own life. Brazilian authorities have not released the name of the shooter. "We are very shocked with what happened," the priest Fr. Amauri Thomazzi, said later in a video on his Facebook page, requesting prayers for the victims and the shooter. "I ask for everyone's prayers." —GP
60 Minutes Investigates Impact of Screen Time On Kids
CNN anchor Anderson Cooper joined forces with 60 Minutes to examine the effects of screens like phones, iPads and the like on the developing brains of children and adolescents. The results, though still in the early stages of monitoring, are ominous.
As part of his investigation, Cooper spoke with a number of scientists and psychologists who study the ways in which screens impact development, emotional, and mental health. Perhaps most notably, Cooper spoke with a leading scientist at the National Institute of Health, an organization funded by the federal government that currently interviews and brain-scans more than 11,000 kids at 21 sites across the country. Early results from their studies show both premature thinning of the cortex and lower test scores for children with higher screen usage.
Another investigator with NIH, who scans teenagers' brains as they follow Instagram, believes that "screen time stimulates the release of the brain chemical dopamine, which has a pivotal role in cravings and desire." As a result, at least according to one psychology professor, there are "sudden changes in the behavior and mental health of teens born in 1995 and later."
While studies are set to take years and are still relatively early in development, it's worth heeding the warnings by experts to limit screen time for children, lest it hurt their psychological well-being or their biological development. The full extent of screens' impact on brain development remains to be seen. —Mariel Lindsay
Jamal Khashoggi and Other Journalists Earn Status as Time Magazine's Person of the Year
Time magazine has named James Khashoggi and other journalists as its Persons of the Year for 2018. The overall theme is "the guardians of the truth" as a nod to both the spread of misinformation in world media the past year and the journalists who committed and sacrificed to share the truth. Other than Khashoggi, who was assassinated in Saudi Arabia in October, the honorees include, "the staff of the Capital Gazette newspapers in Maryland, where five people were shot dead in June; Maria Ressa, the founder of Rappler, a news start-up under attack by the authoritarian president of the Philippines; and U Wa Lone and U Kyaw Soe Oo, two Reuters journalists imprisoned in Myanmar after reporting the massacre of Muslim men."
The honorees were chosen from a shortlist which included Dr. Christina Blasey Ford, President Donald Trump, and Meghan Markle. This honor began in the 1920s and it is meant to acknowledge the person who most influenced the year's events. "It became clear that the manipulation and abuse of truth is the common thread of so many of this year's major stories, from Russia to Riyadh to Silicon Valley," said Edward Felsenthal, Time's editor in chief and chief executive. The magazine printed separate covers to honor each of the recipients. This tribute is a beautiful acknowledgement of these brave men and women and their commitment to the truth. —GP
Kathie Lee Announces Departure from TODAY Show 
On Tuesday, Kathie Lee Gifford announced that after 11 years on the show, she will leave NBC's TODAY come April. Gifford will depart on the show's anniversary, while co-host Hoda Kotb will remain. The duo is known for their friendship in the studio, their sense of adventure on road trips, and the wine they share during their segments. There hasn't been word on a possible replacement.

When Gifford joined the fourth hour of the show in 2008, she only planned to stay for a year. She cited her love for the people she worked with as what kept her in her seat a decade beyond her expectations. Gifford previously co-hosted Live with Regis and Kathie Lee (a precursor to Live with Kelly and Ryan) for 12 years, from 1988-2000.

We know there are book, movie, and music projects in progress for sixty-five-year-old Gifford, but it's not yet been made clear which of these will take precedence when her time at TODAY comes to an end. Gifford is being celebrated as "one of the most enduring and endearing talents in morning television. In short—she is a legend." It's exciting to consider where she will take her energy and talent in the years ahead. —Lindsay Schlegel

Disney Announces New Streaming Service
If you were already having trouble deciding which of your streaming services to keep or ditch, Disney is about to make your decision even harder. Disney recently announced that it will be launching its own streaming service in 2019, called Disney+ (formerly referred to as 'Disney Play'). Very soon, Netflix will no longer host your favorite Disney films, and in order to stream Moana, Mulan, or Pirates of the Caribbean, you will have to subscribe to yet another service online.
Once Disney+ goes live in late 2019, you will not only find favorite Disney classics on the service, but also new Disney, Pixar, Marvel, and Star Wars films and television series. Not surprisingly, Disney will follow in the footsteps of Netflix, Amazon Prime Video, and Hulu by also creating its own content that can only be streamed on its service, such as a new live-action Star Wars series called The Mandalorian and two new Marvel shows. Other projects in the works include new stories set in the already-familiar worlds of High School Musical and Monsters Inc., as well as a "female Santa Claus movie" starring Anna Kendrick called Noelle. The goal for the first year of Disney+ is to produce four to five original movies and five TV series specifically for the subscription service.
I'm fairly certain that Disney+ will give Netflix a run for its money when it debuts this coming year; I'm just not yet sure if it will be receiving my money. —Madeleine Coyne
Veterans Honored Across America This Saturday
For many families, an empty seat at the holiday table is a reminder of someone they loved who lost his or her life while serving our country in the armed forces. While acknowledging the importance of Memorial Day and Veterans Day, Wreaths Across America is committed to placing a wreath "on each hero's grave" this time of year. "Our service members sacrifice their time and safety every single day of the year to preserve our freedoms," the group's website reads, and the bustle of a busy season should not be cause to forget those who have served and those who continue to serve.

What began in 1992 as Morrill Worcester's gesture to honor those who went before him, gained ground after an image of his wreaths on a snow-bedecked Arlington site went viral in 2005. Thousands of people soon asked to join his effort. A non-profit was formed in 2007, and has continued to grow in the years since.

Wreaths Across America seeks to "Remember our fallen U.S. veterans. Honor those who serve. Teach children to value our freedom." This Saturday, December 15, the organization is coordinating a national laying-on of wreaths at veterans' graves, with the principal event taking place at Arlington National Cemetery. With each wreath laid at the 1,400 related events, we see that those courageous men and women who are gone are not forgotten. —LS

Comedian Kevin Hart Under Fire for Controversial Tweets
Comedian Kevin Hart, best known for his stand-up routines, found himself at the center of a widespread controversy when, just days after being confirmed as host of the 91st annual Academy Awards, the Academy demanded he apologize for tweets and comments made during a stand-up routine almost 10 years ago. Rather than apologize, Hart decided to forgo his hosting duties, but by then the drama had snowballed into a social media battle among insulted fans, Hart's supporters, and the Hollywood mechanism itself.
Hart's 2009 tweets, which seemed to poke fun at the gay community, and a resurfaced comedy routine in which he expressed his hope that his son would not grow up to be gay, were the source of last week's outrage. Hart defended himself in a video, stating: "Guys, I'm almost 40 years old. If you don't believe that people change, grow, evolve as they get older, I don't know what to tell you."
Rapper and fellow comedian Nick Cannon had his back, even referencing old tweets from other popular media figures like Sarah Silverman that also poked fun at the gay community. He did so as part of a strategy to show that Hart was being wrongly demonized. He even fiercely criticized the Academy's history itself, recalling how in 1940 when actress Hattie McDaniel became the first African-American woman to win an Academy Award, she had to sit alone in the back corner of the venue due to its strict no-blacks policy; yet the Oscars expect viewers to forgive their transgressions and respect their evolution. Nonetheless, many are still very angry with the content of Hart's tweets, feeling that his mocking insensitivity crossed the line from comedy to bigotry. At its core, the controversy highlights the challenges of entertainers to stay relevant and edgy while not offensive. —ML
Masterpiece Theater Releases Trailer for New Les Misérables Series
I get excited about pretty much every series that Masterpiece Theater debuts, but the newly-released trailer teasing the new series on Les Misérables has me especially intrigued. BBC will release a six-part television series based on Victor Hugo's masterpiece on April 14th, 2019 on PBS, starring Dominic West as Jean Valjean, Lily Collins as Fantine, and Olivia Colman as Madame Thénardier. This adaptation of the classic tale is already promising to look (and sound) quite a bit different than the Broadway adaptation or the 2012 musical film starring Hugh Jackman, for unlike its musical predecessors, this TV series will take more of a traditional drama approach.
There is a real reason—and, arguably, a real need—to create a longer, non-musical version of the famed 19th century story. As the writer of this new series, Andrew Davies (known for his PBS version of Pride and Prejudice), stated, "I am thrilled to have the opportunity of doing real justice to Victor Hugo at last by adapting his masterpiece in a six hour version for the BBC, with the same team who made War & Peace." Because the musical can only tell us so much of Hugo's mammoth story, I cannot wait to watch a more complete version of the story in this new mini-series.
Although this adaptation will not be filled with such classic songs as "I Dreamed a Dream," the new trailer promises that it will still be brimming with emotional dialogue and tear-inducing scenes. Further, the powerful themes of love and compassion for which we all love Les Mis still appear to be at the forefront of of this timeless story, as revealed by the beautiful words in the closing text of the trailer: "Where there is love, there is hope." It's safe to say that I have hope that this Les Misérables adaptation will not disappoint. —MC
My Chocolate Spilleth Over
In the town of Werl, Germany this week, a tank fell over at a local chocolate factory, causing a large spill of liquid chocolate in the streets—and an unusual emergency for responders to encounter. "About a tonne of chocolate ran out into the yard and from there onto the street," a spokesman for the Werl fire department said in a statement. A thankless job and a challenging task, some might say. Although if it were in my town, this is one mess I'd roll up my sleeves for. —Mary Rose Somarriba