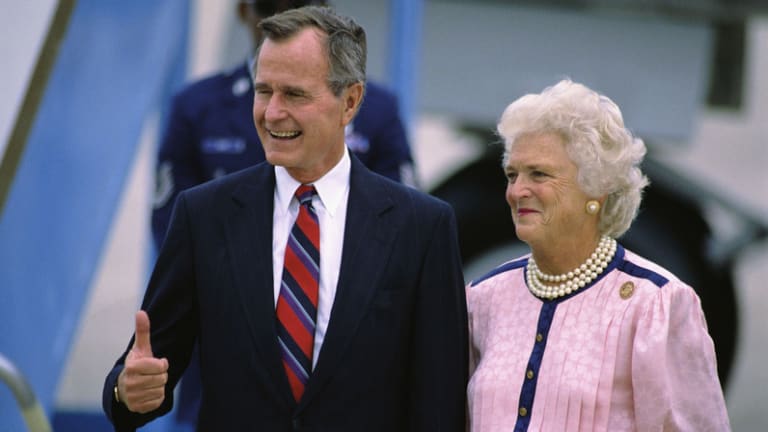 The Nation Remembers George H. W. Bush, and More Notes From the Week
Catch up on all the news you might have missed with our handy summary of the week's top stories.
We're pleased to bring you "While You Were Out"—the Verily editors' quick takes on the happenings of this week.
A Dignified Farewell to Former President George H. W. Bush
Flags are flying at half-staff this week, and will continue that way for the next few weeks, per an order from the White House to honor former President George H. W. Bush. The 94-year-old former president died on November 30 of vascular parkinsonism.
A veteran of World War II, Bush served as U.S. Ambassador to the United Nations, CIA director, congressman, GOP chairman, and most memorably vice president from 1981-1989 and president from 1989-1993. Bush, aka 41, was married for 73 years to his wife, Barbara, who passed away in April—the longest marriage in U.S. presidential history. They had six children together. On his show, Stephen Colbert remembered Bush as the last president from the "Greatest Generation."
Bush was honored with a series of memorials this week, beginning with his body lying in state in the Capitol for public viewing from Monday evening through Wednesday morning. On Wednesday, a state funeral was held at the Washington National Cathedral. Thereafter, Bush's body was returned to Houston, Texas, where a funeral service was held at St. Martin's Episcopal Church. Thursday afternoon saw internment at the former president's library and museum at Texas A&M University.
Bush is largely remembered as a national hero. As our nation responds to his death, may we also be grateful for the moments when we can set our differences aside and honor an individual's life of service. —Lindsay Schlegel
Starbucks Will Block Pornography in 2019
It's been a long time coming, but Starbucks officially stated that it will block customers from watching pornography and other explicit content at its stores beginning in 2019. This announcement comes well over two years after the coffee chain originally said it would filter pornographic content on its public Wi-Fi. In 2016, a Starbucks spokesperson told CNN that it would implement measures to block porn from its Wi-Fi networks. When Starbucks failed to take any concrete steps to do so, though, a petition was started by the organization, Enough Is Enough, to get the coffee giant to follow through on its promise.
This petition has been signed by more than 27 thousand people, and it states: "By breaking its commitment Starbucks is keeping the doors wide open for convicted sex offenders and patrons to fly under the radar from law enforcement and use free, public WiFi services to view or distribute graphics or obscene pornography, child pornography (an illegal crime), or engage in sexual predation activity." Watching porn is already, technically, "banned" at Starbucks locations, although the chain currently does not have any filters in place to block content on its Wi-Fi networks. This petition seeks to change that, and it seems that it has been successful!
While Starbucks has not announced specifics for rolling out its new porn-blocking measures yet, here's hoping that the chain follows through on its word this time. We are fully aware of the damaging effects of pornography, and I'm optimistic that Starbucks will help make the world a little bit safer by implementing these new filters this coming year. —Madeleine Coyne
Marvel Teases First Female-Led Superhero Movie
As Hollywood slowly brings more diversity to the silver screen, women are showing up in a way you might not expect: with capes. DC introduced us to Wonder Woman last year, and now it's time for Marvel's first female-led superhero movie. The latest trailer for Captain Marvel, which arrives in March, was released this week to much excitement from superhero fans and feminists alike. The film stars Best Actress Oscar winner Brie Larson as Carol Danvers, or Captain Marvel. Larson worked with female screenwriters and a female co-director on set, and she said doing so made all the difference. For example, dialogue would refer to her as a "woman," not a "girl," something a man would "generally" write, according to Larson. "They're just slight things, and I realized it changed the way I viewed myself," she said. Larson has been in the news in years past for her decision to fight sexualization by casting directors. It sounds like this time, however, she didn't have to battle for her voice to be heard. "The beauty of this," she said, "is that there's been so many women involved in the making of it that I don't feel like I've had to fight as much, 'cause I felt understood from the beginning." —Madeline Fry
Birth Control Implant, Essure, Leads to Health Problems for Women
The birth control implant, Essure is responsible for causing severe problems for women including sterilization, extreme sweating, bleeding, and chronic pain, according to an investigative report from the Canadian Broadcasting Corporation (CBC). According to the CBC, "as of October, about 500 Canadian women claiming issues with Essure have registered with a class-action lawsuit that's waiting certification expected next year." Essure is a 2 centimeter coil that is designed to be placed in a woman's fallopian tubes and cause scar tissue to form around the coil, thereby blocking sperm from meeting the egg.
Sadly, problems with Essure are hardly new. Earlier this year it was announced that Essure would be pulled from the U.S. market following the release of the documentary, The Bleeding Edge, which shared the testimonies of women who had been negatively affected by the coil. The distributors of Essure, Bayer, claimed that their decision had nothing to do with the documentary and was due to declining sales. Bayer has stuck to this story, despite increased public testimonies from women whose lives and health were permanently altered by the sterilization device.
After the start of the CBC's investigation, the Canadian health minister announced that the country would increase measures to strengthen the oversight of medical devices, but it has taken a grassroots movement of women connecting over social media to fully expose this problem and demand accountability. While the damage of this device to women's health and safety is appalling, it also goes to show that as women, we are the best advocates for our own health. One hopes this exposure can serve as the catalyst for future change. —Gabriella Patti
Mrs. Maisel is Back!
Fans of the new comedy written and directed by Amy Sherman-Palladino of Gilmore Girls need wait no longer. The second season of The Marvelous Mrs. Maisel is out. The show follows a Jewish housewife in New York City who begins to pursue stand-up comedy after her husband leaves her. Season 2 takes Midge Maisel to many familiar scenes (the comedy club) and many new ones (the City of Lights). Those who tuned into the first season on Amazon will recognize hallmarks of the show: a rollicking soundtrack (from artists like Frank Sinatra to Ella Fitzgerald), beautifully crafted '50s-era sets, and Midge's enviable sense of style.
However, the glitz and the snappy dialogue aren't all that made the first season win four Emmys, and they're not the biggest appeal of Season 2. As Megan Madden noted in Verily on the occasion of Season 1, the show's charm comes from the line it draws from the past to the present: "For being set sixty-some years ago, I felt that Midge's feminine but edgy resolve was exactly the tonic women (and men) of today are longing for. For me it was a source of comedic relief, but it was also a way to rethink some of what's happening today through a slightly different lens." Midge faces many of the same issues she would grapple with today. And no matter what life throws at her, if her answer isn't a witty comeback, it's a laugh. —MF
French Rebellion Highlights Issues with Global Warming Initiative
Last month French citizens began uniting in protest against their administration's plan to institute a fuel tax meant to curb vehicle use and consequently lessen greenhouse gas emissions. The already struggling working class, who rely heavily on vehicle use to go to and from their jobs, would endure additional financial hardship once the tax was implemented. As a result, they decried President Emmanuel Macron's initiative and took to the streets. Known as "Yellow Vests" due to their original donning of the yellow vests of safety guards, the workers' clamor against economic injustice has resulted in some of the worst riots in Paris in decades.
Though this Wednesday Macron announced he will rescind the tax scheduled to take place next year, his decision came a bit too late, as now additional groups, like labor unions and farmers, have joined the fray of angry protesters demanding additional changes in a nation plagued by rising unemployment and poverty.
At the same time, the explosion of French protests against fuel taxes has inspired like-minded rebellions in other countries as struggling working classes make their voices heard. International governments, heeding the trend, are now realizing that there exists an inherent conflict between the cost of environmental initiatives and the needs of their overwhelmed working classes. It remains to be seen how governments increasingly concerned with the ecological effects of global warming will confront these harmful costs. —Mariel Lindsay
Actress Jameela Jamil Says Airbrushing Should be 'Illegal'
Jameela Jamil, best known for her role in the NBC series, The Good Place, has received attention this past week after her bold comments calling out celebrity endorsement of detox teas, and most recently, for her statements on the airbrushing of women by the media. Jamil stated that airbrushing is "a disgusting tool that has been weaponized, predominantly against women, and is responsible for so many more problems than we realize because we are blinded by the media, our culture, and our society."
Jamil said that she suffered from eating disorders as a teenager, and that the perfect woman presented by the media exists to sell a fantasy. She went on to point out that if you see airbrushed images of yourself, you can become conditioned to dislike your true image. "Don't give your money to any institution that sells you the lie of 'perfection," Jamil said, "They are trying to break you, so you will hate yourself and go out and buy something you don't need, in order to fix something that was never broken in the first place."
Jamil's call for a ban of airbrushing is unlikely to occur, but she has proven herself to be a true supporter of women and an advocate for authenticity. While an end to photoshop won't end all of our self-esteem issues, it can only help get us closer to the point where we love our bodies regardless of age, skin color, or flaws. —GP
Reporter on 'Social Media Fast' Discovers She is Happier Without It
CNBC health-tech reporter Christina Farr began a three-month fast from social media after she discovered, much to her dismay, that she was actually spending 5 hours per week on Instagram alone. Realizing how heavily dependent she had become on apps like Instagram and Facebook to pass time, she deleted the apps from her phone and logged off them from her web browser. Three months later, she made a surprising (or not so surprising) discovery documented via her piece published on the CNBC website: she was happier without social media.
While social media, particularly Facebook, Instagram, and Snapchat, are increasingly a part of everyday life for the average American, its addictive nature has some ugly side-effects. Christina herself began asking introspective questions about her relationship to social media. As she writes in her piece: "I started thinking: With five more hours every week, I could read a book, volunteer, spend quality time with a friend, even learn a new language. Maybe I'd be fluent in French again in six months if I took a break from these apps."
Three months later, with her wave of free time, she is volunteering at a Crisis Text Line and practicing her French. What's more, she feels less pressure to compare herself to others, resulting in improved mental health.
Farr's personal findings help validate already widespread concerns about social media's interference in daily life. In addition, numerous studies suggest strongly that social media usage is linked to increased depression and anxiety. These discoveries are indeed cause for concern in a world overwhelmingly dominated by time-sucking social media apps. Even if we don't go off social media all the way, it's worth asking oneself the same question Christina did: What would could I be doing instead of mindlessly scrolling Facebook? —ML