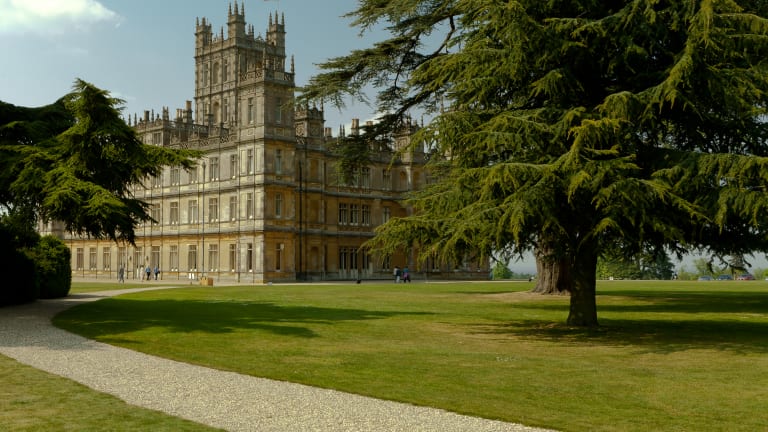 Downton Abbey Movie Trailer Drops, And Other Notes from the Week
Catch up on all the news you might have missed with our handy summary of the week's top stories.
We're pleased to bring you "While You Were Out"—the Verily editors' quick takes on the happenings of this week.
Harvey Weinstein Heads to Trial
During a hearing in a New York court on Thursday, a judge ruled that the case against producer Harvey Weinstein will go to trial. The hearing was held to determine whether or not any of the charges against Weinstein should be dismissed. He is facing five felony charges including accusations from an actress who says that Weinstein sexual harassed and assaulted her on several occasions. During one of these encounters she said that Weinstein bragged that he had had sex with actress Jennifer Lawrence.
The actress, referred to as Jane Doe in the suit, said that during one encounter when Weinstein forced himself on her, he "began lecturing her about how he and his people were all trying to help her, and asked her, 'do you even want to be an actress?' He expressly reminded her that he was the gatekeeper to her dream by claiming, 'I slept with Jennifer Lawrence and look where she is; she has just won an Oscar.'"
Weinstein's rep has claimed that this statement is completely false, however it comes following multiple accounts made by other actresses that Weinstein made unwanted sexual advances towards them, and used coercion and threats to get his way. Weinstein was arrested in May, marking a pivotal moment for the #MeToo movement, and he will again appear in court during a pretrial hearing in March 2019. Over a year since the movement gained traction, it has helped many to understand the ubiquity of sexual assault and harassment. We are hopeful that all victims, whether they are a famous actress or virtually unknown, will be brought closure and healing as perpetrators are brought to justice. —Gabriella Patti
Downton Abbey Teaser Trailer Is Released
A teaser trailer for the Downton Abbey film has been making the virtual rounds. Clocking in at just a minute and fourteen seconds, the trailer reveals very little substance of what's to come in the film extension of the hit television show, which aired over six seasons in the United States on PBS' Masterpiece. Nonetheless, the trailer was viewed by hundreds of thousands in a matter of days. It shows none of the main cast members, focusing instead on views of the estate and shots of maids preparing the interior for whatever drama will ensue, all of which is highlighted by a new twist on that classic theme music (can't you just hear it?!).
The plot is being closely guarded, but we know that filming on the movie wrapped recently. Entertainment Weekly reports "all of the principal cast from the sixth season . . . as well as over half the original crew" returned to shoot the new material. That includes series creator Julian Fellows, who wrote the film's screenplay; Brian Percival, who directed six episodes of the show, including the pilot, and who will direct the film; and returning executive producer Nigel Marchant.
The official trailer is to be released "soon," per the teaser. For now, fans can break out their calligraphy pens to mark their calendars for September 20, 2019, the film's current release date. —Lindsay Schlegel
Five-time Gold Medalist Swimmer Missy Franklin Retires to Pursue Motherhood
Competitive swimmer and five-time Olympic gold medalist Missy Franklin, who also holds the world record in the 200-meter backstroke, is retiring from the sport at age 23 after a years-long battle with "excruciating shoulder pain, surgeries, physical therapy, and mental anguish."
She announced her retirement via a heartfelt letter published on ESPN's website in which she details, in a compelling fashion, both her rise to success and her ensuing health battles. "Swimming was my first true love," she begins. Franklin wrote that the sport brought her endless joy and the realization of important life lessons: "you work hard, you have a positive attitude, you show up every day and give your best." Unfortunately, in 2015 she began to experience a host of painful health issues, which eventually intensified to the point that she could no longer ignore their profound effect on her quality of life.
She writes that when the severe pain and lack of sufficient recovery forced her to reconsider the possibility of a future in swimming, her fiancé told her in a moment of earnestness: "I will support you fully, no matter what you choose. But what matters to me the most, more than anything, is that you can hold our children in your arms one day without being in excruciating pain." Franklin says that in that pivotal, ultimately life-changing moment she "began to realize that [her] greatest dream in life, more so than Olympic gold, has always been becoming a mom." Missy Franklin's humble retirement from competitive swimming is a testament both to all that she has accomplished and to the love she hopes to share with a family of her own. —ML
Miss Philippines Wins Miss Universe with Her Confidence
Catriona Gray from the Philippines captured the world's attention at Monday night's Miss Universe 2018 competition, ultimately bringing home the crown. The 24-year-old stood out from the other 93 contestants with her signature "lava walk" (which received recognition from Tyra Banks)—but most of all, with her confidence. One of the judges revealed in an interview that "her confidence was not just any ordinary confidence, it was a confidence that was natural . . . That made a big difference and that's what put her in the Top 20."
As beautiful and dignified as Catriona is, I love that it is her confidence that ultimately won over the judges. She was given opportunities to speak in the opening statements, the Q&A, and the final word, and her answers clearly exhibit a graceful self-assuredness, inner beauty, and a loving heart for the poor. She is an advocate for HIV and AIDS awareness and education for impoverished youth. When asked in her final word about an important lesson she has learned, Catriona answered, "I work a lot in the slums of Tondo, Manila, and the life there is very poor and very sad. I've always taught myself to look for the beauty in it, to look for the beauty in the faces of the children, and to be grateful."
While many outlets have been focusing on the controversy surrounding this year's first transgender contestant, Spain's Angela Ponce, and some condescending remarks by Miss USA, I am happy to focus on Catriona's beautiful words, and I'm hopeful that she will use her platform to make a positive difference. —Madeleine Coyne
Taylor Swift's Reputation Tour Is Coming to Screen Near You
Those who missed Taylor Swift's Reputation tour this year—which E! News reports "closed with $345.7 million . . . more than any other musical act in 2018"—merry Christmas to you! On December 31, a dynamic, full-show performance from Taylor Swift's Reputation tour will be available for viewing to Netflix. The Dallas-based show has been turned into a feature film, Swift announced on Instagram last week: "I'm really excited that we will have this memento of the memories we all made together this year." I don't think I can miss this. —Mary Rose Somarriba
Unplanned Actress Discovers Family Secret Upon Accepting Her Role
Actress Ashley Bratcher is starring as former Planned Parenthood director Abby Johnson, in the movie, based on Abby's book Unplanned that is coming to theaters nationwide March 22, 2019. Unplanned tells Abby's story as the director of one of the largest Planned Parenthood clinics in the nation, including her involvement in over 22,000 abortions, and her subsequent change of heart that led to her becoming an anti-abortion spokeswoman.
Although the actress Ashley Bratcher had anti-abortion views prior to her acceptance of her role as Abby, she admits that she was "certainly not an activist." She knew how controversial this this film would be, and she was even warned that she could be blacklisted as a result of accepting this role. And yet, she decided that the career-ending risk was worth it.
Upon accepting the role, she discovered a family secret when she shared the news with her mother. In an emotional "Fox and Friends" interview, Ashley tells the story of how she learned that her mother came dangerously close to aborting her. Her father pawned a family shotgun to pay for the abortion and her mother went to the clinic and was on the table, but ended up feeling sick about it and not going through with the abortion. Ashley shared, "I'm so grateful that my mother believed my life was more valuable than the price of a shotgun, that the money intended to end my life was used to give me life."
Ashley makes a point to say in her Fox interview that "This movie is not about judgment and condemnation. It's about mercy and forgiveness." —MC
Mass Bomb Threats Sent Out To 4 Countries
A wave of bomb threats were sent out to businesses, hospitals, school and other institutions across the United States, Canada, New Zealand, and Australia last week Thursday, the 13th. Although all were determined to hoaxes, the threats caused mass panic and evacuation. Law enforcement reported that the threats were emailed and, in some cases, phoned in.
The New York Police Department tweeted that the "email contained bomb threat asking for bitcoin payment, but no devices were found. Furthermore, they said the threats were "meant to cause disruption and/or obtain money." IT experts believe that many of the email made it past spam folders because they were sent through authorized email address with "clean records." Authorities are still searching for the sender. —GP
Six Year Anniversary of Sandy Hook Shooting Marked By Bomb Threat
Friday, December 14 marked the 6 year anniversary since the tragic shooting at Sandy Hook Elementary School in Newtown, Connecticut. The already painful day was accented by an anonymous bomb threat that led to the evacuation of the entire school. Students and staff were sent home for the day after the threat was called in at 9 A.M. "Obviously there's a heightened level of anxiety," police Lieutenant Aaron Bahamonde said. "It's not unexpected that these anniversary dates bring out the evil in some people." This threat came following the wave of bomb threats that were received across on the country on Thursday. We wish peace and comfort on the entire community of Newtown this holiday season—especially those for whom this is an anniversary of losing a loved one. —GP
SNL's Pete Davidson Causes Alarm with Troubling Instagram Post
Comedian Pete Davidson, best known for his role as cast member on Saturday Night Live, is currently the subject of widespread concern after posting a message to Instagram in which he confessed that he struggles with thoughts of suicide. In his own heartbreaking words posted last weekend: "i really don't want to be on this earth anymore. i'm doing my best to stay here for you but i actually don't know how much longer i can last…"
Davidson's post immediately received an overwhelming response from fans and celebrities alike, including former fiancée Ariana Grande, all urging Pete to hold on or to seek help. The New York Police Department performed a wellness check on the comedian, who was at the SNL studio at the time. Even U.S. Representative-elect Dan Crenshaw is offering his support to David during this time of need. Davidson had previously mocked the disabled war hero's appearance on an episode of SNL, publicly apologizing to him a week later. Crenshaw told a Houston news affiliate that he told Pete that "everyone had a purpose in this world…God put [him] here for a reason. It's [his] job to find that purpose."
Though Davidson did make a brief SNL appearance following his alarming post, sources close to the comedian say that he still grapples with his mental health. He has since deleted his Instagram account. Our hearts go out to Davidson and anyone else struggling with thoughts of suicide. For anyone concerned about a loved one, encourage him or her to contact their therapist or a suicide prevention hotline like National Suicide Prevention Lifeline at 1-800-273-TALK. —ML