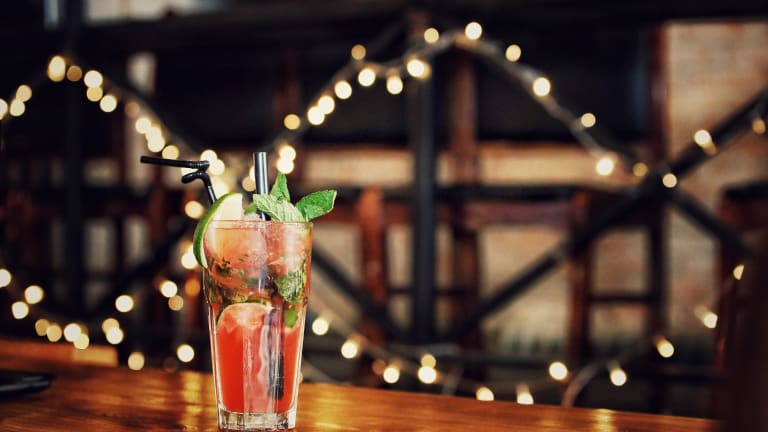 Culture and Cocktails: Explore the World This Winter
Your quick and easy guide to an unusual cocktail party
During grad school, a few friends and I started gathering on Sunday evenings for what we called "a taste of culture." Huddled around a dining room table or on someone's porch, we'd mix and share classic cocktails from different places around the world. The theme for the evening was planned by the host. When I look back on that delightful time, I remember the joy, laughter, and good conversation shared—the coziness of the winter is a great time to pick up this tradition again. Here's how to create such a soirée for yourself, with three easy-to-follow evening themes:
01. Decide on the cocktail you want to stir or shake up.
Margarita
Tequila is one of my favorite liquors, and who doesn't love chips and guacamole, the must-have sidekick? This simple salt-rimmed cocktail composed of tequila, triple-sec (an orange-flavored liqueur), and lime juice is appealing and refreshing regardless of the season. The salt, though a touch bitter, enhances the sweetness of the triple-sec and the lime balances out the sugar for a full-flavored sip.
Moscow Mule
Lime juice, vodka and ginger beer served in a shiny copper mug. The copper color of the mug isn't just for looks: Copper is a metal that does a great job of keeping a chilled drink cold. If you'd like to dress it up for the holidays, substitute an orange squeeze for the lime juice and garnish with cranberries or fresh rosemary.
Mint Julep
Redolent of the South, seersucker, and Kentucky Derby hats, the Mint Julep is stirred with ice, bourbon, and simple syrup (sugar and water) and muddled with fresh spearmint. It is the official drink of the Kentucky Derby, as bourbon is traditionally distilled in Kentucky. A couple of years ago my friends and I hosted a mint julep party on one of the coldest nights in winter; the drinks were so refreshing, it momentarily brought us back to the spring and summer months. Or, a fun way to make it seasonal is to replace the simple syrup with maple syrup.
02. Create the ambiance.
Margarita
Did you ever cut out paper snowflakes around Christmas time to decorate your home? When I was young I always loved sitting with my mom at our kitchen counter creating intricate designs to string together and hang over our dining room table. A variation on this tradition is the Mexican art style of "papel picado": designs cut into festive, brightly colored tissue paper to string into a banner and hang as decorations. Another option is making tiny banners for taping onto straws and placing one in each cocktail. This would serve as a good drink charm. To get the party started, turn up the music: put together a playlist including Latino/Americano songs (try Enrique Iglesias, Shakira, or Selena).
Moscow Mule
The Moscow Mule really originated in California, but the mugs are from Russia, so I'd stick to a Russian theme. A favorite childhood pastime of mine was playing with my mom's nesting dolls, which originated in Russia, where they are called matryoshka dolls. You can find free online coloring pages of fun matryoshka dolls that you and your guests could color and decorate with. (Think adult coloring book!) For a playlist, try Russian folk music or embrace Russia's rock scene.
Mint Julep
For a fun twist, ask everyone to dress for a Kentucky Derby party (women: bring your favorite big floppy hats, men: fedoras with feathers!) Spotify's dedicated Kentucky Derby Party Playlist (yes, it's a thing) includes a song titled "One Mint Julep" by American singer-songwriter Ray Charles that will have your foot tapping along to the beat.
03. Find just the right liquor.
I have a favorite little neighborhood liquor store where the staff is always excited to share their knowledge of wine, beer and spirits. If you have your own nearby, I encourage you to make a visit and ask for their recommendations. If you don't, consider asking a friend, or maybe even ask the bartender for suggestions next time you go out. In my experience, bartenders love to talk about the drinks they curate; after all, it's their field of expertise.
Margarita
In my research I learned that Patron Silver Tequila was rated highly for a basic margarita recipe. It isn't aged and is stored in stainless steel, making it a classic option with clean taste. If you know scotch lovers who like a smoky finish, Don Julio Reposado would add some spiciness.
Moscow Mule
For the Moscow Mule, focus on the brand of ginger beer rather than the brand of vodka. Most vodkas taste very similar and easily blend with the rest of the ingredients in the drink. Ginger beer is what will make up most of the drink, and it comes in many varieties. One of my favorite ginger beers is Crabbie's Original, a light bodied beer with a spicy ginger punch to it. If you want something fizzy and fresh, try Stoli's ginger beer, made with pure cane sugar and real ginger.
Mint Julep
The mint julep is intended to be a lighter drink, so it is best to use a younger bourbon (the more bourbon ages, the more complex the taste becomes). Maker's Mark and Knob Creek are both distilled in Kentucky, as is Woodford Reserve, the official bourbon of the Kentucky Derby.
04. Enhance the evening with ethnic appetizers and desserts.
Margarita
Staying with our Mexican theme for the margarita, I'd suggest pairing the cocktail with a variety of appetizers. There are lots of easy options for this one—try tortilla chips, guacamole, refried beans, and salsa. For a dessert, you could try your hand at making tres leches, a sponge cake soaked in three different kinds of milk: evaporated milk, condensed milk, and heavy cream. Another dessert option is flan, a custard baked with eggs, milk, and sugar.
Moscow Mule
A famous and hearty beet soup called Borscht is traditional in Russia. It can be served either hot or cold and includes meat, sautéed vegetables, and potatoes. A sweet option is Blini, a pancake rolled with your choice of fillings—ranging from sweet (with jam, honey, or chocolate) to savory (with cheese or onions).
Mint Julep
When it comes time for mint juleps, Food & Wine magazine has great suggestions for food and dessert ideas: start with a delicious and hearty-looking open-faced sandwich called the Kentucky Hot Brown with thick-cut bacon, roast turkey breast, and a good portion of cheese. A lighter, classic option would be cucumber-rye tea sandwiches. For something sweet, the bread pudding-like dessert Raspberry Brioche Diplomates is sure to be a crowd-pleaser. It can be prepared the night before and served either warm or cold.
Whether you choose a local or an international cocktail, there are so many creative ways you can create a theme around your chosen drink with decor, background music, appetizers and dessert. So close your eyes, spin your globe, pick a spot, and enjoy mixing, tasting, and learning.
Salut!