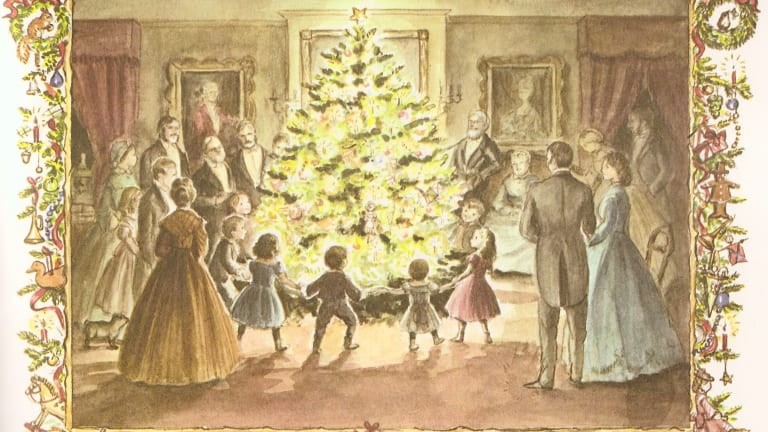 What a Children's Book Illustrator Can Teach Us about Christmas
Handmade gifts are often the most meaningful.
Recently, in a mad pull off the highway to nurse my screaming son, my mother, kids, and I found ourselves in a restaurant marked by a large sign reading "Food and Books."
The dining area was lined with $1 used books. As soon as my son was full, the search was on! Reviewing the children's section with my daughter for any familiar names, my eye caught on Tasha Tudor's Old-Fashioned Gifts: Presents and Favors for All Occasions, by Tasha Tudor and Linda Allen.
The cover depicts a woman and girl with their eyes cast down on their agile hands: The mother stitches and the girl knits. A second child sits between them, holding an animal on her lap, looking with pleasure on her older sister's work. Around the trio's feet are dozens more items of their creation. Their floor-length skirts seem to plant them there, and say, "We will stay here and grow something worth growing." Their unique gifts become flowers in the garden of their perseverant, nimble fingers.
I didn't need to open it there at the restaurant to know it was worth my time.
A woman of many skills
Tasha Tudor may have been a boon of your childhood, whether or not you recognize her name. As a girl, I was captivated by her delicate pencil illustrations in Frances Hodges Burnett's The Secret Garden. The detailed drawings convey a stillness within activity, and possess refreshing, realistic, and innocent beauty. Much like a secret garden, they suggest a hidden nobility in plain, everyday reality that only waits for us to open our eyes.
Tudor's illustrations in The Secret Garden are a set among nearly one hundred books she illustrated, or wrote and illustrated. She won Caldecott Honors for Mother Goose (1945) and 1 is One (1957). She also received the Regina Medal for her contributions to children's literature.
Impressively, she also practiced what she painted. Born in 1915 in Massachusetts, from an early age she was captivated by the olden days—very olden days, to us! She sewed clothes from flax she grew and baked bread from wheat she grew; she milked cows and goats, and gardened, eventually, around a farm one of her sons built for her; she made marionette dolls and put on plays. All of these activities feature in her watercolors and drawings.
Paging through Old-Fashioned Gifts, I found illustrations and instructions for a wool rabbit, a straw wreath, a painted Advent calendar with daily doors, slipper-socks, nesting boxes, and simple paper hats, as well as recipes, including Wintergreen patties and Raisin Gingerbread Cakes. There is something for every age and level of experience. Simple step-by-step diagrams are easy to understand—and a fun break from YouTube how-to videos.
The beauty of handmade gifts
It's also a break from the holiday consumer madness.
In an hour sitting and clicking, we can can order all our Christmas gifts on Amazon and find them at our doorstep two days later. Sometimes it feels there is little difference between things we get for ourselves and things others give us.
Though she wrote it well before the advent of the internet, Tudor's foreward to Old-Fashioned Gifts echoes this sentiment:
As holidays and other celebrations approach there is always the question: what shall I give? Of course, countless numbers of things can be bought in stores, but, somehow, store-bought presents do not always convey the warmth we hope will accompany the gifts. When people take the time and care to make the presents they give, they put into the gifts not only the materials needed, but also a part of themselves. The thoughts and feelings behind the giving, not the grandness of the gift, are the important ingredients.
Tudor is right that limiting gift-giving to what can be bought often leaves both giver and recipient feeling a little empty, caught in a flattened ritual—whereas sacrificing our time to create something beautiful for a loved one communicates and creates more love, as well as trains us and our children in patience and perseverance.
Following Tudor's lead this Christmas
While my grandmother is to sewing what Daniel Day-Lewis is to acting, my mastery extends only so far as replacing fallen buttons and mending ripped stuffed animal stomachs. I'm the not-so-proud knitter of a couple unfinished scarves, and I have never attempted quilting. But I'm picking up my knitting needles again to make my daughter a smaller gift. And I have my eyes on those paper hat instructions with nephews and nieces in mind. I can't make everyone on my list a present, but I can make some.
So can my daughter. For women who find themselves learning skills like sewing, knitting, and baking with their children, the scope of Tudor's Old-Fashioned Gifts is perfect and delightful. Although Tudor achieved a high degree of perfection in her crafting, the tone of her instructional is kind, encouraging and easy on imperfections. As Tudor strove in her own life to turn the clock back and learn older skills, we, too, can challenge our creative potential with practices our grandparents or great-grandparents took as a matter of course. What a beautiful example for our children! That image on Tudor's cover is within our grasp. We can begin little gardens, with little gardeners growing nimble hands.