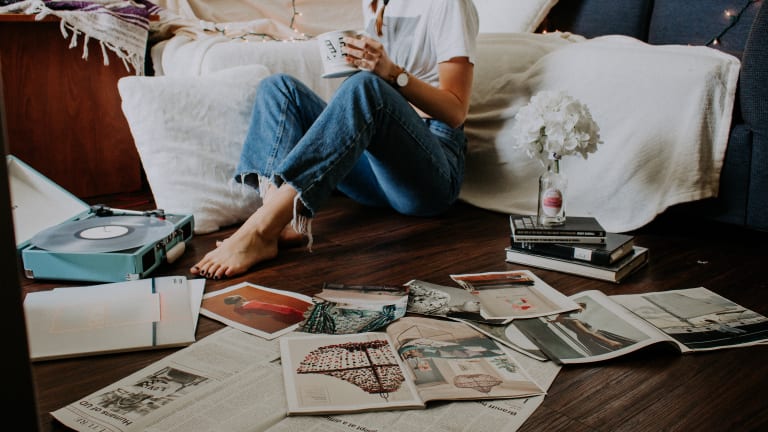 Subscribe to Verily Yours!
Elevate and simplify your everyday life with the Verily touch.
It is no secret that women today are more educated, influential, and affluent than ever before. Yet in this day and age, we report record levels of anxiety and decreased happiness. Is this what we were striving for?
Since our founding, Verily Magazine has striven to empower you to focus less on who you should be, more on who you are. That's why we're excited to launch a new feature aimed to elevate and simplify the everyday lives of Verily women. You can subscribe here!
Delivered in the form of email newsletters, this exclusive content will enable you to add a Verily touch to the most ordinary elements of your life. Here's how it will work.
***
Dinner: Everyone has to eat it, but someone has to make it. For most of us, making dinner is just one more chore in our days. But what if making dinner became a form of self-care? What if we saw dinnertime as an opportunity to turn off the stresses of the day and settle into leisure for the evening?
Verily Table aims to make the dinner hour precisely that. Once a week, we'll send an email that contains the following:
1) A variety of recipes for traditional, vegetarian, gluten-free, and Paleo eaters, aimed to be simple to make and delicious to eat
2) An engaging podcast or relaxing playlist to listen to while you're preparing the meal
3) A question for discussion or reflection over the dinner table
Verily Table will also include suggestions for hosting, tips for stocking your kitchen with the best gadgets, and information about the health benefits in specific foods.
***
Whether you love your job or you live for the weekend, most of us find ourselves wishing for one more lazy day at home when Sunday evening rolls around. Verily Work will aim to kill those Sunday scaries through a weekly newsletter intended to uplift your work week with tips for professional development, productivity hacks, and creative inspiration to make the most boring tasks or meetings a bit more inspiring. As happiness writer Gretchen Rubin often says, "If you can't get out of it, get into it." So think of this newsletter as your own personal career coach, reminding you that you're capable, work can be stimulating, and no personal growth is insignificant—no matter how small.
***
Does the thought of checking your bank account fill you with dread? Do you wish your spending habits better reflected your values? Would you like to be more proactive about investments, home ownership, or retirement? Whether you rarely check your bank account balance or you're pretty diligent about your budget, Verily Cents will reach you with a bit more intentionality about your money. Written by a financial advisor, this twice-a-month newsletter aims to help you understand the emotions and beliefs that surround your decisions about money, as well as develop a budget and spending habits that align with your values and goals.
***
Designing and organizing a home that is as beautiful as your heart's desire isn't always easy. There's a reason interior design is a profession! Verily Home will give you access to professional interior design advice at a cost you can afford.
This email, delivered twice a month, will invite readers to submit a room or corner in their house they'd like to redesign. Professional designers will offer suggestions based on the reader's budget and design requests (colors, look, furniture needs, etc.). It will include snippets of Verily design principles—so that you can learn the basics of interior design with that Verily aesthetic we all love. It will also offer organizational tips that aid design—after all, keeping a house in order is at least half the battle in the quest for a beautiful home.
***
We know you have a lot of content competing for your time online, and we know many of your inboxes are flooded. But we hope you'll see these emails as something set apart. We have always believed that what we do at Verily should feel like a conversation among friends, and we believe Verily Yours will be an extension of that conversation. We'd be honored if you'd invite us into your daily lives by subscribing.
Verily yours,
The Verily Editors
P.S. When you subscribe to the Verily Yours newsletters, you will be supporting efforts to bring Verily Magazine back to print!