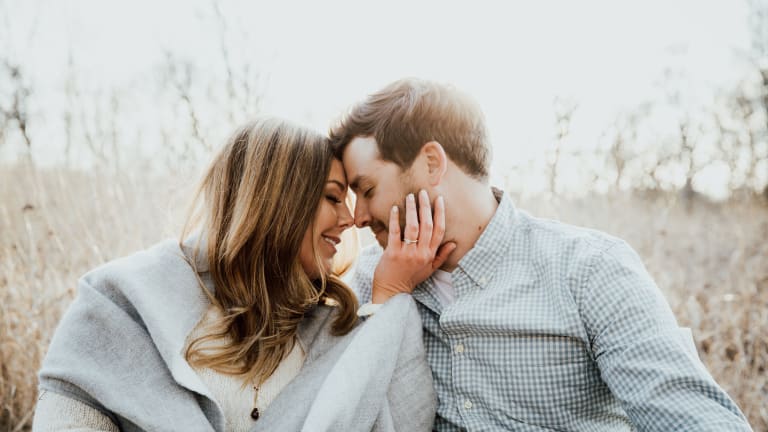 When She Knew: Noticing The Little Things
Our love isn't like others, and it's perfect for us.
Making my way through the crowd exiting Customs, I tried not to step on too many toes as I beelined to the bathroom. I hurriedly brushed my teeth and tried to do something with my hair, but let's face it, there's not much that can be done after a twelve hour flight. Plus I was too excited to see Andrew again; I didn't have the patience to smooth every flyaway. I gave one last nervous glance into the streaky, gray, airport bathroom mirror and dashed out with my bags.
I peered over the heads of those around me, searching…searching…my face broke into a huge smile as our eyes met, there he was! Waiting for me, as promised. As we embraced, all my anxiety at seeing my boyfriend of seven months (after being apart for five of those months) vanished and I felt completely content.
After a few moments of quiet giggles and several kisses, he opened a bag and said, "I was going to bring you flowers, but instead I got you these," and handed me a bag of Flamin' Hot Cheetoes. To other girls, a bag of spicy caloric corn snacks might not be their idea of romance, but to me, that's when I knew: I would marry this man.
We had spent the last semester 4,000 miles apart as we each studied abroad. We passed endless hours communicating by email, Skype, and a few precious (and expensive!) phone calls. Of the thousands of words we had exchanged, I had maybe mentioned once or twice how I missed Hot Cheetoes (they apparently had not made their way in popularity across the Atlantic to Israel).
Andrew had been paying close enough attention to remember my likes and dislikes. To me, that is the mark of someone who cares. Remembering the mundane facts about me meant that I wasn't being ignored or taken for granted or put up with. Rather, Andrew spent our conversations listening to every detail. Having someone who I could count on to respect me and not brush me off was a must in a relationship.
It also meant that he knew what type of person I was. Don't get me wrong, flowers are beautiful gesture of love and a gorgeous gift to receive, but they are just not…me. I am a practical person and I love receiving gifts that I can really use, not just something to use for decoration that will fade after a week or two. Of course I had never explicitly told Andrew this in conversation, but he had gathered enough information over the course of our relationship to understand this about me. He was an observer, a listener, and a respectable man.
All of these characteristics have remained alive into our second year of marriage. I know I can count on Andrew to listen to me and not write me off when I am talking with him, even if I am upset or angry (sometimes at him). Not only does he listen to me, he takes the information and incorporates it into our life. If I mention that I have too much on my plate at work or at home, he takes the initiative and helps out with my chores. He is always asking, "What can I do for you?" I love that so much about him. He also respects my practicality. He doesn't mind that I am not as feminine as my sisters, and he certainly loves that I am easy to shop for!
Looking back on our reunion at JFK, I now see that our relationship didn't look like anyone else's, and that was okay. When I shared with others what I thought was an adorable anecdote, some people just didn't get it, or seemed confused as to why I would want a salty snack at my much-anticipated reunion with my long-distance boyfriend.
I don't think I even understood at the moment the meaning of that present, but it did make me doubt us a little bit. After all, this was my first relationship. Was I doing it wrong? Should I have demanded more of a welcome on my first day back in the States? Did he think I was weird for being so ecstatic over a bag of chips?
But as our relationship progressed, I learned to write off the confusion from others as well-meaning, but also inaccurate for our relationship. We had developed our own style of communication and love, and it didn't matter what others thought a relationship should be like. We had all the hallmarks of what mattered: healthy communication, mutual respect, acceptance of quirks, and so forth. So whether or not Cheetoes play a starring role in your relationship, remember that every romance is different and that what matters is that you understand each other.