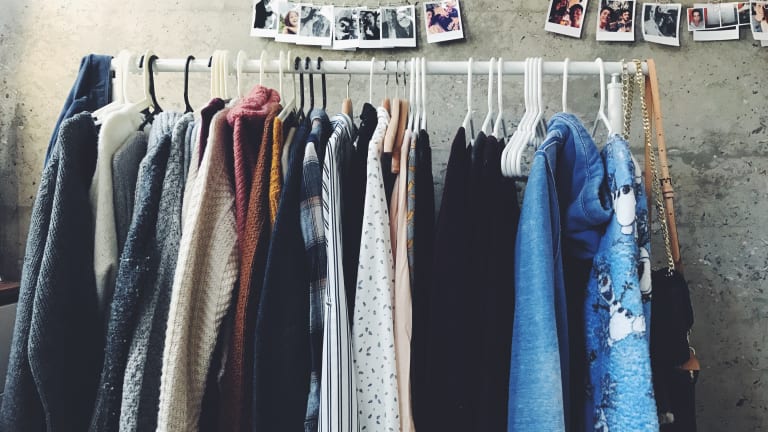 Loving Your Clothes After Childbirth
Creating a postpartum transition wardrobe can give you the confidence you're looking for.
After my daughter was born, my clothes seemed to sag or squeeze in all the wrong places. My maternity clothes were too big, but my pre-pregnancy clothes were too small. My body felt unfamiliar—no surprise, considering all it had been through. It had housed and grown my baby girl. When her well-being was in jeopardy, my body had been cut open to bring her into the world as quickly as possible. And this same body produced food for her as we struggled through those first weeks of breastfeeding.
These days, there's a lot of talk about loving our postpartum bodies, and that's a good thing. Postpartum bodies are miraculous and beautiful. But we also need to acknowledge that it's OK to feel a little uncomfortable in our own skin. I know I certainly did.
I simultaneously loved my body and wanted to change it. As much as I wanted to lose the pregnancy weight and gain some muscle, part of me felt guilty as I scrolled past yet another article about how I was supposed to embrace my new postpartum shape. But I came to realize that loving my body didn't mean dismissing my health and fitness goals. Rather, I would love my body by pursuing those goals through a healthy lifestyle.
I knew my goals would take a long time to reach—no "bouncing back" for this mama. The Mayo Clinic states that a healthy expectation for postpartum weight loss is up to a pound per week, so it can take six to 12 months to get back to a pre-pregnancy weight. It's meant to be a gentle process. As the months between me and my goals sprawled before me, I dreaded the prospect of wearing ill-fitting clothes. So I created what I thought of as a "transition wardrobe": a collection of clothes that would be comfortable and flattering to my changing body.
Having a transition wardrobe relieved the pressure I put on myself to squeeze into my old jeans. More importantly, it helped me embrace my body in its ever-changing state. Since then, I have welcomed another baby. That transition wardrobe has been just as beneficial the second time around, though I've had to add some pieces to accommodate for different seasons. Here are a few things I've learned about creating a postpartum transition wardrobe without blowing the budget.
What's in my wardrobe
First, here's a look at what's in my transition wardrobe following the birth of my son, an autumn baby. Your transition wardrobe will be largely influenced by the season, your location, and your personal sense of style. If you're breastfeeding, you'll also need to take that into consideration.
01. Tops
Open-front sweaters and cardigans
A loose-fitting pullover top
02. Pants
03. Other
A couple of dressy outfits
Think long-term
Although this wardrobe is for a transition, it's still possible to get a lot of wear out of these items. A crucial part of creating a successful and budget-friendly transition wardrobe is to look for items that have a versatile fit. While leggings do fall into this category, versatile clothing doesn't have to be stretchy.
When looking for long-term transition pieces, I focus on two types of clothing: items that can be layered and items that have a loose or flowy fit. For cool-weather layers, flannels, cozy open-front sweaters, and light zip-up hoodies work well. A blazer could also be cute. In warmer weather, blouses that can be left open are a good option, and so are cardigans.
Most of my shirts can be layered over a nursing tank top. I bought my tank tops one size larger than my normal size, so they don't squeeze in an unflattering way, but instead hang nicely. And because I wear an open sweater or something similar on top, it doesn't matter whether I'm 6 weeks postpartum or 6 months postpartum—it still fits. Wearing layers also provides better access for breastfeeding.
Keep in mind that loose doesn't mean shapeless—the goal isn't to find clothes that hide the body, but that hang nicely to showcase your new shape. One of my current favorites is a loose long-sleeved top that zips up the sides. Not only do the side zippers give the shirt unique appeal, but they also make it more nursing-friendly than it would be otherwise.
Be selective with short-term clothes
Some clothes are meant to have a tailored look or fit the body more closely, and these also have a role to play in your transition wardrobe. But since you'll likely only wear short-term items for a couple months, this isn't the time to splurge. Be thoughtful and intentional in your selection, and look for good sales.
When shopping for short-term items, don't worry about the size. Say goodbye to pride and self-imposed pressure, and focus purely on whether the item is flattering to your body in its current state. Trust me—you'll feel more confident in clothes that fit well than you will in clothes that pinch because they are too small.
I have found great freedom in wearing jeans that fit properly. I've tried some of the wardrobe tricks out there, like rigging tight pants closed with a ponytail holder through the belt loop. I've also tried those stretchy belly bands that are meant for transitional use. But in both cases, I was constantly tugging at my clothing and making adjustments. I decided I would rather spend a little money on a pair of jeans than endure months of discomfort. So, I focused my short-term spending on jeans that fit the way they were supposed to. And thanks to a coupon and the clearance rack, I managed to get two pairs for $25.
Because you're thinking short-term, this can also be a good time to try out a different style. I usually opt for skinny jeans or bootcut jeans. But I tried on a pair of good ol' straight-leg jeans, and I was pleasantly surprised by how much I liked them. Have a little fun with some experimentation.
Don't forget the dress clothes
You're bound to have at least a few special occasions crop up while you're working toward your goals. It's best to be prepared, so you don't have to have an "I have nothing to wear" moment when you realize that little black dress just won't work right now. Depending on the occasion and your budget, dress clothes can fall into either the short-term or long-term category.
One of my favorite dressy pieces is a fitted sweater with side ruching. It has a feminine shape, but the ruching means it's not too snug over my midsection, and I'll be able to get some long-term wear out of it. I like to wear it with a pair of good short-term dress pants.
The summer after my daughter was born, I found a sleeveless tunic dress I felt fantastic in. It was loose enough to be comfortable, but it had enough shape to make me feel like I wasn't wearing a bag. I loved it so much, I bought it in two colors. If something works, there's no shame in repeating it.
Love your loungewear
If there was ever a time to have loungewear you love, it's the postpartum phase. If you're anything like me, you'll spend a lot of time in these clothes, so it's important that you feel good in them.
I found a pair of soft joggers and a matching top that are perfect for snuggling with my little ones on chilly days. When the days get long, having cute loungewear helps me feel just a little bit pampered. And as a bonus, I still feel reasonably cute when my husband walks through the door—especially when I've taken the time for a simple beauty routine.
Befriend your closet
Your closet might seem like your enemy, but let it be your friend, both as you begin creating your transition wardrobe and after you've curated your collection.
Before you buy anything new, shop your closet. Even if you think nothing will fit, take one more look with an open mind and a creative eye. You might be pleasantly surprised.
Once you've gathered your transitional clothing, both from what you own and what you've purchased, consider re-organizing your closet. I found it helpful to arrange my clothes into two sections: clothes that fit now, and clothes I'd like to get back to later. On a practical level, this makes it easier to take inventory and put outfits together. It also has an emotional benefit. Instead of sorting through my closet and lamenting all the clothes that don't fit, I can focus on all the good options at my fingertips.
As you organize, you might also find items that it's time to say goodbye to for good. Even if you eventually lose every single pregnancy pound, your body might look and feel different. This is perfectly normal—after all, your body was stretched and reshaped as it housed, nurtured, and birthed a human being. You might also find that you desire to rethink your sense of style now. This, too, is normal. Your body has changed, and so have you. You are a mother.
No matter how long it takes you to reach your goals, and no matter how different your body may be, it's important for you to feel good in your clothes. Having a transition wardrobe is part of being gentle with yourself and adapting to your new normal. Besides, your baby gets to dress cute. You should get to dress cute, too.