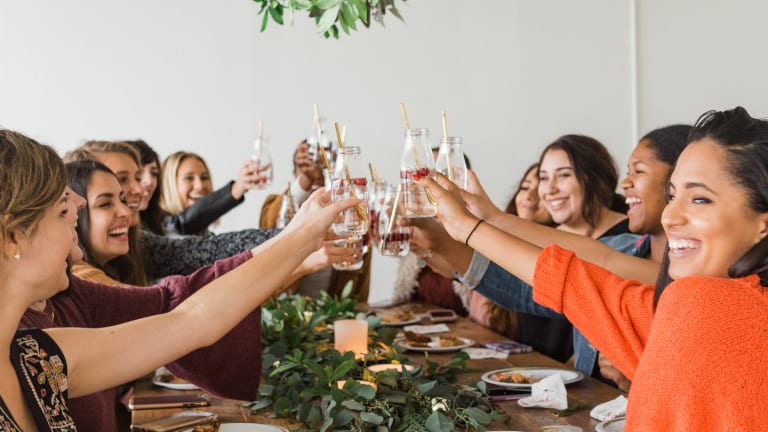 The Best Holiday Party You've Never Heard Of
Host a "Favorite Things Party" with your circle of friends!
For the last 17 years, my mom has hosted an annual party with a group of her girlfriends called the "Favorite Things Party." My mom came up with the concept back when Oprah still had her talk show, and would air a "Favorite Things" episode, in which Oprah would surprise the guests in the audience with her favorite things from the year. My mom and her 10 girlfriends (and all their kids—us!) would watch that episode of Oprah at our house while snacking on the potluck foods everyone brought. 
After the show, we would gather around the dining room table and each mom would present her "favorite thing" for the year—something she had discovered that made her life more interesting, delightful, or easy. These favorite things included books or beauty products, but they could also be small items that were representative of something intangible. For instance, one year, a mom gave away the most amazing homemade granola that she had discovered at a bed and breakfast while visiting her daughter in college—her newfound "favorite thing." The homemade granola (the recipe for which she had begged the B&B owner!) was representative of this new favorite experience or activity. Each woman would bring 10 of this same thing, and explain why it was her favorite thing (or represented a favorite thing of hers). At the end of the party, each woman goes home with one of everyone else's gifts—10 different items.
Seventeen years later, the tradition continues—sadly, sans the Oprah episode viewing. Many of the "kids"—now in or past college, some married and few even with kids of their own—still make it back for the party because we love it as much as our moms do. Some of my mom's friends now host their own Favorite Things Party with other social circles, such as their neighborhood friends or in-town relatives.
So, how exactly does this party work?
Who Attends
Any number of guests can attend the Favorite Things Party. However, it's probably best to keep the guest list to no more than 10 friends so that it doesn't get too expensive for anyone (since each person brings a gift for every other person attending). Worried about cost? Keep the guest list to two to four people.
I also recommend making the guest list a group who know (and ideally, love) each other. Maybe it's you and your three best friends from college. Maybe you decide to do it with your book club or Bible study, or the small office you work in. That way, all the guests are already familiar with each other and are probably delighted to get the other guests gifts (rather than spending money on someone they don't know). Adult sisters and sisters-in-law could also benefit from sharing in this party, so that with their growing families, they don't have to pick out a different gift for each member of their family.
How it Works
Let's say you decided on six guests in addition to yourself. That means you and each of your guests bring six gifts to give to the other attendees. But don't worry! You bring six of the same items (this is your "favorite thing") so you don't have to go searching for a specific gift for each gal. (Christmas shopping made easy, am I right?) You can even set a monetary limit, such as $10 per item, for all guests to follow.
For example, let's say I decide my favorite thing is the Wet Brush in rose gold (seriously, if you haven't tried this brush, you're missing out—I have three of them). I can get one at Target or Kohl's for less than 10 bucks a pop, or I can get a two-pack and two-day shipping from Amazon for $13. So, I buy six Wet Brushes for $40 and I've got my "favorite thing" for the party. I wrap up each brush separately, and I'm ready to go.
Choosing Your "Favorite Thing"
Your favorite thing can really be anything. Maybe you get everyone a copy of your favorite magazine or book this year—simple. You could give your favorite lipstick, nail polish, lotion, eyeliner, or any beauty product (especially if it's a steal!). You could share your new favorite cooking utensil—that yellow lemon juicer you were gifted at your wedding, or the bottles of salt and pepper with the built-in grinders that your mom always uses. Your favorite thing could be a clothing item, like gloves with tech-touch fingers (a three-pack for $9!) or your favorite scarf (for $5?!) or the running socks that finally don't give you blisters for a group of active women. Earrings, delicate necklaces—the world is your oyster. Favorite foods and snacks are also options. One year, one of my mom's friends gifted jumbo bags of those dark chocolate covered pretzel crisps, and now I can't get enough of those! So simple, yet such a fan favorite.
Or, maybe your "favorite thing" can't be bought or sold. For instance, maybe you love to travel, so your "favorite thing" is a travel nail kit to represent this. Maybe your favorite thing is your new job, so you get everyone an adorable business card holder from Etsy with her name or monogram on it (only $10 apiece for such a personalized gift!). If your favorite store is Trader Joe's you can get everyone your go-to cheap wine (TJ's brand of Syrah) or fave non-perishable food item (peanut butter filled pretzel nuggets, thank you very much). Maybe your faith or prayer-time is your favorite thing. A "hope" ornament (if everyone celebrates Christmas) or a journal for prayer are wonderful gifts to represent this intangible.
You can also find something everyone will love that represents your new favorite person. One year, one of my mom's friends gave everyone a copy of People magazine because George Clooney, her celebrity crush, was on the cover! Take a page out of her book and gift your gals a copy of the Magnolia Journal if you're part of the Chip and Jo fan club.
Tight on funds? You can make something by hand, too, of course! Homemade granola wrapped in cellophane or a loaf of your mom's famous pumpkin bread for each guest are sure to please (a perfect option if baking is one of your favorite things to do). Likewise, if you love to knit or sew, making gloves or a hat for friends will prove so meaningful.
Whatever your gift, it doesn't have to be cutesy or expensive. It can be simple and practical, but whatever it is, I'm sure your guests will love learning about something new, and most of all why it's your favorite thing.
Food
You can easily coordinate dishes ahead of time to do potluck style. Maybe you each contribute a dessert for an evening party. Or you do a dinner party and someone (or a few) brings an appetizer or salad, someone can make a "main dish" like soup or pick up a platter or deli sandwiches, someone brings drinks, and someone (or a few) bring desserts. In my mom's group, someone even brings paper plates, napkins, and disposable utensils! Of course, you can opt to do the party more simply over wine and hors d'oeuvres, too. However you opt to do it, everyone can contribute something.
At the Party
The day of the party, each attendee brings her wrapped gifts and a dish to pass. After mingling and munching on food, the guests gather around a space (could be the coffee table or the dining room table!) with their gifts in tow. You go around the circle and each guest takes a turn opening one of her wrapped gifts and explaining why this is her favorite thing.
For example, when it is my turn at the party, I open up one of my six wrapped Wet Brushes, and explain why the Wet Brush is my favorite thing this year. It can be as simple as saying, "For my favorite thing, I chose the Wet Brush!"—(prepare for lots of oohs and ahhs)—"I have three of these—one I keep in the shower to brush my hair after I condition, one I keep in my vanity to brush my dry hair, and I keep a mini version in my toiletry bag for travel." I could go on to make a pitch about why exactly these brushes are so great, or I can keep it at that. I'll likely get some questions about it and friends who have never heard of it before, which is great! That is part of the point of the party—sharing all our favorite things with friends who haven't discovered their value yet!
The Favorite Things Party is such a fun way to learn about undiscovered products—from food, to beauty products, cooking utensils, practical things like epsom salt, and fun and frivolous things like HGTV Magazine. You can host it with any number of guests, and it doesn't require a massive amount of planning or effort to host. The gifts can be simple and inexpensive, yet are meaningful to the giver (it is her "favorite thing," after all!). Plus, you can cross all the guests in attendance off your Christmas list—done and done!