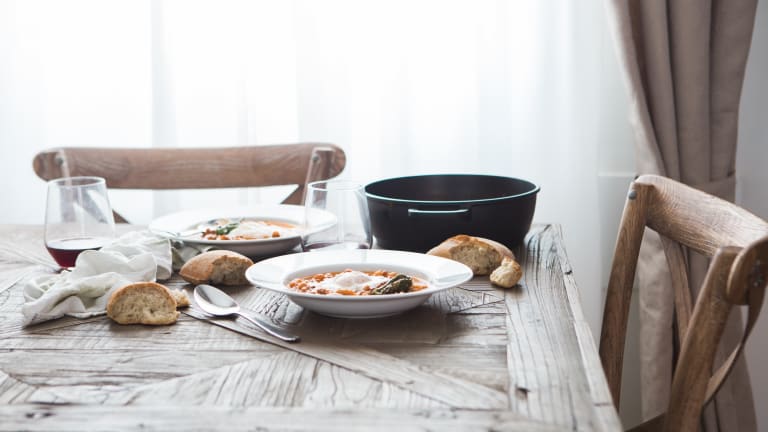 Why True Hospitality Requires Imperfection
"Welcoming" is better than "perfect."
Recently, I invited a few guests over for dinner.
Attempting to play the part of perfect hostess, I flew around in a frenzy, cooking unnecessarily complicated dishes and constantly running around, cleaning up after everyone. I was more concerned with creating an experience for my guests than making sure they felt at home, my messy kitchen notwithstanding.
I doubt I'm the only one to have felt enormous pressure as a hostess. The word "hospitality" often conjures up images of millennial Marthas standing in spotless kitchens, whipping up 37-step gourmet recipes, and creating the perfect experience for guests—all with a full face of makeup and not a single strand of hair out of place.
But is this real hospitality? Is hospitality about perfection? About putting on a show?
When my guests headed out the door that evening, I was left feeling as though the time had passed right by me, and I regretted not being more present. But it also taught me a valuable lesson: Hospitality isn't about enviable cooking skills or home decor. It's relational. And being truly welcoming often starts with letting go of your need to present a façade of perfection—and, further, accepting that imperfection is actually beautiful and life-giving. Here's why.
Imperfection puts your guests at ease
Perfection is not only an unattainable standard when it comes to hospitality, but some influencers even think that our quest for perfection is, well, a bit disingenuous. In her popular book The Nesting Place: It Doesn't Have to Be Perfect to Be Beautiful, author, blogger, and professional decorator Myquillan Smith writes: "We like to tell ourselves that we are insisting on perfection for the betterment of those around us. But really, insisting on perfection is a self-centered act."
Her assertion begs self-reflection: Did I choose that recipe because I thought my guests would like it or because I wanted to show off my cooking expertise? Is my pursuit of magazine-worthy cleanliness about making my guests feel comfortable—or impressed?
Furthermore, Smith believes that creating a life-giving home where people feel welcomed and loved actually necessitates imperfection. Imperfections in a home, she observes, "put people at ease." "When I walk into a house," she writes, "my eyes immediately dart around hoping to find something imperfect so that I can know this is a house where I can be real." She lives this out in her own home: She is famed for leaving a laundry basket full of clean clothes in plain sight when she has company, as it clearly signals that they are entering a true, lived-in space, not a museum.
"Instead of seeing imperfections as thorns in my decorating flesh," she writes, "I want to open my eyes and see them as signs of life."
Imperfection puts you at ease
Learning to see imperfections in my home and my life as a gift to others—rather than an offensive impediment—made me much more comfortable to fling open my doors and welcome people into my home. After that experience of wearing myself out creating a "perfect" dinner party for my guests, I now actually sit down with my guests when they come over, eat with them, and enjoy the time with them, rather than feeling I need to run around and impress them.
If you want to be more hospitable but you're fearful about the messes in your own life—whether those include an untidy house, lackluster cooking skills, or a chaotic lifestyle—start by shifting your mindset and the way you think about hosting. As Smith writes, "As women, we ache to believe that real beauty can be found in the midst of imperfection. We are crying out for permission to lower our standards. Let yourself know: permission granted."
Of course, that doesn't mean that you can't ever prepare a charcuterie board or beautiful place settings. But it's important to remember that we can exhibit hospitality all the same over takeout or a five-course homemade meal, in a picture-perfect living room or amid piles of laundry and LEGOs. True hospitality is relational at its core, about serving, welcoming others, and opening our homes, lives, and hearts.
As Smith writes, "The irony is that giving up on perfection isn't a failure. It's a gift."
Tried-and-true tips for the imperfect hostess
Once you've cultivated a healthier mindset about your imperfect hosting skills, practice stepping out of your comfort zone and plan an impromptu dinner. Here are three practical tips to help you get off the ground.
01. Make peace with your home.
If your home isn't perfect, that is okay. If you live in a studio apartment, that is okay. If you haven't had time to clean the entire place top to bottom, that, too, is okay. What matters isn't that your home is impeccably decorated or spotless, but that it is a welcoming place for your guests.
When I have last-minute guests over, lighting a candle, setting out fresh flowers, and playing music makes me feel like my home is lovely and ready for others to enjoy. Find simple ways to make your space beautiful and homey, and your guests will feel welcomed and loved in it.
02. Embrace simple cooking.
If you are a novice at cooking and hosting, this probably isn't the best season to tackle lamb flambé and that fancy cake on the cover of the Southern Living holiday issue. Opt for simple, low-maintenance menu items that will maximize the time you are able to spend with your dinner guests. My favorite meal to make for guests is crockpot chili, because all of the preparation is done hours before the guests even arrive. Not to mention, chili makes the house smell great, is hard to ruin, and can be adapted to fit various dietary restrictions.
To help you master the art of simple cooking, develop a rotation of go-to recipes: those reliable items that are easy, delicious, and low-maintenance. Pull them out whenever you have company to take the planning, stress, and guesswork out of the process.
03. Start with your closest friends and family.
If you still have reservations, start by inviting a few very close friends and family for an informal dinner. Hosting and entertaining the people who are closest to you will help you gradually gain confidence in the process and your ability to be hospitable.
Learning to embrace imperfection as a hostess is hard, but it starts with recognizing the beauty in presenting your real self to the people you love. The next time you open your doors to your family or friends, take a deep breath and remind yourself, "This doesn't have to be perfect to be beautiful."