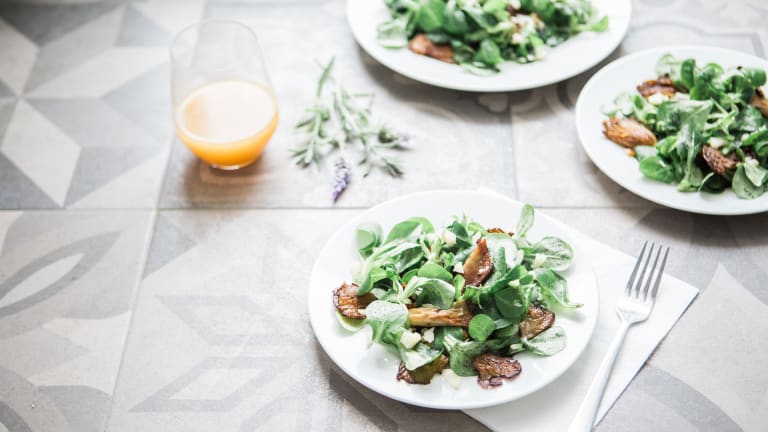 Imperfect Hospitality: A Practical Guide to Hosting Overnight Guests
Simplicity makes things more enjoyable for everyone.
Hosting houseguests takes a lot of work, especially when it comes to the food. From preparation to cooking to clean-up, making meals can devour most of the day. Many of us feel a good deal of pressure to get everything right. But being a good hostess doesn't have to mean slaving away in the kitchen.
Over the years, I've learned a lot about hosting by watching the other women in my family. They all have a gift for making visitors feel welcome. And if there's one thing these women have taught me, it's the importance of embracing simplicity. Through observation, I've picked up a few ways to simplify the meal plan. Let these strategies relieve some of the pressure so the logistics of being a good hostess don't get in the way of the fun.
01. Plan self-serve meals
Plan some meals people can make for themselves. This strategy takes some pressure off of you, and helps your guests feel more at home—a win-win!
This works especially well for breakfast, since people's breakfast habits differ wildly. Everyone can leisurely get up in the morning instead of feeling like they have to be at the table and ready to socialize at a certain time.
Stock your fridge and pantry with breakfast staples such as cereal and milk, bagels and cream cheese, eggs and bacon, oatmeal, muffins, yogurt, fruit, or whatever suits the tastes of you and your guests. Don't forget to show your guests where to find the breakfast supplies before they go to bed the first night of their stay. You can even leave out basic cooking tools, like a frying pan and a spatula.
If you prefer a more structured approach, plan a simple breakfast for each day that you can set out the night before, so people can help themselves in the morning. For instance, you could serve a platter of pastries and a bowl of fruit on Friday, English muffins and yogurt on Saturday, and bagels on Sunday.
When we visited my in-laws for Thanksgiving last year, our nine-month-old was often awake and ready to play several hours before everyone else woke up. Helping myself to a hot bowl of oatmeal and a cup of coffee not only kept my stomach from rumbling, but also made me feel right at home.
For lunch, consider having sandwich supplies on-hand, along with fresh fruits and veggies, chips, pretzels, potato salad, or other sides. People can help themselves whenever they get hungry, or you can lay out the supplies like a buffet at a certain time so everyone can eat together.
02. Supply snacks
When there are plenty of snacks on hand, you don't have to worry about anyone going hungry. Since people may be used to eating at different times, snacks ease the pressure of scheduling meals at the right time for everyone. And if dinner is taking longer than expected to prepare, a little snack can tide people over.
Keep a cupboard stocked with nuts, crackers, chips, or granola bars. In the fridge, consider salsa, dips, or salami and cheese. Fresh fruits and veggies are also a good idea. It helps to have the snacks in a central location, so people don't feel like they have to rummage for them. If you think your guests might be a little apprehensive about helping themselves, you can set up a simple snack buffet at some point during the day. Arrange a selection of savory and sweet snacks that people can nibble on as they please. Keep a stack of paper plates handy for easy cleanup.
Regardless of whether we're visiting my parents or my husband's parents, no visit is complete without some games.Those games are often accompanied by a little something to munch. Not only do the snacks keep us satisfied, but they help make ordinary moments feel like a party.
03. Let a restaurant do the cooking
There's no shame in dining out or ordering in. This gives you a chance to relax, and it gives your guests a taste of the local flavor.
When visiting my side of the family in the Los Angeles area, I had the best hot dog of my life at Dog Haus. The "Cowboy" dog was wrapped in bacon and covered with cheese sauce, BBQ sauce, and crispy onions, all atop a bed of Hawaiian rolls. When my family treated us to sandwiches at Porto's, a local bakery and cafe, it was easy to understand why it's one of their favorite lunch spots. And we've enjoyed lots of tasty Chinese food and Mexican food with my in-laws in Texas. Since my husband and I don't eat out a lot, going to restaurants feels like a big treat.
If your family is into it, you can even indulge in a little fast food. While visiting my grandma, we picked up breakfast from the McDonald's down the street for Christmas morning. We were all perfectly happy with it, and we didn't have to stop the gift-giving to cook and clean up. Besides, we had already spent a lot of time in the kitchen that week, and we were going to cook again later, so we welcomed the break.
04. Cook together
When you do cook, don't feel like you have to do all the work yourself. If others in your family enjoy cooking, consider inviting them to join you in the kitchen. That way, the meal prep becomes part of the fun, rather than a solitary activity. Be sure to pick a meal that has plenty of tasks to divvy up, and be thoughtful and specific about how you assign the cooking. For example, if you know a specific guest is intimidated by cooking, be sure to give them a task they can manage with ease, so that they enjoy the process, too.
Some of my favorite Christmas memories involve cramming into my grandma's small kitchen with her, my mom, and my sister. Whether we're making Scandinavian desserts to honor our Norwegian heritage or frying lumpia in grandma's wok, the hours spent together in that kitchen never feel like work. We laugh and talk in our matching aprons, sometimes making a grand mess in the process. But even the mess isn't so bad when we clean it up together.
05. Embrace leftovers
Each home-cooked meal doesn't have to be a one-and-done affair. Once you've made a couple hot meals, set up a smorgasbord of leftovers for a casual lunch or dinner. People can enjoy their favorite items for a second time, and as a bonus, you'll minimize food waste.
You can also repurpose items by serving them in a fresh way. One year for Christmas dinner, we had Scandinavian meatballs and mashed potatoes. The next day, we got to enjoy meatball sandwiches. Leftover meatloaf also makes a delicious sandwich, especially served on a soft roll.
Some meals are even better the second time around. When my mom was growing up, my grandma heated the leftover bits of Thanksgiving turkey in a big pot of gravy, then served it over soft bread or rolls like an open-faced sandwich. My uncle said it tasted like Heaven. Just like that, it became a special dish. To this day, Heaven is a seasonal family favorite.
Ultimately, it doesn't matter whether you cook three meals a day or save your energy for one cooking extravaganza. What matters is the time you spend with your guests. They came to see you, and it's more important for you to enjoy their company than to work yourself into a frenzy. A happy, relaxed hostess makes for happy, relaxed guests.