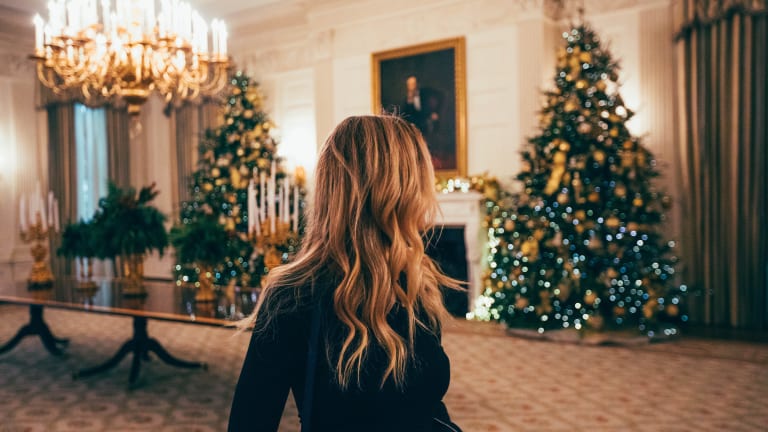 The App I Use To Simplify Holiday Event Styling
Getting dressed for your next festive fête just got easier.
Is it me or does it seem like the holidays comes around faster each year. I'm sure your iCalendar is already filling up with holiday obligations for family, friends, and work. And with the holidays being such a festive, but busy season, it can be hard to find outfits to put together for each and every occasion. This year, instead of racking your brain in front of your closet, willing an outfit to come together or making that last minute trip to the mall to hopefully find a cute dress that everyone won't be wearing, why don't you try Finery?
The brainchild of Brooklyn Decker and Whitney Casey, Finery is a digital wardrobe app that basically acts as your personal wardrobe concierge. The Finery App does this by syncing your clothing purchases from your email receipts with images of clothes you can upload, so that you can virtually organize your closet and style yourself in clothes you already own. Genius, right?
I'm really excited to share Finery with you because as a stylist this tool has single-handedly changed the way I organize my closet and my outfits, especially during a season where I'm running from one holiday fête to the next. So, I'm sharing with you the ways I use this app to plan your outfits ahead of time. This is how I use Finery for holiday event styling …


Dressing for the Weather
For those of us who live in cold-weather climates, winter weather can be pretty unpredictable. And if you're like me, before you reach for the closet door, you grab your phone and check the weather. Finery is one step ahead of you and helps you get dressed by providing you with the current weather for the moment and the average high and low for the day. This way you can anticipate weather changes and dress comfortably for the climate and the occasion.
Suggested Style Inspiration & Recommendations
There are times when I know I have a certain holiday event coming up, like a holiday wedding or a super swanky dinner where I really want to make a statement or try something new but I'm not really sure what I want to look like or, or how to achieve the look.
Finery helps me to get new style ideas by recommending items I should try based on clothes I already own.
The Local Style section of the app also shows me the social media images of what other women in my area are wearing to give me more ideas on how to style myself. Looking at photos of women on Pinterest wearing cute holiday looks in sunny California, while inspiring, doesn't really help me get dressed here in D.C.
And I like that I have an outfit ideas feed on the bottom of my homepage that gives me personalized outfit inspiration from retailers that I told Finery I liked or currently wear.
Creating Outfits for Events
Last but not least, the best feature of Finery is that you can use the platform to create and build out different looks for each occasion you have coming up. You can create looks from items you already own or from items you need from your wishlist, yes you can shop right from the app!

Now, if you're like me an average week during the holiday season can go something like this: ugly sweaters and drinks with friends at the Christmas pop-up bar downtown on Saturday, Christmas Pageant at church on Sunday night with family, company annual holiday party on Thursday after work, and tickets to see the Nutcracker with roommates Friday night, phew!
If I had to stand in front of my closet and rack my brain putting outfits together for all of that or scramble a couple hours before to find something to wear, you can see how that gets pretty stressful right? You know the scene, clothes all over the bed and shoes all across your bedroom floor and your two seconds from calling a friend to borrow something. We've all been there.
This is where Finery makes my life easy. During my commute to work on the train or whenever I have a free minute, I open the app, select a category (i.e. Work, Formal, Night Out, etc …) and start putting looks together from my closet and adding items I need to my wish list.
For example, if I'm working on my company Christmas party look and I realize I need a pair of black suede pumps, I find the ones I want in the app and add them to the wish list. I can then include that wish list item in the look for a later purchase or buy them from the app on the spot and when the email confirmation is sent, Finery will import that purchase into my wardrobe and I can add it to my completed look!

All of these features allow me to take on the holiday season with style and ease. Download Finery and comment to let us know how the app is working for you.