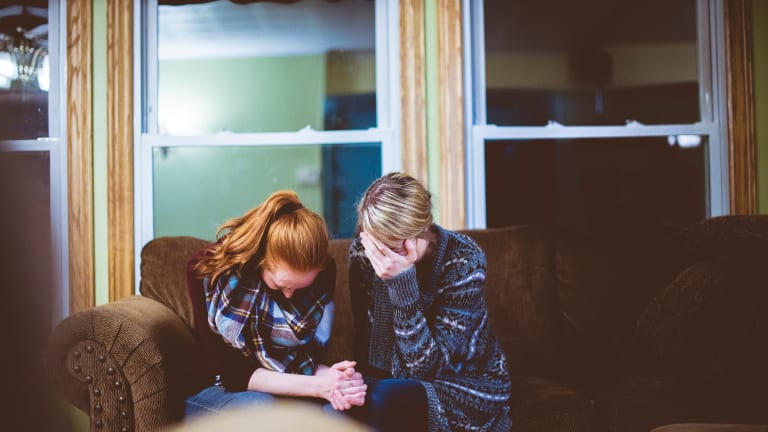 How to Support Your Grieving Friend through the Holidays
It's not the most wonderful time of year for everyone, but you can give hope to those who are struggling.
Holidays are supposed to be the most wonderful time of the year – and for many they are. But when someone loses a loved one or experiences grief, whether it happens over the holidays or not, the season of joy can become a complicated season of swelling emotions, dark days, and painful memories.
Watching a friend go through a difficult time during the holidays can leave you feeling helpless. You know that you can't remove their burden or fix their pain, but maybe you wonder what you can do.
The old adage, "actions speak louder than words" can be relevant when you're supporting a friend through grief and loss. You probably don't know what to say, although most of the time, "I'm sorry you're going through this" is more than enough. Empathy can be spoken in those simple words and mean more than you could ever know.
But you can show empathy and be there for your friend with more than words. Sometimes the most impactful ways to practically walk with someone through the darkness are the simplest, the ones that get overlooked, especially as your friend is weeks and months into their grieving. Other people return to normal life while they may feel trapped in a cycle of endless grieving that feels as if it will never let up. And when it feels like everyone else is celebrating this most wonderful time of the year, grief can feel even more isolating. Someone else showing up for them will cut down on the isolation and may gently, whisperingly, bring hope back into their life.
What you can do
If you ask your grieving friend what you can do to help them, chances are they might not be able to give you an actual answer. Grief clouds the brain and can reduce the ability to think about daily life tasks, while maximizing complex feelings that are impossible to articulate. Your friend needs to eat meals a few times a day, but she will probably not remember this until her stomach is growling.
There are many practical ways to be with your friend in their grief, during this time of year and beyond. From someone who has grieved a lot during the holidays, here are some of my suggestions.
01. Ask them what they need. 
They probably don't know, but asking is always the best place to start. Maybe they've been struggling to answer the question of how they're going to get something done, like take the rent check to the post office, walk the dog, or wash a load of laundry. Every personality handles grief differently, so asking gives them the chance to offload a task or two that they've been stressing over. If, however, you ask, and they give you a blank stare, you have other options.
02. Help them decorate for Christmas or shop for gifts. 
I love Christmas, but when my heart and head is heavy with grief, it feels easier to scale Mount Everest than to put up a tree and decorate it. And yet, the presence of the Christmas decorations is soothing, and I've often wished someone could just do it for me. If getting into the festive and creative mood to find gifts for family and friends is too overwhelming, help your friend by hunting for options – even online! Or maybe they need help wrapping presents.
03. Be there, physically, with them. 
Sometimes just not being alone is the balm a weary soul needs. Sometimes the emptiness left from the person they've lost feels too overwhelming and they need distractions. It's the season for holiday parties and merriment, but in the midst of grief, these social gatherings can feel like entirely too much. Maybe they need someone to have a Netflix binge with (something heartwarming and seasonal!), or someone to play a board game with, or maybe just someone to share a meal with. Maybe they need someone to quietly sit at home with them, to reminisce with, so that when they're thinking and talking about their loved one, there's someone to participate in the memory sharing. Even if you didn't know the person, you can validate their grief and honor their memory by being a hearer of their stories.
04. Take them a meal or offer to get groceries for them. 
Especially if the loss is more recent, this sort of gesture in one of the busiest seasons of the year will not go unappreciated. Many times, community support for these sort of tasks is present in those first days and weeks. But as time goes on, they may fall to the wayside. If you're not near your friend, sending a gift card for a meal or even coordinating a delivery of a meal from their favorite restaurant can be surprisingly kind and stress-relieving.
05. Give them a gift that honors or memorializes their lost loved one.
This could be as simple as a Christmas ornament or a photo in a special frame, or it could be a piece of jewelry, a plant, or anything else that you can come up with. When I lost a pregnancy, a dear friend made me a piece of jewelry that included several special beads—one for each pregnancy I had lost before, one each for my beautiful sons who I have in my arms, and one of a different color for the third son I lost after seeing his beautiful heartbeat. The simplicity of the gift magnified it more and it's still one of my most cherished possessions. Not only did my friend validate my grief and honor my lost loves, but she went out of her way to do so.
One of the sweetest memories I have during that raw and confusing time of grief is the friend who sent me a gift card for my favorite bookshop, saying, "I wanted to send you a bit of your happy place in the midst of this awful time." I lost my beloved grandma in early December, while I was also dealing with the loss of a pregnancy. Her kindness didn't erase the gaping wound in my heart, but it did remind me that even in the most horrible seasons of loss and unknown, the greatest healing power can come from the smallest gestures. Her acknowledgement of my grief drew me ever-so-briefly into a moment where no sadness was present. You may not be able to heal your friend's grieving heart, but you can certainly ease the burden of loneliness by remembering them this holiday season, and by showing up in practical ways.