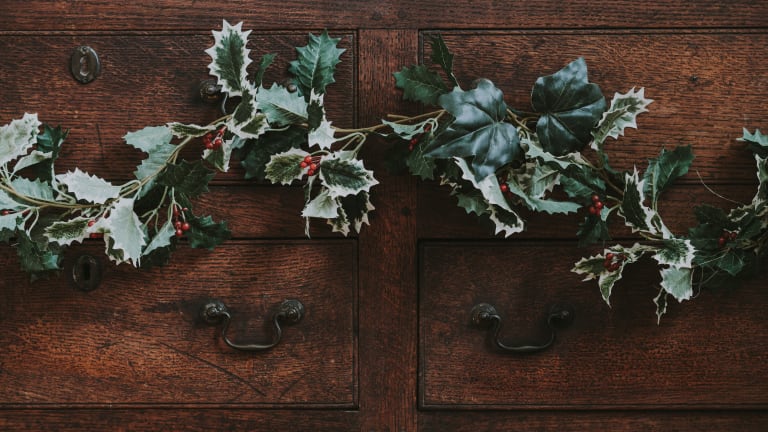 Cultivating Gratitude in the Christmas Season—Through Service
The gifts of our time and treasures benefit more than their recipients.
My most memorable Christmas was the year I was nine years old—though not because of any gift I received.
My mom found out about a single mother in our community living in a tiny trailer, who could not afford to buy her four children any Christmas presents. She organized a drive to buy them some decorations and gifts. I got to play "Santa's helper" by shopping for everything with her, and I purchased a gift for the two girls who were around my age with my own money. In my shiny blue diary from that year, which I recently unearthed after a move, I'd written, "I got the two girls a box of hair stuff. I hope they like it. That was the only thing besides clothes that the mom said they needed."
It was during these preparations that I realized how different Christmas looks for everyone and how blessed my family truly was. While I almost certainly would have been disappointed to unwrap only a few items of clothing and a "box of hair stuff," that was all that was needed to give this sweet family the best Christmas they had ever had. I keep coming back to the word "needed" because it feels so essential to this season of giving: We feel needed when we fill the needs of others, and true gratitude emerges for our own blessings by filling others' needs. Furthermore, this gratitude is needed in order to experience true joy.
And boy, did I experience joy that year. I got to hand-deliver Christmas to this family with my mom and little siblings. I got to meet the beautiful girls my age and give them my personally-wrapped gift, and my Christmas was made before Christmas day even came around. I know this because I didn't even write about what I got for Christmas in my journal that year; the joy I received from opening my gifts evidently paled in comparison to giving gifts to my new friends in need. "The sweetest family you could ever meet," my diary recalls, "The mom kept saying, This is such a blessing from God."
And yet, this experience was clearly a true blessing for me. I was so inspired by the joy and gratitude in this family—one of the girls and I even exchanged addresses so that we could write each other letters. And while I believe that we only ever sent each other one or two letters, this experience and subsequent short-lived penpalship did teach me a very important lesson: that the holiday season is best spent cultivating a servant's heart.
There is a lot of anxiety that inevitably comes with the end of the year—a seemingly endless stream of shopping, planning, baking, wrapping, and just doing. However, the stress of the season can be substantially alleviated if we keep our focus on what we have rather than what we want, and if we contemplate what we can give rather than what we hope to receive.
But how can we go about doing so, practically speaking? Cultivating gratitude during the Christmas season is made simple by giving—the giving of our time, the giving of gifts, and the giving of our treasures.
01. Volunteering your time
Our time is perhaps more valuable to us than anything we possess, which makes it all the more beautiful and sacrificial to give up. I grew up visiting the elderly and lonely in nursing homes during the Christmas season. While singing Christmas carols or showcasing any talents you or your children might have is always appreciated, it is not necessary. (If it were, I most likely would have performed "Hot Cross Buns" on the piano—the extent of my repertoire—year after year). What is necessary is a smile, a giving heart, and a few kind words.
There are many wonderful organizations through which you can find volunteer opportunities during the holidays, such as The Salvation Army, Society of St. Vincent de Paul (the organization through which my mom found the family in our community), or The Holiday Project. You can also look into volunteering your time at a local hospital, hospice, nursing home, soup kitchen, or even by bringing food and/or your company directly to people's homes (I used to do just this through Meals on Wheels). Sometimes, you might not need to look past your own neighborhood, moms' group, or even your own family to find someone who would benefit greatly from the gift of your precious time.
Visiting the poor, the sick, the lonely, and the needy is no easy feat, and not the way most of us would like to spend our weekends. However, not only will we help our communities with our service, we also are likely to find joy in the work. I have yet to hear of a volunteer who left such a visit feeling angry, annoyed, or upset. On the contrary, most people leave feeling uplifted, energized, and most of all (you guessed it), grateful.
02. Giving gifts to those in need
There are many ways that we can give gifts to children (or even adults) who would not otherwise receive any Christmas gifts. You are probably already familiar with toy drives held by Toys for Tots, an organization that distributes large boxes around the entire country in order to collect new, unwrapped toys to give to children in need. Churches often have "giving trees" (usually placed there by organizations such as the Society of St. Vincent de Paul) with gift requests for local children written on paper ornaments hanging from the tree. You can even "adopt" a letter to Santa and make a child's wishes come true through the nonprofit, Be an Elf.
This year, my moms' group organized our own small toy drive by participating in Box of Joy (an organization similar to Operation Christmas Child). Each family fills a shoebox (or several) with toys for a child of a specific age and gender, which are shipped to poor families overseas. Not only was this a wonderful activity for our group to do together, it was also a great experience for all of our children: It taught them an important lesson about generosity and gratitude.
03. Donating money to worthy causes
We don't always have surplus amounts of time to spend volunteering or picking out extra toys and gifts. However, the giving of our financial resources is no less valuable or meaningful.
When considering which organizations to donate to during the Christmas season, a few worthy ones are The Make-A-Wish Foundation, which grants the wishes of children with a critical illness; Prison Fellowship's Angel Tree Christmas, which provides gifts for the children of prisoners; and the Christmas Spirit Foundation, which donates Christmas trees to military bases. During the holidays, many people are also accustomed to emptying their coin purses as they exit the grocery store or walk home on their afternoon commute into one of The Salvation Army's "red kettles" to help the poor (a tradition that dates back to the late nineteenth century).
Most people already have their favorite charities or nonprofits they choose to support, and the holiday season is a great time to show them your love. No, there is no rule that you have to donate money during this crazy (and already expensive) time of the year. Rather, it is encouraged because Christmas is a time of giving and spreading goodwill. It is a time to reflect on all of the wonderful things that have transpired during the year, give thanks for all of our blessings, and pay it forward by giving to others less fortunate than ourselves.
Whether or not we receive a personal "thank you" from those we help during this season, we are guaranteed to be saying these two little words ourselves.