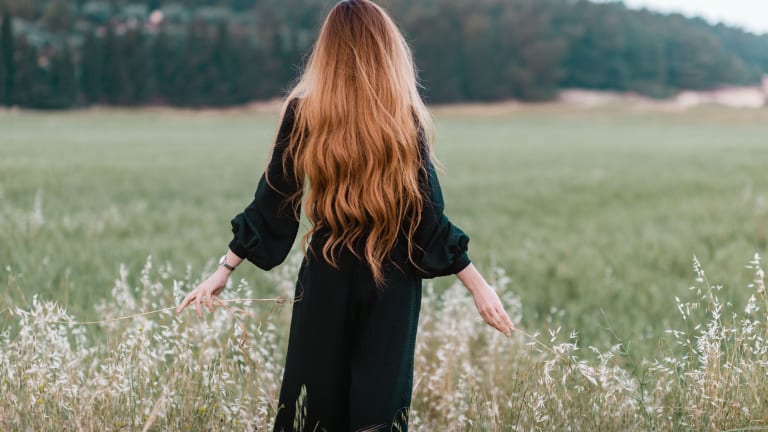 A Lazy Girl's Guide to Long Hair
Your low-maintenance guide to long locks.
Ah, long hair. Who among us hasn't dreamed of Disney-princess-esque locks cascading to our waist, and then reluctantly sat down to a shorter haircut once that dream proved difficult to achieve?
A few summers ago when I was abroad, tired of middle-of-the-road, just-below-the-shoulder hair, I went for it and got a breezy bob that seemed like it might be the solution to all my hair woes. But last spring I began to long again for—long hair.
Thus began a six-month stint of enthusiastic hair-growing, rewarded by hair now below my shoulder blades. Since I don't like to spend a lot of time on my hair (my bob hadn't been as low-maintenance as hoped), I had just two aims for the long-hair project: make this as easy as humanly possible and not look like I just stepped off the set of Little House on the Prairie. Sound good to you? Read on for a low-maintenance guide to long locks.
01. But really, though, the product matters.
Before I embarked upon my long-hair journey, my product philosophy was basically that shampoo is shampoo. I mean, right? Then I went to get my hair cut and asked the stylist what to do about my thin, frizzy, straw-like hair. "What shampoo are you using?" she asked, picking up a few emaciated strands and letting them fall flatly on my head. "Um—Pantene," I stammered, and she scoffed, "That's not shampoo."
I didn't (nor do I ever) want to drop the $18 for a tiny bottle of salon shampoo, and I still use Pantene sometimes, but I left with a new resolve to find the right products for my hair. Places like TJ Maxx and Marshalls offer salon brands at reduced prices, and Ulta tends to run sales on hair products as well. The biggest goal here is to find the shampoo suited to your particular hair. I need volume and color control for thin, fine blond hair—you might need something different. Read the bottles carefully and try different things.
Not everything needs to be expensive; I've found that a selection of drugstore or discount finds complemented by the occasional splurge works wonders. One great drugstore product that I think would work on many different hair types is Aussie deep conditioner: I find it is just as effective as an expensive salon alternative, and it's priced at about $3. It's meant to be used as a few-times-weekly deep conditioner, but I use it on my ends every time I shower. My personal splurge is the "Miracle Creator" by Matrix, a leave-in conditioner that makes my long, wet hair much easier to comb.
02. Shower less.
What lazy girl doesn't like to hear this? It's no secret anymore that hair doesn't do well with constant abrasive washing. The best possible thing for your hair is its own natural oils, and if you wash your hair daily with shampoo you are stripping it of those oils. Wash your hair every other day, or even every third day if you can pull it off (curly-haired ladies can get away with even longer.)
This is where dry shampoo is your friend. Spray a bit of dry shampoo on your roots, and that added length you're going for won't weigh your hair down so noticeably. Not only will it get you into day two or day three post-shower, it will also help you avoid the my-hair-has-flattened-to-my-head-completely look (middle school, I see you).
03. Air dry.
If you're trying to grow out your hair, it's a good idea to forswear heat tools altogether, except for special events. The occasional blowout or curling session for that big party won't hurt anything, but consider putting the everyday straightener aside until you have the length you want. And, if you do have to straighten or curl, make sure you get a good heat protectant.
Air drying takes some getting used to. Please believe me when I say that the longer your hair gets, the easier it will be to pull off—your hair's natural oils and weight will start smoothing it down and you might even wonder why you ever straightened it! It's worth investing in a big comb—a shower comb like this is dirt cheap and so much easier on your hair than a big toothy hairbrush.
No blow-drying might mean that you have to do the dreaded thing of arriving at an event with wet hair—but think how healthy your hair will look when it dries! I've also had good results washing my hair at night and then sleeping with it swept back in a bun with a scrunchie.
Sleeping with your hair in a bun or braids can give you subtle waves and help you avoid the dreaded sticks-of-straw look. If you're worried that your hair will frizz out, try a silk or satin pillowcase. I haven't personally tried the silk pillowcase trend—but can confirm that even an inexpensive satin alternative makes a big difference!
If you're air drying, the quality of your water at home might also have a more obvious effect. If you have very mineral-laden water, try using vinegar or baking soda in the shower with your shampoo; if it's highly chlorinated, try lemon juice. You can also rinse your hair with purified or distilled water after the shower, if your water source is wreaking havoc.
04. Get it cut.
Yes, the sad reality is that you still need to get your hair cut occasionally. The rule of thumb is every six weeks, but that's not completely set in stone. I've had success just keeping an eye on my split ends and heading to the stylist whenever my hair begins to look a little straw-like or decides on a bizarre shape it just won't be talked out of. I think it is usually in the six-to-eight-week range—in warmer weather, my hair stays healthier longer and grows faster; in the winter, time between cuts gets shorter.
For growing your hair out, ask your stylist to take less than a quarter inch off the bottom—that way you won't be working against yourself, as one stylist told me. But here's the key phrase for glamorous long hair: long layers. Layers give your hair body and bounce without taking length off the bottom. I love to ask for a side-swept bang (I have a favorite picture of Emma Stone), since I part my hair on the side—another easy way to give your long hair interest and volume.
If you've had bad experiences with layers, and especially if you're trying to grow it out, I'd recommend telling your stylist that you want the shortest layer to end just below your shoulders (once your hair is long enough for that). That's the easiest way to have layers without feeling like your hair is always in your face (and you can still put it up in a ponytail!)
05. It's what's on the inside that counts.
By far the most effective thing I've done for growing out my hair is taking fish oil supplements. Yes, you heard that right. Omega-3 fatty acids, besides their wonderful health benefits, do wonders for your hair. (Plus, the supplements are inexpensive!) I can really tell the difference—when I'm taking Omega-3 my hair is smoother, shinier, and healthier, and I also think it grows faster. Some people swear by biotin, which is also supposed to help if you have easily-breakable nails.
If you don't want to pop a pill, natural sources of Omega-3 include—you guessed it—fish, including mackerel, salmon, herring, and sardines; or flaxseeds, chia seeds, and walnuts. Other lower-level sources are wild rice, spinach, and winter squash. Of course, the healthier you are—with a balanced diet and plenty of hydration—the healthier your hair will be, too!
Above all, be gentle with your hair—treat it like the princess hair you want it to become—and be patient. Before long, you'll be the next Rapunzel on the block!