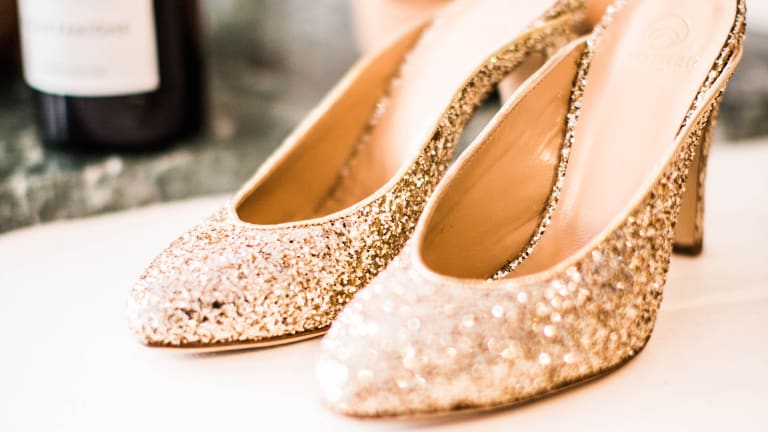 Festive Fashion: Turning Holiday Staples into Christmas Cheer
All of your holiday looks are already waiting in your closet!
Every year, as Christmas and New Year's come around the corner, visions of festive dresses dance in my head. In so many ways, dresses are the perfect holiday attire: They're iconic, they're feminine, and they range from flirty to classic. There are so many different holiday parties on the horizon—house parties, family gatherings, work parties, cocktail parties, you name it—and there's a perfect dress out there for each one!
But dresses have a downside. Dresses—and holiday dresses in particular—tend to be memorable: Whether you choose a bright festive hue, a metallic sequined number, or an intricate lacy style, holiday dresses make a statement. That isn't a bad thing; they're meant to do this! But as a result, I feel like I can only wear a given dress once a season, especially if I'm seeing some of the same people at different events.
So this year I'm going to try something new. For the occasions that demand a dress, I'm going to remix pieces I already own. This is an attempt to keep myself to a budget, but also to move away from the throwaway culture of cheap fashion by investing in pieces that will last and that will serve multiple purposes.
The key to holiday dressing is mixing textures in playful and luxurious ways, which makes outfitting the go-to option at this time of year! But if you're putting together outfits, this means there are more ways to go "wrong," right? Especially if you're trying to put together a fun festive look, it can be hard to know how much is too much. Coco Chanel, the queen of French fashion, famously said, "Before you leave the house, look in the mirror and take at least one thing off." I think this is particularly important to remember at the holidays: You don't want to get lost in the tinsel and trimmings of your wardrobe.
After surveying my closet, I've decided that I can get the holiday looks I'll be happy in with some simple mixing and matching of my closet staples, jazzed up with accessories and lipstick. The raid on my closet put the spotlight on five pieces that I'm calling my holiday capsule wardrobe, built of things I (and likely most of you!) already own:
01. The Black Cropped Slim-Leg Pant
While I embraced the return of the gaucho pant this summer, in winter under coats and such I find myself wanting a sleeker look. Slim, cropped, black pants are the perfect foundation piece for just about any outfit: They don't call attention to themselves, but they make an impact. Go black on black for an Audrey vibe, or mix it up with festive color and sparkle. With a cozy sweater, they're casual luxe, perfect for any in-house holiday party. With a fancy cami or blouse, heels, and sparkly earrings, they're cocktail-party or night-on-the-town appropriate.
02. The Pencil Skirt
I thought of the pencil skirt as a work friend until I tried pairing it with a cute chunky knit and some great jewelry. This inverted triangle look is playful and on-trend. If your skirt is knee or midi length, pair it with stiletto booties; if it's above the knee, try some tall heeled boots or OTKs to keep the proportions right.
03. The White Button Down
I forget about this underappreciated closet staple all the time. But really, it is the most versatile of pieces, as one of my favorite fashion and lifestyle bloggers Garance Dore reminds me all the time. Crisply ironed, paired with a festive skirt or simple black pants and heels, the white button down is the perfect blank canvas, allowing you to play with makeup and other accessories as appropriate for the given occasion.
04. Solid Chunky Turtleneck
You can pair this comfy classic with just about anything for just about any occasion. It can dress up leggings, dress down a tulle midi, and turn basic denim into a luxe winter look. The solid turtleneck is my favorite winter staple because it frames your lovely face. Pull your hair back, add sparkly earrings or a necklace and a splash of red on your lips, and you're ready for just about anything.
05. The Black Blazer
Trade out your work blouse for a silky or velvet cami, your trousers for some high-rise denim, and your pumps for playful booties, and you have yourself a great holiday-casual look. Blazers make an outfit look intentional, and as the French girls have been showing us for years, that's half the battle. Whether you layer it over playful statement pants or over basic denim or black trousers, the look is classy and timeless! For extra glam, pull out those sparkly earrings again and play with some dark lipstick for an edgy evening look.
With these pieces, mixed in with staple accessories like booties, jeans, and earrings, I think I'm holiday-ready, without any shopping! Take an afternoon to take stock of your own closet and try out some fun combinations. Most of these pieces you'll find you already own—and if not, they may be worth the purchase!