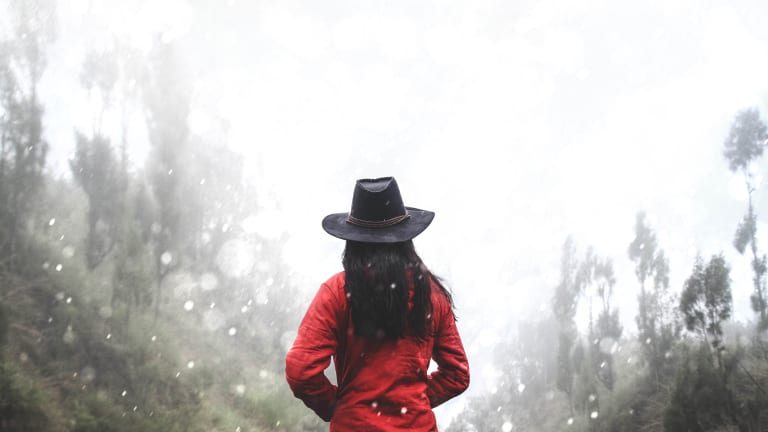 Winter Survival Guide: Beating SAD
Make winter the vibrant, glowing season it's meant to be.
Winter has come, bringing with it the winter blues. Most of us have experienced a slump in mood and energy levels during the winter, especially if we live in the northern part of the country. Severe cases of the winter blues, in which people suffer from depressive thoughts, disrupted sleep cycles, social problems, and issues focusing at work, could be indicative of Seasonal Affective Disorder (SAD). SAD is a type of seasonal depression thought to be caused by a lack of sunlight and exercise, causing irregular levels of serotonin, melatonin, and dopamine in the brain.
As a lifelong Great Lakes area native, I'm pretty familiar with the shift from the golden light and crisp invigorating air of autumn to the snowy, slate-gray skies and biting winds of winter. And I've always loved it. Growing up in my childhood home in Minnesota, winter brought with it bright, toasty fires in our homely fireplace, the smell of candle smoke and something delicious in the oven, and the soft comfort of long afternoon naps and wool slippers. My parents were masters at making our house feel cozy, my mom bedecking the house in poinsettias and amaryllis flowers, and my father faithfully hauling wood and setting up two Christmas trees. My dad and I would also ski almost every weekend, and one year we built a snow fort of such epic proportions that it lasted until May. When I left for college, winter retained its charm, now with new friends to share it with. It was pure joy to curl up by the windows in the library, studying as snow fell silently outside. Someone in my dorm got ahold of a record player and classic renditions of holiday songs warmed our hearts. Hot chocolate flowed freely.
And then I moved north. My new home in northern Michigan suffers from a phenomenon known as "lake effect," where winds pick up moisture from the lakes and dump precipitation on the northwestern corner of the state. Yearly snow accumulations here can exceed 100 and occasionally 120 inches (that's ten feet) over the course of the winter. I live just south of the 45th parallel, so winters here are incredibly dark and can be bitterly cold. These factors, combined with the dreariness of a new apartment and a very small group of unfamiliar friends, worked together to give me a severe case of the winter blues.
I lost energy. I didn't want to go out, and when I did, it seemed like there was nowhere to go. My new program of study wasn't as interesting as my old one, and doing homework at night became a burden. I felt aimless. Occasionally waves of extreme loneliness would strike me, and I experienced feelings of isolation. I would call my old friends on the phone, but we were all busy and I didn't want to waste my precious time with them complaining about my own problems. I especially remember one painful conversation in which I was choking back tears but trying to sound normal as I told one friend that life was good but I was "a little under the weather."
Since I never visited a physician or psychotherapist to talk about what I was going through, I can't say whether I had an official case of SAD or just a really bad case of the winter blues. However, I learned that it is essential to be intentional and direct about preparing for it, both mentally and physically. Last winter, I was not prepared for this. This year, I am, and you can be too. Here are some changes I'm implementing, many of them reminiscent of my childhood winters. Perhaps you'll want to adopt them to stave off the seasonal slump and make winter the vibrant, beautiful, glowing season it's meant to be.
01. Eat, sleep, and play with focus.
As much as we might crave carbs at this time of year, it's important to keep a balanced diet. Sleep as much as you need to, but when you've slept enough, get up. Oversleeping can disrupt your circadian rhythms and exacerbate your body's confusion. And, most importantly, play outside, either alone or with other people, as often as possible. Go cross-country skiing and ice skating. Take walks in the park. Have snowball fights (you know you're never too old) and make snow forts and snowmen and snow angels. Cut down and haul your own real Christmas tree and decorating boughs. Winter brings with it fun that can't be had at other times of year—relish this time while it's here!
You knew this was coming, but it's true: Exercise is comparable to taking antidepressants. Do whatever it takes to get yourself moving: Join a gym, find a dance class, start martial arts or Zumba or Pilates. If you just know you're not going to leave the house, find a video series that you like. Fitness Blender has a wide variety of at-home workouts, or for a more gentle approach try Jessica Valant Pilates or Barre Fitness. Upbeat and down-to-earth Cassey Ho has a great channel called Blogilates (try her 6-week body toning bootcamp, apartment friendly workout series, or cocktail dress series!) You can even turn your Netflix habit into your workout routine. Now there really are no excuses.
02. Create an inviting home.
Part of what made winter such a joy growing up was my parents' dedication to creating an atmosphere of warmth, comfort, and coziness in our home. Whether you live with your family, with roommates, or by yourself, try "winterizing" the interior of your home.
Bring all five senses into play—baked goods, candles, fireplaces, and real pine branches will delight your sense of smell and create a hearty atmosphere. There's nothing like the smell of freshly-baked bread—make sure this the winter you try five-minute artisan bread, Amish friendship bread, or making your own sourdough starter. If you get discouraged by coming home to an empty house, invest in a Crock Pot (they're at every thrift store) and whip up a comforting stew, chili, or pot roast. Winter might also be a great time to get into essential oils: Enjoy the scents of relaxing lavender, invigorating eucalyptus, or cleansing tea tree oil. You can use these oils in a diffuser or put a few drops into your bath or shower (just don't slip!).
Find some music that you like and let it play in the background, or enjoy rain sounds, ocean sounds, or bird sounds (winter can be so darn quiet!) Fill your home with tactile things, like wool blankets or clothing, ceramic dishes, live houseplants, real books, and if feasible, animals (play with friends' pets if you don't have your own.) Even a pet fish, though it's not exactly tactile, can make a home feel just a little more alive when everything outside is frozen. Try making your own blankets, pillows, or mittens (because let's be honest, you still have to go outside)! Winter is a great time to take up crocheting, weaving, knitting or embroidery: Beside the mental health benefits, you'll have things to make your own house feel more warm and cozy, and to share with others.
Get string lights, standing lights, desk lamps, anything to bring light and space to the interior of your home, and for goodness' sake use some incandescent lightbulbs—their light is much warmer than most institutional lighting and will create a bright lovely glow in your rooms. Danish designer Poul Hennigsen is famous for his lamps designed to give off a warm, diffused glow. If your circadian rhythms are severely disrupted by the lack of light, or if you live in a particularly dark area, it might also be worth investing in a sunlight lamp (even a small one) or picking up some vitamin D supplements.
03. Intentionally engage with people.
The best cure for feelings of loneliness, isolation, lethargy, and stress during the winter is to spend quality time with people you care about. If this means spending a little extra on gas to get to and from people's houses, or rearranging the food budget to allow for extra people around your own table, so be it. It is important to make this a habit, because once your energy levels naturally go down in the winter, you'll be less inclined to make the effort to engage with people. No matter if you are introverted or extroverted, super social or more reserved, our well-being as humans is directly linked to our social interactions.
Above the fireplace in my childhood home, a massive beam of wood reclaimed from a bridge spans the room from wall to wall. Carved into it are the words "The ornament of a house is the friends that frequent it," originally penned by Ralph Waldo Emerson. Remember how you just put a lot of effort into making your home more inviting and warm? Furnish it with people. Host quiet, personal teas with close companions or loud, jovial game nights with everyone you know. Do a dramatic reading of a Shakespeare play together. Watch classic movies together. Bake together. Create a startup business together. Arrange playdates for your kids together. Share your time with others, and don't be afraid to get creative! If you live in a new place and don't know many people, then you're going to have to brave the elements to find some. Join book clubs, go to church, get involved with politics, volunteer, become a regular at a coffee shop, take dancing lessons, whatever. The important thing is to create community. 
SAD can sometimes come out of nowhere, but a little preparation goes a long way. Embrace the beauty of the season and make this your best winter yet!