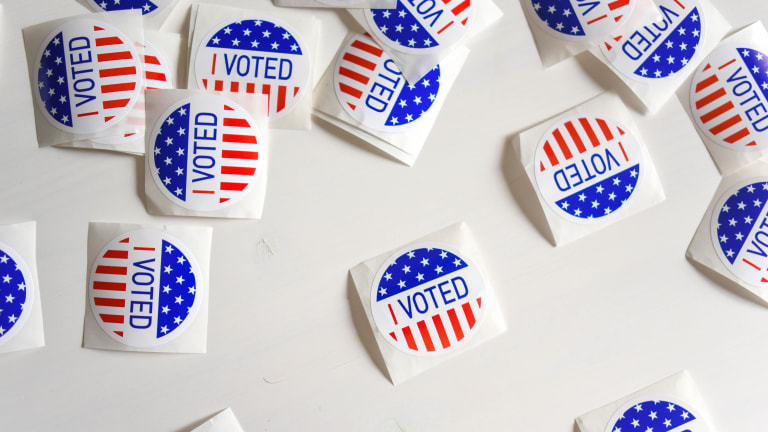 Women Share Voting Stickers With Susan B. Anthony, And Other Notes From the Week
Catch up on all the news you might have missed with our handy summary of the week's top stories.
We're pleased to bring you "While You Were Out"—the Verily editors' quick takes on the happenings of this week.
Women Won Big on Election Night
This Election Day, more than half of voters were women, and the polls were not the only places ladies showed up in a big way. Women running for office across the country set records in state and federal elections this Tuesday. More women are now poised to be in the House of Representatives than ever before, and these representatives will include New York's Alexandria Ocasio-Cortez, who, at age 29, is the youngest woman ever elected to Congress.
Massachusetts and Connecticut sent their first black women to Congress, Tennessee sent its first woman to the Senate, and Iowa sent its first two women to the House. Rashida Tlaib and Ilhan Omar (of Michigan and Minnesota, respectively) became the first Muslim women elected to Congress, and Sharice Davids and Deb Haaland became the first Native American women to do the same. California's Young Kim is the first Korean-American woman elected to Congress. And Rep. Kristi Noem will be moving from D.C. back to her home state of South Dakota, where she'll be its first female governor. —Madeline Fry
Anti-Abortion Amendments Are Approved in Alabama and West Virginia Constitutions
Voters in Alabama and West Virginia passed amendments to their state constitutions to put restrictions on abortion this Tuesday. Alabama's amendment, which passed with 59 percent in favor, says the state's constitution does not provide for the right to abortion access, and state funding can only go toward abortion in the case of rape, incest, and medical emergency, which is required by federal law. In its own words, Alabama's amendment is intended to change the constitution to support "the rights of unborn children, including the right to life." Similarly, West Virginia's amendment, which passed with 52 percent support, also says abortion in the state is not constitutionally protected, nor able to be funded except in those limited cases. Some are seeing the laws as preparation in case the Supreme Court overturns Roe v. Wade, which would allow states across the U.S. to outlaw abortion. —MF
Coveted "I Voted" Stickers Adorn Susan B. Anthony's Tombstone
On Tuesday, social media feeds were flooded with both selfies featuring "I Voted" stickers and pouting faces when polls didn't offer them. For many in Rochester, New York, stickers didn't stay on coats and shirts for long. Instead, they were brought to Mount Hope Cemetery, where famous suffragette Susan B. Anthony is buried. As early as 7:30am, people were placing their stickers on Anthony's tombstone, in a gesture of gratitude and honor. The tradition goes back at least to 2014, though it gained more steam in 2016, when Hilary Clinton ran for president.
More women ran for office in the United States in Tuesday's election than ever before, and Anthony is one of the women we have to thank for that. When she voted illegally in 1872, she sparked the fire that lead to the 19th Amendment and women's vote nearly fifty years later. In so doing, she also helped open the way for women to run for office themselves.
Anthony didn't live to see the day when women would vote legally, but she fought for it nonetheless. May we all have the courage to work for what we believe in, whether or not we see the victory (or the sticker). —Lindsay Schlegel
Demi Lovato Emerges After Lengthy Rehabilitation
26-year-old popstar Demi Lovato has completed 90 days at rehab and was spotted out and about last week looking healthy and happy. The Grammy-nominated and multi-platinum singer, who has spoken on and off for years about her struggles with alcohol and drug abuse, entered a treatment facility in early August. The decision to do so was made after she was rushed to an L.A. hospital on July 24. Her assistant reportedly found Demi unconscious in her home, having overdosed on an unspecified opioid.
During treatment she remained on a social media hiatus, effectively disappearing from the public eye for three months while she focused on her recovery. She posted only once, a couple weeks after entering treatment, to tell her fans that she "now need[s] time to heal and focus on [her] sobriety and road to recovery." Those concerned about Demi's health were intrigued when she was spotted last Saturday night for the first time since entering rehab. The next day Demi herself released a public statement regarding her sudden reappearance, stating in an Instagram post that her "journey with addiction…is something [she] must continue to overcome and [has] not done yet."
As far as her continued healing process, she is reportedly splitting her time between the home of her mother and a sober living facility, where she will spend a few days a week supported by counselors and others who share her particular struggles. She will also have a sober coach with her 24/7 as she dedicates herself to fully healing despite the pressures of media and public life. —Mariel Lindsay
Alyssa Milano Refuses to Speak at Next Women's March
Actress and #metoo trailblazer Alyssa Milano announced in a recent interview that she will not be speaking at the 2019 Women's March in January. Speaking to The Advocate, Milano criticized Women's March organizers Linda Sarsour and Tamika Mallory for not withdrawing public support for Louis Farrakhan, the Nation of Islam leader who is known for making misogynistic, anti-Semitic, and homophobic comments. "Any time that there is any bigotry or anti-Semitism in that respect, it needs to be called out and addressed. I'm disappointed in the leadership of the Women's March that they haven't done it adequately," Milano said. —Mary Rose Somarriba
President Trump Declares November to be National Adoption Month
On Wednesday, October 31, President Trump issued a presidential proclamation declaring November 2018 to be "National Adoption Month." It is a tradition of presidents to officially promote adoption in November, reaching back to 1984 when President Reagan declared one week in November to be "National Adoption Week."
In his statement from the White House, President Trump expressed gratitude to adoptive families, stating, "During National Adoption Month, we recognize the immeasurable love and support that adoptive parents and families provide to hundreds of thousands of children each year." He called on the American people to assist families willing to adopt, to support adoptive families, and to raise awareness of the children in foster care in need of adoptive families.
Unprecedented in his presidential address, however, was President Trump's call for "all Americans to recognize that adoption is a powerful way to show women they are not alone in an unexpected pregnancy." He continued these thoughts by stating, "Adoption affirms the inherent value of human life and signals that every child—born or unborn—is wanted and loved. Children, regardless of race, sex, age, or disability, deserve a loving embrace into families they can call their own."
Ultimately, National Adoption Month is an initiative of the Children's Bureau that focuses on raising national awareness of the need for permanent families for children in the U.S. foster care system. This year, the theme of National Adoption Month is "In Their Own Words: Lifting Up Youth Voices," highlighting the importance of teenagers to find adoptive homes, which is critical both for their future success and overall well-being. In his address, President Trump said that these teens deserve a family to love and support them. I could not agree more, and I find hope in the fact that our nation dedicates an entire month to changing lives through adoption. —Madeleine Coyne
Tokyo Medical School Apologizes for Excluding Female Applicants
A Japanese medical school that revealed in August it had manipulated entrance exam scores to accept more men than women among its students has this week offered spots to 67 students who were unfairly rejected. Tokyo Medical school admitted to deliberately altering scores of students since 2006, to restrict the number of women accepted, citing concern that female doctors tend to quit the profession when they start families, which lead to staff shortages at medical facilities. The university's new president, Yukiko Hayashi, set the tone for the road ahead, saying: "We will conduct fair entrance exams and never allow a repeat of this inappropriate practice. Nobody should be discriminated against because of gender. There are many female doctors who are doing a wonderful job." —MRS
Hungary's Government Encourages Large Families
In an effort to reverse its own demographic decline, the Hungarian government, led by Prime Minister Viktor Orbán, is attempting to make it easier for its citizens to have larger families. The Hungarian government is launching a national consultation this week with its citizens to obtain their ideas on how the country can offer more support to families, both in lower and middle classes. An estimated 8 million households are taking part in a national survey over the next month in an effort to discuss such subjects as ways to support young married couples, encourage families to have more children, and create more flexible hours for working mothers.
Hungary has been moving in the family-friendly direction since Prime Minister Orbán's government took office, and Hungary's demographic policy has already seen real results. Since 2010, the marriage rate has increased by about 42%, abortion numbers have dropped by more than a third, divorces saw a significant decline, and thousands of families have benefited from home purchase subsidies and family tax cuts.
Most of Hungary's neighboring countries have handled Europe's demographic decline by focusing their efforts primarily on mass migration; thus, Hungary's family-strengthening efforts stand out. As a spokesman for the Prime Minister stated, "the Hungarian government stands committed to the idea of increasing birth rate through more effective family support measures." And while some Hungarian citizens believe that the demographic tide hasn't turned quite yet, it certainly seems to be heading in a better direction. —MC
Breaking Bad Follows Downton's Lead to Make a Feature Film
Actor Bryan Cranston, known for playing Walter White in the AMC hit show Breaking Bad, stated this week on The Dan Patrick Show that Vince Gilligan is writing a two-hour length film drawing from the Breaking Bad storyline, and it begins shooting this month in New Mexico. Cranston said he's currently unsure whether his character will play a role. Downton Abbey's decision to make a film, due out in September 2019, already has us excited; no doubt this TV-turned-film will not fail to draw fans. —MRS
Vendors Protest Amazon's Bookselling Policies
This week marks the first "Banned Booksellers Week" as vendors united worldwide to protest policies put in place by Amazon subsidiary AbeBooks. The online marketplace offers books and art sold in over 50 countries and is by far the largest seller of antique and secondhand books. Founded in 1995 and sold to Amazon in 2008, the company enjoyed considerable renown until last month, when the company made a business decision that incited countless booksellers to boycott the company.
Almost 500 booksellers in over 20 countries removed their inventory (over 2.5. million books total) from the website this Monday in response to AbeBook's notice last month that stated they would no longer support vendors in certain countries, namely South Korea, Hungary, Russia and the Czech Republic. The company's brief October statements indicated they would no longer "support" the specified countries' bookselling and curtly apologized for the inconvenience. No reason was given at the time, causing numerous booksellers to fear for their livelihoods. Even those not affected by the new policy were angered by the lack of explanation since many independent booksellers depend on the marketplace as their sole or primary source of income.
Fortunately, the clash between the marketplace and its booksellers seems to have ended this Wednesday, just two days into the strike, following a conversation between Sally Burdon, president of the International League of Antiquarian Booksellers and Arkan Vitrouk, chief executive of AbeBooks. According to Ms. Burdon, Mr. Vitrouk apologized for the company's actions and promised that the affected countries would no longer be dropped at the end of this month. She also noted that the company "deeply regret[s] the hurt and harm they have caused. —ML
In Better Book News . . .
Book Lovers' Day was last weekend, the first Saturday in November. The unofficial holiday is also observed in August of each year, but since that date won't roll around until next summer, and fall weather is perfect for curling up with tea and a great read, we've rounded up a few ways for you book lovers to celebrate. 
If you like to savor books like a warm mug of chai, try Gilead by Marilynne Robinson, a thoughtful read that may make you wonder what you would say if you were to write to your child at the end of your life. If you haven't seen the movie yet and want to read the book first, or if you loved the movie so much you want to know what inspired it, check out Wonder, the story of a boy with facial deformities going to school for the first time. If you're trying to shake up your cocktail game now that it's too cold for mojitos, read How to Drink French Fluently. If you're a young professional looking for direction and creative inspiration, try these three books. Whether you're a hopeless romantic, have a short attention span, love women's memoirs, there's a perfect read out there for every book lover. All you have to do is pick it up. —MF