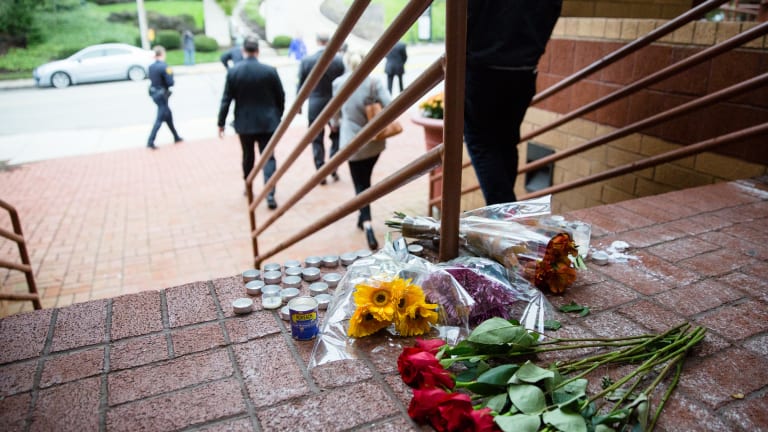 Nation Reels From Anti-Semitic Shooting, And Other Notes From the Week
Catch up on all the news you might have missed with our handy summary of the week's top stories.
We're pleased to bring you "While You Were Out"—the Verily editors' quick takes on the happenings of this week.
Anti-Semitic Shooting at a Pittsburgh Synagogue Shocks the Nation
Last Saturday, a shooter walked into Tree of Life Synagogue in Pittsburgh, Pennsylvania and began shooting in an act of unthinkable violence that resulted in multiple deaths and has collectively terrorized the Jewish-American community. The suspect, 46-year-old Robert Bowers, is alleged to have walked into the synagogue during Sabbath services, during a timeframe in which many had also gathered for baby-naming ceremony to mark the beginning of their children's journey in the Jewish faith. According to officials, Bowers was armed with handguns as well as with a semi-automatic rifle when he charged the building, with eyewitnesses testifying that he yelled "All Jews must die" as he began firing at congregants. The people immediately scattered, hiding and barricading themselves, some calling law enforcement, who, upon arrival, exchanged gunfire with Bowers before they were able to reach a negotiation and take him into custody. Eleven people were killed, including 2 police officers; many others were injured. The Anti-Defamation League, which primarily fights anti-Semitism, called the shooting," the deadliest attack against the Jewish community in the history of the United States."
A federal grand jury charged Bowers with multiple murders, hate crimes, and firearm offenses. According to a federal indictment filed Wednesday Bowers pleaded not guilty to all 44 counts. His case is currently set for a jury trial and could result in the death penalty. Given Bowers'
social media history, which includes deeply disturbing anti-Semitic commentary, it seems unlikely that any jury should find him a sympathetic defendant.
At the same time as the legal system determines how to deal with Bowers, the victims of the massacre are being laid to rest. Those killed include much-beloved brothers David and Cecil Rosenthal, who were long-time greeters at Tree of Life and deeply entrenched in the local Jewish community. We can only hope their souls rest in peace, Bowers receives justice, and the survivors, and the rest of us, find a path forward to grieve and heal. —Mariel Lindsay
Pakistan Acquits Christian Woman Sentenced to Die for Blasphemy
A Pakistani woman previously convicted and sentenced to death for blasphemy against the Prophet Muhammad has been acquitted. On Wednesday, Pakistan's high court ruled that Asia Bibi's conviction was brought on by false accusers who alleged that Bibi insulted the Prophet three times in 2009. Pakistani law deems blasphemy against Islam to be a capital offense.
The judges responsible for the overturned conviction said that Asia's name means "sinful," but that, "in the circumstances of the present case she appears to be a person, in the words of Shakespeare's King Lear, 'more sinned against than sinning'."
This is a major human rights win for Pakistan, however there is still a ways to go. Threats have already been issued against the judges in Bibi's case and further retaliation may be forthcoming. However, Bibi's release may serve as the catalyst for further human rights reform in Pakistan. —Gabriella Patti
U.S. Gymnastics Team Dominates at World Championships
Following a heartbreaking year in which hundreds of survivors spoke of their sexual abuse by USA Gymnastics national team doctor Larry Nassar, the team has picked up its broken pieces and dominated the world gymnastics championships once again. On Tuesday the group of five women (Biles, Hurd, McCusker, McCallum, and Eaker) won their fourth consecutive title at the world championship in Doha, Qatar. In the process, they put Russia, a formidable opponent, in second place by the largest margin ever under the current scoring system instituted 12 years ago. The win also secured them a spot in the 2020 Tokyo Olympics.
The unbeatable team includes Simone Biles, who is widely considered the greatest gymnast of all time and who competed this time around with a kidney stone she nicknamed "the Doha pearl." Her painful condition was no match for her determination and talent as she finished with the highest scores on vault, uneven bars, and floor exercise. She may achieve yet another honor this weekend, as she is expected to bring her wins up to six medals. She would become the first woman to do so since Soviet gymnast Yelena Shushunova in 1987. Teammate Kara Eaker received the highest score in balance beam and Riley McCusker received the third-highest score on uneven bars. —ML
A Group of Male Students at Notre Dame Petition the University to Ban Porn on WiFi
Last week, a group of male students at the University of Notre Dame started a petition requesting that the university institute a pornography filter to make porn inaccessible on the campus WiFi. This petition was part of a national White Ribbon Against Pornography (WRAP) Week campaign by the campus group called Students for Child-Oriented Policy. Over 1,000 students, faculty, staff, and friends of Notre Dame signed this petition before it was sent to campus administration and posted on the University's online student-run newspaper, The Observer.
The President of the student group, James Martinson, writes, "This filter would send the unequivocal message that pornography is an affront to human rights and catastrophic to individuals and relationships. We are calling for this action in order to stand up for the dignity of all people, especially women." He goes on to cite much research on the topic of pornography, sharing the results of several studies that show the shocking amount of time college men and women are spending viewing pornography, and the spiraling effects on everything from academics to relationships.
Martinson reconciles the moral fiber of the University with its duty to take a stance against sexual violence and human rights violations. "As a university that champions social justice, human rights, equality and dignity, Notre Dame ought to block pornography using the technology available to us. Doing so represents both an attempt to eradicate pornography from the campus culture and, more broadly, a strong stance against sexual assault, sex trafficking, and other human rights violations."
This request for a pornography filter has provoked a number of different responses, from the solidarity of a group of women students to the disagreement of a professor. Whatever the responses, though, the fact that students are recognizing the dangers of pornography and coming together on campus to demand positive change from their administration is a huge leap of progress in the fight against women's objectification. —Madeleine Coyne
The Ship Will Go On
It was announced last week that the Titanic II luxury vessel will set sail in 2022. It will be an almost exact reconstruction of the original Titanic, which met its infamous fate when it hit an iceberg and sunk in 1912. While the Titanic II was first announced by the Australian billionaire Clive Palmer in 2012, financial disputes put the project on hold for the past few years, and its construction just recently resumed.
This $500-million luxury cruise ship will have the same design layout and dated deco as its ill-fated predecessor, as well as exact replica restaurants, dining rooms, and passenger suites. The Titanic II will be 883 feet long (the exact length of the original liner), making it perhaps the most ambitious reproduction in history!
There will be a few changes, however. The cruise ship's construction will include new state-of-the-art technical advances and safety precautions in order to give potential passengers total piece of mind, including ample lifeboats and a welded, not riveted, hull. The Titanic II will take off from Dubai and sail to Southampton, England, in 2022, after which it will re-enact the exact same travel path as the original Titanic, sailing from Southampton to New York. While ticket prices have yet to be revealed, we're betting that they just might be as grand as every painstaking detail of this luxury liner. For those who take the trip, one hopes they'll step off this Titanic with a renewed gratitude for life. —MC
Megyn Kelly's Fall from NBC
The talk show host known for feuding with the president and being one of the women to speak out about alleged sexual harassment by former CEO of Fox News Roger Ailes, Megyn Kelly has just left her NBC show Megyn Kelly Today for making insensitive comments about race. Talking about people dressing up as characters of other races for Halloween, Kelly said it should be okay to wear blackface. "What is racist?" she asked on air last week. "You do get in trouble if you are a white person who puts on blackface for Halloween, or a black person who puts on whiteface for Halloween. Back when I was a kid, that was okay just as long as you were dressing as a character." Whatever one wears for Halloween, making light of different racial backgrounds is not appropriate.
Kelly later released an apology to her NBC colleagues, but that didn't stop her show, which was already struggling with ratings, from being canceled. Wherever Kelly goes next, let's hope she takes to heart what she told her coworkers: "I understand that we do need to be more sensitive in this day and age. Particularly on race and ethnicity issues which, far from being healed, have been exacerbated in our politics over the past year. This is a time for more understanding, love, sensitivity, and honor, and I want to be part of that. I look forward to continuing that discussion." —Madeline Fry
Twitter Unlikes the 'Like' Button
Twitter normally ends up in the news because a public figure posts something ridiculous or some rappers start a subtweet battle, not because the social media platform is making moves toward encouraging more civility online. Which is why users were surprised this week to learn CEO Jack Dorsey might take away one of the biggest elements of the site, and many other forms of social media: the "like" button.
Twitter says the ubiquitous heart feature, which has only been around for three years, may not be promoting the most positive interactions. "We're experimenting and considering numerous possible changes, all with an eye toward ensuring we're incentivizing the right behaviors to drive healthy conversation," a Twitter spokesman told the Telegraph. Maybe they're talking about how users can "like" a tweet without retweeting it to their followers, silently showing support for something without having to publicly endorse it. It's nice sometimes not to take the time to craft a reply or a clever retweet, but maybe cutting out the "like" button will emphasize quality of interaction over quantity. No need to check how many "likes" you've gotten on your latest tweet soon. You'll have to rely on replies and retweets from your friends to know that your story about your dog made them laugh, and what will matter is not how many of them "liked" it, but what kinds of conversations you have afterward. —MF
Women Rock
The music industry is just one of the professional and creative spheres moving toward more inclusivity for women, and Fender has good news. According to a study produced by the guitar brand, half of all their new guitar-buyers in the U.S. and the U.K. are women. Artists like Taylor Swift and St. Vincent have been playing guitar for years, and now it seems like more fans are following suit. As hip-hop grows in popularity, fewer people overall are buying guitars, but there's one genre where strumming the instrument is still king: country music. A radio consultant remarked in 2015 that female country music stars are like the tomatoes in the salad of airplay, where the men make up the lettuce and bring in good ratings. After that, "Tomato-gate" inspired many women to keep playing and to discuss ways to open more doors for women in the industry. As a new generation explores its musical talent, this progress appears to continue. —MF
Venice Under Water
The city of Venice, famous for its canals, gondolas, and for having been built at sea level, has flooded after torrential rains led water levels to rise five feet. The flooding has been devastating, leaving three-quarters of the historic city covered in water, and killing 10 people.
Despite the disaster, the citizens of Venice refuse to face defeat and have carried on with life, including going forward with the Venice Marathon. Runners ran (or swam) through the submerged city to participate in the 26.2-mile run. While it's easy to make excuses not to workout, there are so many ways to motivate and give us that extra spring in our steps—let these determined Venetians inspire us further! —GP