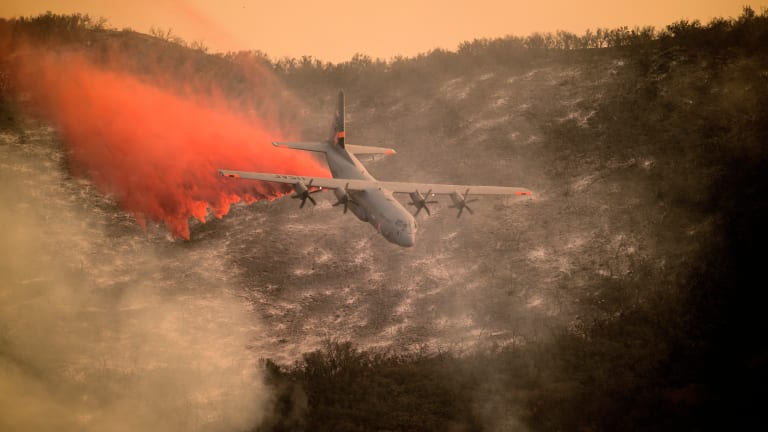 Miley Cyrus Responds to Losing Her Home in the Wildfires, and Other Notes from the Week
Catch up on all the news you might have missed with our handy summary of the week's top stories.
We're pleased to bring you "While You Were Out"—the Verily editors' quick takes on the happenings of this week.
Camp Fire Is Deadliest Wildfire in California History
The death toll in California's catastrophic "Camp Fire" has now risen to 63, officially making it the deadliest wildfire in the state's history and the nation's deadliest fire in a century. That brings the statewide death toll to 66 with the separate Woolsey and Hill Fires in Southern California. There are over 600 additional people still unaccounted for in Butte Country, where the Camp Fire continues to rage. These three fires all broke out last Thursday, November 8, as a combined result of a humidity drop, hot, dry winds, and the extremely parched land from years of drought.
As the names of the deceased have gradually been released, the rest of the country has been watching, praying and helping in various ways, such as through GoFundMe campaigns for families who have lost their homes, family members, and everything they own. There are also a large number of nonprofit organizations seeking donations to directly help the areas and people affected by the devastating wildfires, which you can find here.

As of Thursday, the Camp Fire is 40 percent contained and has destroyed almost 12,000 structures (including almost completely demolishing the town of Paradise). The Woolsey Fire in Malibu and surrounding communities is 62 percent contained and responsible not only for 3 deaths, but for the destruction of over 500 structures. Among these destroyed structures are the homes of some celebrities, such as Miley Cyrus and Liam Hemsworth's home. However, it is encouraging to see that Miley and Liam are not just focused on the loss of their own home and the need to rebuild it, but they are working to help rebuild the whole community. Focusing on the positive in a tweet, Cyrus gave thanks to firefighters and stated, "my house no longer stands but the memories shared with family & friends stand strong. I am grateful for all I have left." (Similarly uplifting, Lady Gaga was spotted delivering pizza and gift cards to an emergency evacuation shelter.) The disastrous, deadly infernos that California has endured this year are truly heartbreaking, and while we hope that the worst is now behind them, our prayers and aid are still very much needed. —Madeleine Coyne
Deranged Gunman Kills 12 at Country Bar in Thousand Oaks, California
Thirteen people, including a shooter, were killed during a mass shooting in Thousand Oaks, California on November 7. The gunman was Ian David Long, a 28-year-old Marine Corps veteran. He arrived at Borderline Bar and Grill, a popular country dance bar, a little after 11 p.m., dressed conspicuously in a black trench coat and glasses. Upon arrival at the entrance he shot the security guard. Revelers inside the bar heard the shot, assumed it was fireworks, and continued dancing. But then the gunman began shooting inside, causing an eruption of hysteria as people alternately dropped to the ground, hid under tables and stools, or began breaking windows to escape. When the police arrived three minutes later, Long murdered sheriff sergeant Ron Helus before finally shooting and killing himself.
In a sickening twist, authorities stated that Long actually posted on social media during his deadly rampage, commenting that "Fact is, I had no reason to do it, and I just thought…life is boring so why not?" A few minutes later he added, "the only thing you people do after these shootings is 'hopes and prayers'….or 'keep you in my thoughts." Those who knew the shooter affirm that it was clear that he was deeply troubled. He often engaged in loud, violent altercations with his mother, who was at a loss as to how to deal with her increasingly volatile son. According to her, he refused professional help.
If only David knew the value of hopes and prayers, or reason for that matter. Sadly, his dismissal of their value says more about him, and his need for help, than those of us who care. —Mariel Lindsay
Ariana Grande's New Song "Thank U, Next" Sets Records
After a highly publicized split, Ariana Grande and ex-fiance Pete Davidson are moving on, and Grande's response turned the public spotlight on their relationship into an empowering opportunity. Grande released the single "Thank U, Next" on November 3, and it's already become the quickest song to reach 1 million streams on Spotify.
It's not your typical breakup song, and it finds Grande singing about past loves with gratitude for what she's learned. "Say I've loved and I've lost / But that's not what I see / So, look what I got / Look what you taught me / And for that, I say / Thank you, next," she sings. The single also set a personal record for Grande, becoming her first song to top the Billboard Hot 100. When most breakup songs point out an ex-lovers' injustices or talk about rebounding by hitting the bars, Grande takes a healthy perspective. After we realize a relationship shouldn't continue, the best thing we can say is "thank you, next" to a person we've learned from but know we shouldn't be with. If you've been through a breakup this year, "Thank U, Next" is an anthem you may want to put in your memory vault. —Madeline Fry
Michelle Obama Opens Up About Miscarriage in New Book
Former First Lady Michelle Obama opened up in her new memoir, Becoming, about experiencing a miscarriage in her early years of marriage. "We were trying to get pregnant and it wasn't going well," she writes. "We had one pregnancy test come back positive, which caused us both to forget every worry and swoon with joy, but a couple of weeks later I had a miscarriage, which left me physically uncomfortable and cratered any optimism we felt."
Hearing from the Obamas about a miscarriage is a big deal, especially considering they are traditionally tight-lipped about their life outside of politics. Women who experience miscarriage often deal with emotional suffering and even physical trauma as they cope with the loss of their child. It's reassuring to hear from women such as Michelle Obama about their own miscarriages because it can serve as a reminder to women that they are not alone.
The former first lady went on to share that their two daughters were conceived through in vitro fertilization. While IVF can be successful for some, it's important to note that for many women it does not result in a live birth, and it does come with its own risks and costs. —Gabriella Patti
Encouraging News for Women Looking to Conceive
New research from the University of British Columbia and the Harvard T.H. Chan School of Public Health indicates that the ideal spacing between delivering a child and conceiving another is 12-18 months—which, especially for women who start to have children later, is significantly shorter than the previous World Health Organization (WHO) recommendation of two years. The more recent study looked at how the role of pregnancy spacing could be impacted by maternal age, tracking over 148,000 pregnancies over the course of ten years in Canada. Waiting less than a year to conceive again still poses risks to both mother and child, but the research shows that waiting a full two years isn't necessary.
Lead author Laura Schummers, a postdoctoral fellow in the UBC department of family practice and Ph.D. candidate at the Harvard T.H. Chan School of Public Health, notes that the findings are of particular importance for older women, who must consider their age when discerning the size of their families. Senior author Dr. Wendy Norman, associate professor in the UBC department of family practice, says, "Older mothers for the first time have excellent evidence to guide the spacing of their children. Achieving that optimal one-year interval should be doable for many women, and is clearly worthwhile to reduce complication risks." Perhaps that biological clock isn't ticking quite as quickly some thought. —Lindsay Schlegel
Chip and Joanna Gaines Announce New Branded Network
If you've been in withdrawal since HGTV's Fixer Upper aired its last episode this spring, you're in luck. Fans may not have to wait much longer to see Chip and Joanna Gaines on screen again. The couple announced last week on the Tonight Show with Jimmy Fallon that while they may not be returning to their popular home remodeling show, they will be starting their own branded network. Discovery says it will offer a lifestyle network to Magnolia founders Chip and Joanna, and the couple say they're ready for the new opportunity.
After the show ran for five seasons, Chip and Joanna say they decided to quit Fixer Upper to take time for their five kids. Since the show began they've done a lot: released a book, started offering their Magnolia-brand products in Target stores, and had their fifth child this summer. Now that the couple is ready for to launch back into TV, we're here for it. From their inspiring (and very real) relationship to Joanna's love for shiplap, we're glad to see them stick around. —MF
Dallas Woman Suffers Brain Damage During Plastic Surgery Operation in Mexico
Laura Avila, 36-year-old Dallas real-estate agent, who traveled to a clinic in Ciudad Juarez, Mexico last month for a rhinoplasty and a breast implant replacement surgery, returned in a coma, essentially braindead. Now her fiancé and the rest of her family are fighting for justice and remediation via media outlets and a GoFundMe account created in her honor.
According to news sources, complications began before the actual operation took place. As part of a preparation for the upcoming surgery, Laura received a spinal anesthesia. Tragically, it was injected in the wrong area of her spine, causing the drug to flow upward into her brain. Her brain swelled, her kidneys failed, and she fell into a cardiac arrest. She was then rushed to an Intensive Care Unit nearby where she was placed into a medically-induced coma to prevent further brain damage. She remained there for six days before her family was able to transfer her to a hospital in El Paso, Texas, where she remains on life support. Doctors there have informed the family that they must decide whether to pull her life support, warning them that, due to the severity of her brain damage, she will never be the same.
Her family, desperately wanting a second opinion, have campaigned to have her transported to a local hospital in Dallas, but so far their requests have been denied due to the fact that Laura did not possess medical insurance. As her sister Angie writes in her GoFundMe message, "Laura exudes love, life, laughter, joy…she gives everyone a reason to smile." She ends her impassioned plea by stating simply, "Our strong girl needs us." —ML
Stan Lee, Creator of Beloved Marvel Comics, Dies
Stan Lee, the creative mastermind behind many Marvel comics died on Monday at age 95. Lee created and co-created the X-Men, Spiderman, Black Panther, and numerous other superheroes. Lee starting developing Marvel superheroes in the 1960s, and revolutionized superheroes from god-like beings to flawed people with average problems with the added benefit of superhuman abilities. Lee was also beloved for his cameos in the film adaptations of his comics, to the very end.
A statement from his family said: "Stan was an icon in his field. His fans loved him and his desire to interact with them. He loved his fans and treated them with the same respect and love they gave him." RIP Stan Lee! —GP
SNL and Dan Crenshaw Reconcile in Time for Veteran's Day
Last week on Saturday Night Live, comedian Pete Davidson made fun of Afghanistan veteran Dan Crenshaw, who is also a Republican Representative-elect for Texas's 2nd congressional district, on the weekly show. Davidson had joked about Crenshaw's appearance, namely his eye patch, which is worn as a result of an injury he received in combat. "He lost his eye in war . . . or whatever," Davidson had said. After much public outcry to Davidson's callous comment, SNL invited Crenshaw to attend the show so they could offer a public apology. Crenshaw did, and afterward penned an op-ed in the Washington Post explaining he did not demand an apology because he didn't want to contribute to "outrage culture." Crenshaw explained, "It seems like every not-so-carefully-worded public misstep must be punished to the fullest extent, replete with soapbox lectures and demands for apologies.... I get the feeling that regular, hard-working, generally unoffended Americans sigh with exhaustion—daily." In the Washington Post, Crenshaw also offered advice for Americans to return to civil discourse: "For starters, let's agree that the ideas are fair game. If you think my idea is awful, you should say as much. But there is a difference between attacking an idea and attacking the person behind that idea."
In the SNL segment, Davidson apologized to Crenshaw on behalf of SNL and honored his service. Between some jokes, Crenshaw accepted the apology and offered some words of wisdom: "there's a lot of lessons to learn here," such as that "Americans can forgive one another. We can remember what brings us together as a country and still see the good in each other." He also noted on the occasion of Veteran's Day that "it's a good time for every American to connect with a veteran." In addition to thanking veterans for their service, Crenshaw encouraged people to " tell a veteran 'Never Forget.'... implying that as an American you are in it with them … connected as grateful, fellow Americans." Good insights for everyone to hear, and, as a daughter of two vets, I greatly appreciate hearing them. —Mary Rose Somarriba