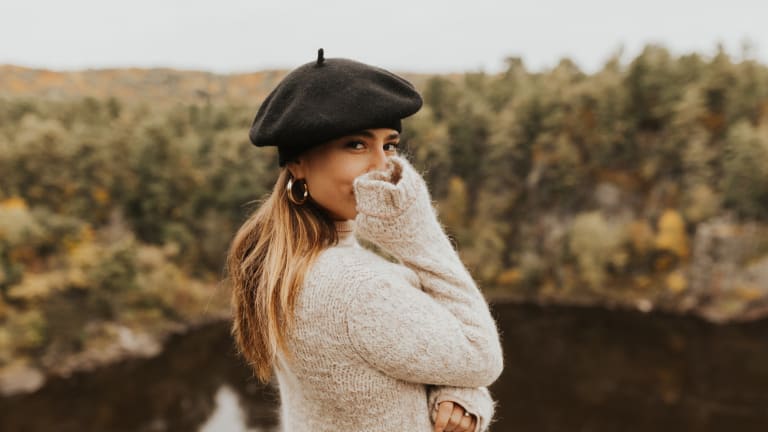 Verily's Best of Winter Sweaters
The cool sweaters to keep you warm this winter.
Something always happens to me when it gets cold, I hit a style rut. I've got places to go and people to see, and all I want to wear are Patagonia sweaters, jeggings, and tall boots. Even as a stylist, I just stop trying to look cute because I know I'll be freezing. It happens. But I know I'm winning at life when I look good and feel warm at the same time—it's the small things that matter most to me.
So, in effort to help us look fashion-forward and keep warm I've rounded up my dream shopping list of the most stylish sweaters to get us through a cold winter; fingers crossed that it's not a long one!
This shopping guide will help you find basic sweaters you need for everyday or that statement piece you may be looking to wear at the office or for an upcoming event. Knitwear is definitely having a moment this year, with all the statement sleeves, lengths, and embellishments. It's a good time to invest. From crew to cowl neck, when it comes to cozy layers, who could be knit-picky when there's so much to choose from! I made sure to include some pieces from brands beyond the usual suspects (ahem J.Crew, LOFT, Banana Republic, etc) so that you'll hopefully find something striking that not everyone and their roommate is wearing.
The Classic Cream Sweater
I know we all adore that classic cream sweater whether in fitted cable knit, cowl neck, or cashmere crew. I'm always on the lookout for new takes on a timeless cream sweater, I really love the way this mock neck from ShopBop looks on its own, but it could be perfect with a chambray shirt layered underneath too.
The Statement Sweater
For when you need to make a fashion statement at a holiday party, or when you just want something fun and creative to wear to work mid-week. I'm dying to wear this lovely marigold sweater from Pixie Market with a black pencil skirt and heels. You can't tell from the front, but it opens a little in the back, perfect for that after-work transition!
The Date Night Sweater
Again, looking good but feeling warm is what these sweaters are all about. My personal favorite is the off-the shoulder, because it's feminine and sophisticated, perfect for a night out or a date. I can just see this Club Monaco Sweater with skinny jeans, ankle boots, and of course some minimalist, geometric baubles like these.
The Cozy Sweater
Definitely the sweater I can't wait to throw on when I get home from work and commuting in the frigid outdoors. All I need are my fleece-lined tights and extra thick mountaineering socks. Yes, there are socks made specifically for mountaineering. Think climbing Mount Everest level socks. And yes, I do own a pair, because as I said, I hate being cold. Only the most advanced in sock thickness will do. You should try a pair; you'll honestly never go back to normal people socks.
The Work Sweaters
If you work in a more traditional work environment you'll need some go-to sweaters you can throw on with trousers or skirts when you're running late and it's freezing outside. I personally love a classic cashmere crewneck like this one, because it's warm enough to wear on its own but still lightweight enough to layer under a suit instead of a button-up shirt.
The Novelty Sweater
A stylish alternative to the ugly Christmas sweaters—think fair isle, plaid, and popcorn. Festive sweaters like this one wear well into après-ski season and beyond. Oh, and they also keep you nice and toasty by the fireplace with hot cocoa in hand!
Quick recommendations for the best places to find . . .
Statement or Date Night Sweaters: The Pixie Market or Club Monaco
Classic or Office Sweaters: Boden
Cozy Sweaters: Lou & Grey
Best All Around: Sézane (the only company I know that wants you to wear their clothes forward and backward!)