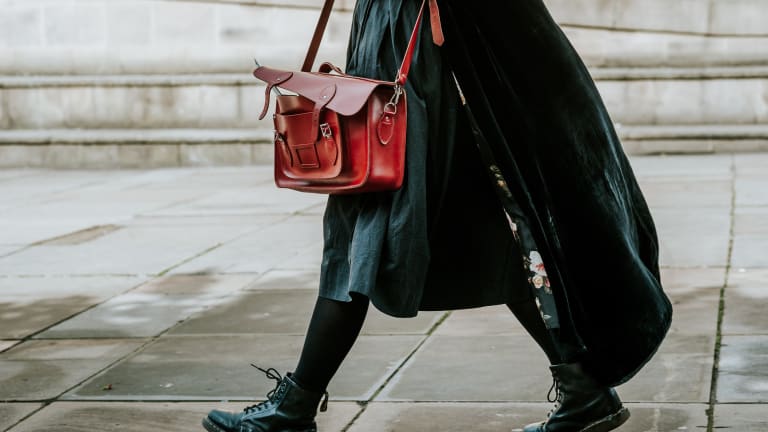 Verily's Winter Coat Guide
Get prepared now.
Sometimes skills develop out of deep necessity and basic survival, you know? Coat-shopping is one of those skills for me. If there is one thing you should know about me it's that I hate being cold. I'll do anything to avoid cold temps, and if I can't avoid it, I'll dedicate myself to being super prepared for it. I'd rather starve than be cold. A bit dramatic, I know, but I can't stand being cold. And for me, it's better to be prepared than underprepared.
It can be confusing to know what you need to make it through the season, especially if you're from a climate that doesn't exactly have seasons but find yourself in a less temperate climate. I remember visiting a Christmas tree farm with my good friend Amy last year; she's from Houston and their average daily high is 65 degrees! It makes me cold just thinking of our conversation at the farm that day, her shivers seemed like seizures because she was wearing a rather flimsy parka. Amy remarked that she was just cold because it's cold outside. I said, "No, you're cold because you wearing the wrong coat." If you're Canadian and reading this, you know what I'm talking about. Being warm and comfortable in bitter temps is possible, with the right coat.
So, is this the year you're finally going to invest in a good winter coat? Do you need a checklist to make sure you're on the right track? Maybe you're like Amy, and you've been thinking this entire time that you're just cold because it's cold outside. If any of this resonates, this guide is for you, love!
A favorite of the Brits, this coat is perfect for crisp, slightly chilly temperatures and protection from the elements. This is the type of coat you'd wear to a fall festival or apple picking, because it's non-bulky and easy to move in. If you need more warmth, wear a fisherman-style sweater like this one underneath. If the Barbour isn't quite your style try a bomber jacket like this one.
Lightweight but also super warm, this comfortable and easy to wear jacket is great for mildly cold winter days and that odd transition from the end of winter to early spring. It's ideal for long-distance traveling and weekend ski trips, because when you roll it up all of the air collapses out of it, and you can fit it into the tiniest crevice of your suitcase. This coat will get a lot of mileage because it's the perfect grab and go for the season.
I'm a huge fan of a classic wool overcoat, because it's versatile and will never go out of style. In terms of warmth, it's not as toasty as a puffer or parka, but definitely warm enough for the average, winter day. Look for styles that are properly lined with flannel or cashmere. In the past few years, I've steered away from Top Coats because they're generally too narrow and don't leave room for bulkier sweaters. My favorite version of a good overcoat is a cocoon coat, because it's roomy enough for chunky sweaters and layers on weekends, but still dressy and streamlined enough for work and holiday events. If more warmth is needed add a blanket scarf like this one.
Frigid, freezing temperatures in the harshest winter months call for a parka because this type of coat is the most effective in blocking high winds and precipitation. No, they are not the most attractive; yes you'll look like a penguin or an Eskimo but you'll feel like your own sun in one of these things. Parkas come in two common styles, Puffer or Down. A puffer parka utilizes trapped air technology; basically all those puffs, or quilted bubbles help to trap the warm heat your body creates—it's like walking around in your sleeping bag. A down parka is the non-puffy version that is not as form fitting and restricting as the puffer, it's usually lined with down feathers which create and trap heat around your body. A parka is worthless without a hood, so disregard any version that is not hooded, and make sure it has fleece or fur lining inside the coat and hood.
Sometimes you just need a fancy fur coat for holiday parties, NYE outings, and winter weddings or galas where an overcoat just won't do. In these cases, I recommend a non-expensive, faux fur coat from places like H&M or Target, unless you're able to splurge for a nicer one from a higher-end retailer. Keep it faux, if you can, animals are our friends. No judgment, though, that's just my preference.
Winter Coat Tips from a Wardrobe Stylist
Here are some pro-tips on winter coats, from care to the best time to purchase.
Invest in a nimble fabric shaver to remove the fuzz balls that form on your wool or tweed coats. I snagged this little shaver from Target for $6 bucks three years ago, and it still works great.
Always, always dry clean your coats; you can do this before hibernation or after. I usually dry clean my wool coat before I store it, so once the season starts it's ready to wear when I pull it out.
If you'd rather skip the dry cleaner, you can tackle a stain using a damp cloth with just a touch of detergent and pat the fabric lightly. Avoid aggressive scrubbing as that will spread the soap around and leave a ring.
Use supportive hangers. Wood ones are great if you have them; a flimsy hanger means permanent droopy shoulders on your coat.
Empty your pockets before storing. I'm a chapstick and pen hoarder, and I can't tell you how many times I've pulled out a coat only to stick my hands in my pockets and feel sticky goo from melted chapstick or find blue ink under my nails. Less than ideal. And it's kind of hard to clean pockets, too.
Utilize seasonal sales to save on more expensive coats. Labor Day, Columbus Day, and Black Friday sales are good times to snag a coat. It will be more competitive, but it's an in-season option to save on coats. However, the best time to buy coats is January through early February because brands are under pressure to push out winter inventory and make room for spring items.
Donate old coats to shelters. I'm all for recycling and getting paid when it comes to unwanted clothes, but coats are the number one item that shelters are desperate for in the colder months. If you need a list of shelters in your area click here.