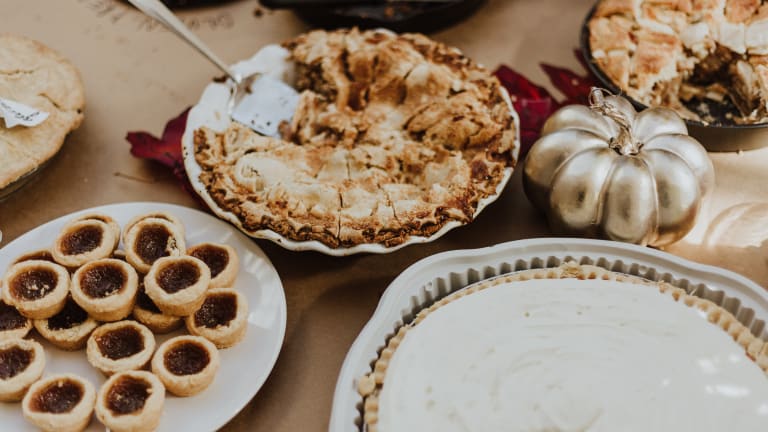 3 Warm Ways to Celebrate Thanksgiving Away from Home
There's no place like home for the holidays, but you can make it happy wherever you are.
Are you unable to make it home this Thanksgiving? The struggle is real. Thanksgiving at home, for many, isn't an obligation but a yearly marker of shared gratitude and convivium. It means eating your favorite family foods and experiencing a yearly dose of warmth and happiness that comes from the gathering of family. Sometimes, work, expenses, or some other reason makes traveling home hard. While there is no replacement for spending the holidays at home, there are ways to cultivate those feelings of warmth and joy when you're away from home. Here are three warm ways you can celebrate wherever you are.
Happy Friendsgiving
My first few years out of college, I was living in New York City across the country from my family in Los Angeles. I was a grad student with undergrad loans and wasn't in a place to spend $400 on round trip tickets for a few days. Some friends in the same boat decided to host a friendsgiving potluck. We each volunteered to bring a home cooked dish and, while it felt a bit nerve wracking to meet many new faces in one evening, these dinners certainly helped expand my tiny inner circle. I'm still close friends with many of them, and that's something to be thankful about.
TIP: Turn it into a pie bake-off. Each guest brings one savory or sweet pie to share. Or bake a few favorite pie recipes together. Drop an extra pie off at a local soup kitchen, assisted living center, or with a friend who is working that night (e.g., my nurse sister is manning the ER on November 22, and her unit would totally dig in).
HONY For the Holidays
When Brandon Stanton, the creator behind Humans of New York, first arrived in New York City, he spent Christmas Eve alone in a 24-hour diner because he didn't know anyone and didn't have the money to go home for the holidays. So he reached out to the community to start HONY For the Holidays, a meticulously organized event in which a carefully screened guest is matched with a host. Unfortunately, they only match people in NYC. But if you haven't yet planned out your happy holidays away from home, consider hosting a dinner where guests can invite someone who might otherwise find themselves alone in a diner on Christmas Eve.
If you face the prospect of spending a Thanksgiving alone in a new place, don't be afraid to fish for an invitation. Ask friends, classmates, colleagues what their Thanksgiving plans are, and let them know you don't have plans yet. On the flip side, if you are spending your holidays at home, be on the lookout for friends or colleagues who might be in need of a home for the holidays and welcome them into yours.
TIP: Invite non-Americans too! Sharing different cultural traditions can quickly become a humorous exercise; I've found it hilarious to watch visitors' facial expressions when going around the table sharing one thing you're thankful for.
Turn What You Have into Enough
When my husband and I first started dating, he invited me to a Thanksgiving lunch at a nearby church. We went inside and realized it was a meal prepared for the less fortunate in the local community. We both felt really foolish. He asked the volunteers if there was anything we could do to help, but everything had already been organized. Rather than leaving awkwardly, we lined up for a plate and sat to eat with a table of strangers. Since that incredibly humbling experience, we include giving back in our holiday plans, whether it means visiting patients without family in the hospital or sponsoring a turkey for a community dinner.
TIP: When it comes to Thanksgiving volunteering, most people think of a soup kitchen, but there are so many ways to give back: spread smiles at a retirement home; participate in a turkey trot that's raising money for a good cause; send care packages to our troops.
Whether or not you feel the holiday is conspiring against you, go out of your comfort zone to give back, and you'll always remember that there is always something to be grateful for.