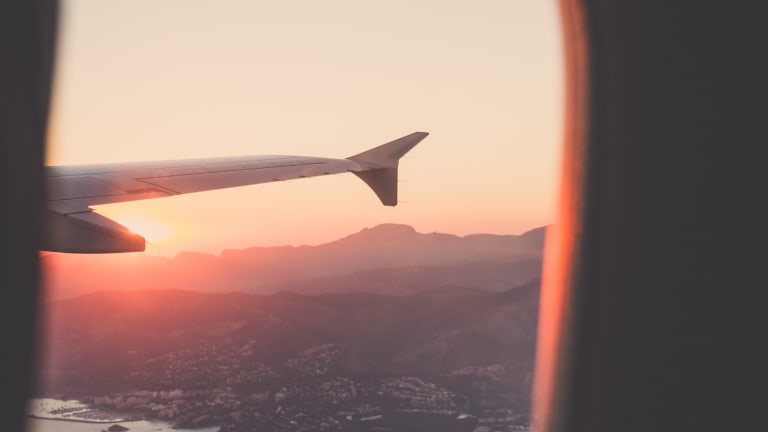 A 7 Step Guide to Simpler Holiday Travel Packing
A little preparation goes a long way.
The holiday season is officially underway and for many of us, traveling during the holidays is basically a given. Packing for a holiday during the winter can be tricky for myriad of reasons. First, it's hard to make room for bulky items like sweaters or coats, not to mention leaving room for boots and multiple outfit options. Second, you have to consider that space will be tight after you open your presents or anything else you may pick up while on your trip.
To make it simpler for you, I'm dishing out a 7-step guide containing the packing advice, rules, and tips I use to get us through the November/December hustle, plus a Winter Travel Capsule Wardrobe with all the essentials you'll need. Let's get to work!
01. Pack Two Days in Advance
As a recovering over-packer, I have found that the best preventative technique to packing frustration is a 48-hour cool-down period where I can sleep on my choices and edit throughout. Plus, packing early gives you a chance to run a load in the wash if you realize something you need to pack is dirty.
02. To-And-From Outfit
Many people grossly underestimate how important the To-And-From Outfit is, it's a genius travel hack. When traveling, I always recommend that you wear your heaviest coat and boots on the plane (or in the car). Believe me, it's worth the momentary trouble going through security like this, because it leaves SO much more room in your suitcase for outfit options and gifts, while keeping you nice and warm in flight! You know you're going to be cold on the plane anyway.
03. Use Packing Compression Bags
Packing compression bags are heavy-duty plastic bags you can use to stuff your heaviest sweaters, scarves and jackets. Simply, fold your items up, toss them in, and roll the bag to squeeze all the air out. Works kind of life your Mom's vacuum seal bags but without the vacuum. These bags not only save space in your luggage but also waterproof your clothing should your liquid toiletries explode at 35,000 feet! The only caveat here is that the bags are heavier when compressed, which can add weight to your luggage—something to consider if your airline has pricey weight stipulations.
I personally love the Eagle Creek Pack It Specter Compression Cube Sets, which I received as a gift from my dad last year. What's cool about these is that they have sections for your clothing, which keeps you organized. The cubes sets are see-through, making it easy to locate items. And of course, they compress, saving you tons of space. WIN. WIN.
04. Bring No More Than Three Pairs of Shoes

When travelling for the holidays you really only need one pair of boots and a pair of sneakers, that's it! I promise. Your third shoe is optional in case you have to be somewhere fancy or you have some specific activity planned, like hiking, that requires a specific shoe. All shoes must be comfortable enough to wear all day or they aren't coming. Don't fall into the "I'll bring a pair of heels trap because they go with this and that outfit."
Stylist Hack: You know those cheap plastic shower caps you get at the drugstore, well they make perfect shoe covers. When packing for my clients, I use them to keep clothes from touching shoe bottoms.
05. Limit Your Bags
Similar to your shoes, try to cap it at 2-3 bags. If I need to work while travelling I bring my leather tote bag for my laptop and cables, then I bring a cross body for everyday activities. While traveling, the cross body is packed away and I only use my tote and suitcase.
Stylist Hack: Pack your cables and chargers away in a leather clutch, which you can empty later and use for parties or a night out.
06. Know the Weather and Your Activities
Obviously, you're going to check the weather of wherever you're planning to go. But think about how much you'll interact with said weather? I've been on trips where I was in a car or inside most of the time and probably could have packed way less. Do your best to map out what you'll be getting into each day. Will you be sightseeing, headed to a fancy dinner or casual meet up, attending a conference, participating in outdoor/indoor sports, or just chilling at Mom and Dad's?
Don't stress about having the perfect outfit for everything. Unless you're going to the Moon with Richard Branson, there's probably a shopping center or store nearby where you can grab something in a bind.
07. Pick a Color Scheme and Stick With It
This is going to sound harsh, but every single item you pack must also match every other item you pack. I know, I know, but you'll thank me later. Trust me, sticking with a color scheme will create multiple outfit combinations and getting dressed each day will be a snap. Try to choose to neutral colors like black, camel, or grey and then one pattern like stripes or plaid. Bring only basics that you feel great in and as a result you'll be comfortable and out the door to explore in less than 15 minutes.
Winter Travel Capsule Wardrobe
These options are just examples of the basic things you might need for a winter holiday. It's by no means exhaustive; choose whichever color options go with the color scheme you're planning to wear for your trip.