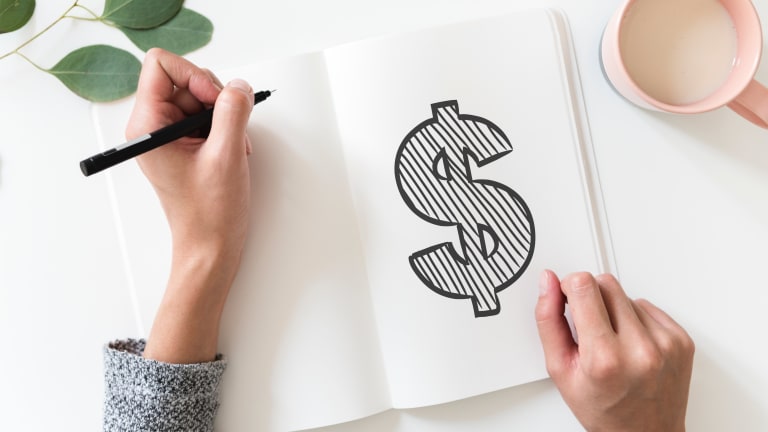 Change Your Money Mindset with a No-Spend Challenge
Pressing "pause" on your purchases will do more than save you cash.
At one point in my life, my coworker and I used to run to Target during our lunch hour as often as once a week. A three-minute car ride was all it took to put us in the dollar-bin section, perusing its goodies with the fervor of children in a candy store. After all, can you ever have too many colorful thank-you cards, summer picnic supplies, or fall-scented candles?
Back then, I always spent more than I intended, regardless of what was on my shopping list. Now, however, I can look beyond the stationery and tiny succulents and focus on what I need instead.
What caused my shift in mindset? A better understanding of my financial goals and how to achieve them—and a greater appreciation for what I already have. And one exercise that helped me cultivate this perspective was a no-spend challenge: a week where I committed to making no purchases outside of the essentials. (It also helps that Target isn't just a three-minute car ride away anymore!)
As we approach the time of year most conducive to material excess—between Thanksgiving and Cyber Monday last year, Americans spent an average of $335.47 per person—a no-spend challenge can offer a refreshing change of pace. Some people collectively participate in an initiative called No-Spend November, precisely during that holiday rush. But no matter when you choose and for how long, closing your wallet can serve as a positive reset button for your approach toward spending as well as your attitude toward material things.
Limiting—or eliminating—spending for a period of time has obvious financial benefits, but a no-spend challenge can bear other fruits besides more money in the bank. Here are a few unexpected perks I encountered.
01. Reframed contentment
While we sometimes feel giddy about new purchases in the beginning, the contentment they bring fades. Limiting our spending forces us to examine what we already have, spurring us to appreciate our creature comforts and prized possessions. And while the jury is still out on what types of purchases generate the most happiness, gratitude is consistently linked to greater happiness.
02. Enhanced creativity
There's nothing like running low on funds to prompt us to think a little more creatively. During a no-spend challenge, we have to stretch what we have in our refrigerators and pantries to make meals instead of turning to takeout. We have to devise our own pumpkin spice latte recipes to replace trips to Starbucks. We're faced with finding free entertainment instead of buying movie or concert tickets. With a little research and brainstorming, we may discover excellent options and opportunities we've never before considered.
03. Improved self-discipline
If you've ever completed a Whole30 or a workout program, you know the value of building self-discipline day by day, choice by choice. People with higher levels of self-control have stronger relationships, more career success, and manage stress and conflict better, writes Gretchen Rubin in Better than Before: Mastering the Habits of Our Everyday Lives. Just like that workout or diet regimen, a no-spend challenge can help strengthen your willpower and increase your self-discipline.
04. Greater clarity
A no-spend challenge gives you the opportunity to reevaluate your spending habits. By noticing what you miss most, you can determine what's really worth swiping your card for. Whether that's concerts, lattes from your local coffee shop, or art prints for your home, what matters is that you can look forward to spending intentionally instead of mindlessly browsing clearance aisles for knickknacks.
05. Increased patience
Dessert always seems to taste sweeter when you've painstakingly baked it yourself. In this age of instant gratification, we're all too familiar with getting what we want when we want it, from groceries to information on the internet. But a little waiting won't hurt us, and in fact, research shows it can even help. In Happy Money: The Science of Happier Spending, Elizabeth Dunn and Michael Norton write about the advantages of anticipation, including that people often enjoy planning and anticipating vacations more than the trips themselves. Waiting a week or a month to resume non-essential spending can both develop your patience and make the times you do indulge more enjoyable.
Tips for a successful no-spend challenge
So if you're sold on completing a no-spend challenge, here are a few tips for a fruitful experience.
Define your parameters and stick to them. The length of your no-spend challenge is up to you—a week, a month, or even a day to start. Just make sure you commit to a time period and define what essentials you're allowing yourself to purchase and how often.
Tell your friends—and invite them to join you. Just like gym buddies, accountability partners for a no-spend challenge can make a huge difference. Telling your friends about your goal can help motivate you, and gathering a few to join you—or compete against you—would make a challenge all the more fun.
Visualize your progress. Print out a calendar and stick it on your fridge or download a habit-tracking app. If you're a paper-and-pen person, you know the satisfaction of crossing something off a to-do list. Check off the days on the calendar when you succeed in thwarting all purchases. Soon enough, you'll notice a string you won't want to break.
Find a free hobby or activity. Listen to podcasts. Dust off your colored pencils and unleash your inner artist. Read the books on your shelf you haven't yet opened or revisit an old favorite. Go to the library. Check out a local park or trail and soak in the beauty of nature. Search for free events sponsored by your city or town, like outdoor movies and live music. You may discover some gems right under your nose.
Offer alternatives to invitations. Take advantage of the breakroom or an outside bench to eat your packed lunches with coworkers. Instead of visiting a movie theater, how about putting on a Netflix original or a DVD of an old favorite? Invited to coffee? Try a walk in the park with your favorite tumbler in hand. And don't underestimate the power of a relaxed and informal social gathering at home instead of a buzzing bar or restaurant.
The strategies for a no-spend challenge may not be radical, but for some, the shift in mindset is. Consider committing a week or a month to resisting nonessential purchases. You might be surprised to find it's not as hard as you think—and you'll also probably learn more about yourself and what you most treasure. A no-spend challenge doesn't mean that you'll forever refuse to buy beautiful or useful things, but rather, it teaches you to do so with greater purpose and intention.