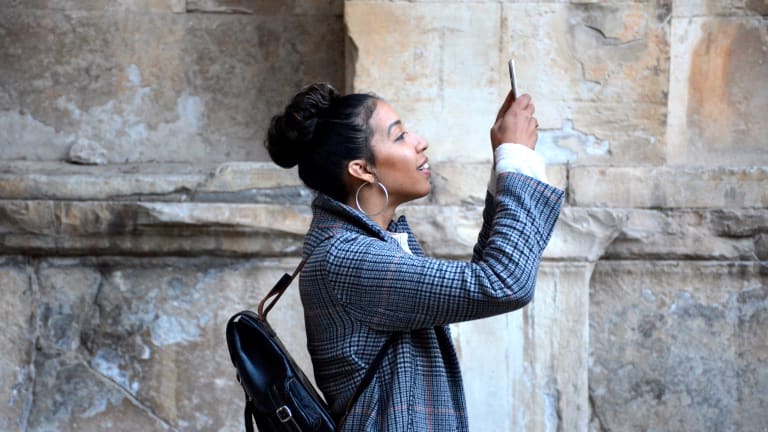 Tech Hacks to Keep Your Connections Close
Make the most of the apps already on your phone.
I've always prided myself on being good at maintaining relationships. Some of my closest friends are the girls I met in kindergarten, which feels like a good track record! However, with post-college life in full swing, it's time to admit that I need to be more intentional about communicating with the people I love. Full-time jobs and the pursuit of passions have scattered my confidantes, my wine-night staples, and my late-night talkers everywhere from California to New York City. What's a girl to do?
The past few weeks, I've been polling friends for insights on keeping connections real and sustained—using apps I already have. There's no reason to clutter your phone with something new when you can take advantage of the apps right in front of you! Check out some of their tips and tricks to use your phone to its full potential—you don't need to reinvent the wheel to say connected.
01. Loop everyone in
When I asked my friends how they sustained relationships, I was surprised when one recommended group messaging apps. I had been so focused on one-on-one connections that I hadn't really thought about the important role that group messaging has in keeping in touch.
Groupme has long been on my phone, and I still use it frequently. Members of a group can send messages, videos, photos, and even documents in a private message. My friend Sophie observed, "Group chats are great because when one person texts in it, it creates a waterfall effect and everyone starts talking again." With one message, a group that was started three years ago can start buzzing.
Slack is another option. Although the app markets itself as a business tool (and I've used it for a lot of #officialbusiness), it can be used for work and play! Slack allows users to set up multiple, themed threads within a larger group, so individual users can choose what they want to see (think an extended family Slack channel with threads for event planning, photos, and Christmas gift suggestions). Even if you've only used Slack as a work tool, it can be just as useful for logistics and document sharing for family and friend events. When you're looking to coordinate that next baby shower or cousin reunion, Slack is the perfect way to keep everything contained within one universe, rather than spread out between different messaging apps and emails.
And personally, I love the inherently scrapbook-like nature of Groupme and Slack. I can see when different message threads were created and scroll through them for time-stamped memories. Like Sophie said, group messaging has the benefit of reigniting old conversations, but it doubles as a fantastic way to preserve memories.
02. Go deeper than filters
You may already use Snapchat, whether to keep that #streak alive or filter funny photos with ridiculous animal themes.
The world's most popular photo-sharing app, however, is good for more than vanishing photos. To dig deeper, try out Snapchat video calling. Unlike Facetime, which is only available on Apple devices, Snapchat group video calling is available to Android and Apple users alike. I love that Snapchat ties in fun internet content (like Bitmojis, customizable cartoon figures) with video calling, which makes my conversations fuller and more engaging. Snapchat is a win-win for getting that visual fix of my friends in both long and short forms.
03. Pencil—I mean, type—them in
One of my closest friends works full-time and the other is midway through a PhD program, so finding time to send anything other than a casual "how are you?" text can be difficult. And this isn't unique to friends who live states away—I even need to schedule time for people who live in the same city. But far too often, sending a "when are you free?" text leads to a cyclical conversation of "whenever!"
The more time I spend in the working world, the more I rely on trusty Outlook or Google Calendars, and I've found that they're a great way to integrate leisure into my schedule as well. The beauty of shared calendars is that I can see when my friends are busy and when they aren't, making it less of a headache to go back-and-forth about "When is good?"
My friend Molly created online calendar invitations for both our friend Emily and me after consulting our digital calendars. Somehow, that act of pressing "accept" on the invitation made me feel excited and, honestly, pretty organized. Come time for our call, we were all free and ended up talking for over an hour.
Although they're a basic form of engagement, digital calendars are a useful tool for carving out special time to keep connections strong. Life can get busy, but having those digital reminders pop up makes the time feel intentional, important, and something to look forward to.
04. Power down (or quiet down) when together
You've made the plans, the doorbell (or cell phone) rings—now what?
Often, I find myself reaching for my phone when I'm spending time with friends or even during a video call, where it's easy to scroll the web while chatting. There's nothing more frustrating than planning a get-together and knowing friends are looking at other things on their phones or computers while we talk.
Rather than using the "Do Not Disturb" feature only for sleeping, try using it (or airplane mode) when spending time with your friends in real life. Additionally, I've found that changing my phone settings for apps (e.g., choosing not to display notifications for Instagram and Facebook), along with the iPhone hack to change my phone to grayscale, combats distractions better than trying to have superhero levels of self control.
In those wonderful moments when the people I love are in the same room, there's no need to connect online. Unfortunately, that doesn't happen all the time. But whether it's geography or busy schedules keeping us apart, connection is still at our fingertips.