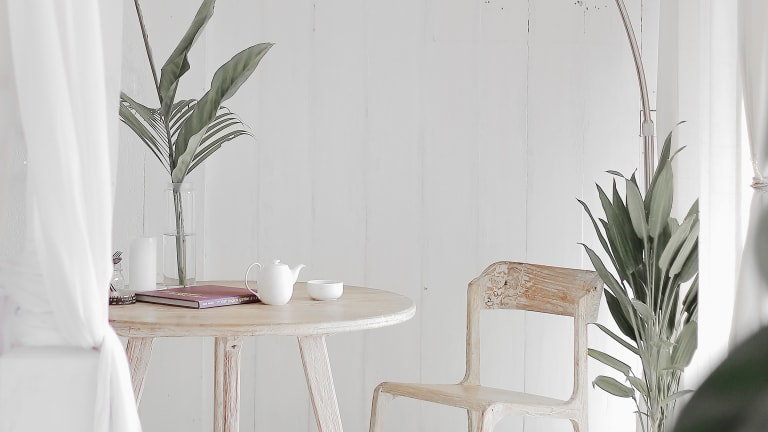 5 Ways to Transform Clutter into Treasure
Think before you toss.
Over the last several years, minimalism has gone from a niche idea to a lifestyle approach with mainstream appeal. From tiny houses to Marie Kondo, we're a culture captivated by the idea of owning less, needing less. Perhaps it is a reaction to a global increase in anxiety levels among Millennials: We are collectively more stressed, and the way we style our homes is a reaction, an escape, an attempted antidote.
This isn't a bad strategy. After all, a study in the scientific journal Personality and Social Psychology Bulletin linked cluttered, disorganized homes to heightened levels of mental fatigue, stress, and depression in their occupants. The study found that women with cluttered homes had higher levels of the stress hormone cortisol. And a Princeton University study found that excess clutter affects the visual cortex, making it difficult for us to process information or focus on a specific task. Excess, quite literally, physically and emotionally overwhelms us.
Unfortunately, as life progresses, we gradually accumulate more and more stuff. As much as we want to clean out our homes, we also don't want to throw away things that may hold sentimental value to us, our spouses, or our children.
I faced this challenge when I married my husband, and we attempted to combine a quarter century's worth of memories into a tiny rented townhouse. I was humbled to realize that I was no longer dealing with my own stuff. His boxes of family heirlooms bore special memories that he wanted to preserve, and whether they were cluttering up my drawers or stressing me out wasn't the most important issue on the table.
Slowly, we learned to make space in our lives for items that were simultaneously stressful clutter and treasured keepsakes, from my husband's sprawling map collection to pieces of inherited vintage furniture. Through five simple steps, we learned to honor the items we wanted to keep while eliminating unnerving excess, gradually transforming our home into a peaceful sanctuary.
01. We designated a space for "special" pieces.
Throughout the years, my husband and I have amassed miscellaneous small items, from photos and journals to letters we've written each other. We decided to store these keepsakes in a large black trunk that we safely stow in a spare bedroom. This allows us to preserve these items without having to find a place for them or jam them into an arbitrary desk drawer. Special items, quite simply, go into the "special box" for safekeeping—and they stay out of the way.
02. We turned special items into special gifts.
I couldn't stand finding my husband's yellowed old maps every time I opened a drawer, but I knew they were special to him. One Christmas, I mod-podged several portions of the maps onto canvases, turning them into sophisticated wall hangings for our shared home office. He was thrilled with this gift, and it honored his map collection in a way that is much more organized and attractive.
03. We went digital.
Some items need to be maintained in their physical form, like a piece of vintage jewelry or a homemade blanket. As for others, a simple photo will suffice. We took photos of items that we decided we no longer needed to keep, like miscellaneous awards or certificates, ticket stubs, or even some letters or cards. Now, we've managed to preserve the memories without having to find a place to store them.
04. We repurposed.
We recently acquired several pieces of antique furniture from family members. At first, many of these pieces did not fit the style of our home, but after an inspirational trip to a vintage furniture store, we decided to try using white or gray chalk paint to give them a facelift. Now, we use several of these pieces, like a secretary desk and a china hutch, not only to honor and preserve a piece of family history, but also to serve as beautiful statement pieces in our home. Not to mention, they happen to double as valuable extra storage space.
05. We resolved to shop our home before purchasing new items.
We always peruse our house before buying new things in order to minimize incoming clutter. In other words, before we make a purchase, we first try to figure out ways to use what we already have. A fun way to do this is to visit antique shops for inspiration on how to utilize and style different items. A stop by my favorite local antique store taught me that the dusty old law textbooks I resolved to pitch would actually make a nice statement when stacked beneath an antique fireplace mantel my husband and I repurposed. I also learned that junky old picture frames could be painted and fitted with corkboard to create a bulletin board, and chipped pots or mason jars make perfect containers for flowers or topiaries.
These five steps helped us create a life-giving home while honoring who we are and where we've been: our history and our legacy. With a little creativity, we've found ways to make what's old new again, to preserve what we want to honor, and to say no to excess. So before you embark on your next purging frenzy, consider whether there are ways you can turn your own clutter into timeless treasure.