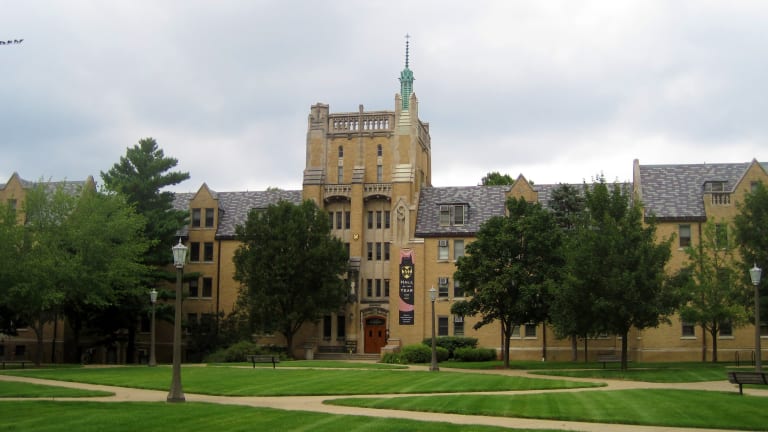 Students Give Hope for a Better Sexual Ethos on Campus
Notre Dame students stand up to decrease the sexual-assault carbon footprint.
"What hope does a woman have today that she can find a man who won't mistreat and objectify her?"
This was a question posed to me by a young college-aged woman at a conference, after I gave remarks on the problems women are experiencing in the hookup culture today, from sex regret to sexual assault. Part of the topic included how much pornography influences men and women to view sex as optimized for pleasing men and dehumanizing women.
It's a good question, and it's one many women wonder today. I have heard of numerous young women today who are single, in their twenties or thirties, who express this concern very seriously. Some are embittered after fielding unwanted advances from a man who had billed himself as the exceptionally respectful dude. Some are tired of making themselves vulnerable in online dating only to be tossed a booty call request. Others put in the time to grow a relationship with someone and find out later he's hiding a porn addiction from her. At the end of the day, some wonder, Am I better off single than dealing with the pornified dating landscape?
There are some time periods in one's life when this is the case—I'll venture to suggest high school as one obvious time period in which seeking Mr. Right is a waste of time (and heart). But for women in their twenties or thirties who hope to get married one day, I would suggest we pause before throwing in the towel on a whole generation of men.
For a little concrete hope we might look to the recent news coming from students at the University of Notre Dame. Last month, a group of male students published a letter to the editor in the school's Observer, decrying the effects of pornography on individuals, relationships, and human rights.
"As the men of Notre Dame," the letter started, "we request that the University implement a filter to make pornography inaccessible on the Notre Dame Wi-Fi networks. This filter would send the unequivocal message that pornography is an affront to human rights and catastrophic to individuals and relationships. We are calling for this action in order to stand up for the dignity of all people, especially women."
The letter, signed by James Martinson, president of a group called Students for Child-Oriented Policy, and 79 other male students, cited research indicating that pornography perpetuates sexual assault, as well as the "acceptance, normalization and sexualization of cruelty towards women." The letter further noted that, "the Notre Dame Internet Compliance Policy prohibits the access of pornographic material, but the University has not enforced this policy."
The day after the men's letter, a number of women responded in support. In a follow-up letter published in the Observer, Notre Dame sophomore Ellie Gardey and 67 other women asserted, "pornography propagates a mindset that people, especially women, are mere sex objects." The women's letter pulled no punches decrying the ills of porn: "This demeaning and often violent content encourages its users to place the selfish seeking of personal pleasure over the development of committed relationships. It makes people believe human connection consists of fleeting sexual intensity opened and closed as easily as a web browser. Thus, it essentially takes away the ability to love. It should not surprise us that infidelity rates dramatically increase and divorce rates skyrocket when one partner frequently uses pornography."
The women's letter ended on a note calling for the university administrators to take a stand and let campus web users know "every person is of the greatest dignity and value, composed of mind, heart, body and soul, and that no one should ever be treated as just a sexual object for someone else's pleasure."
Being the Change We Want to See in the World
To be fair, administrators at Notre Dame are not fully responsible for students' porn use; many access it on their phones using cellular data, and many have started many years before attending college. But the college is responsible for enforcing its own policies and doing its best to maintain a safe environment on campus. As the men's letter noted, "Notre Dame's sincere efforts to educate students about consent and other aspects of healthy sexuality are pitifully weak in light of the fact that by the time students arrive on campus, many have been addictively watching pornography for years."
The Notre Dame students' letters serve as reminders that even if a large percentage of today's dating pool are men who have been exposed to porn, it doesn't mean they chose to be. Most have been exposed as young as ten or even younger, when they may not even have been looking for it. So the questions women should be concerned about today aren't just "Have you been exposed to pornography," but "What have you done about it." As we can see from the example of Notre Dame students, there are some who have a problem with pornography but don't want to contribute to the sexual-assault carbon footprint.
We can all do our part to fight the exploitation. Parents can restrict unsupervised access to internet-capable devices and prepare their kids to report if they see inappropriate content with age-appropriate books like those from Protect Young Minds. Young adults who notice they have developed compulsive habits of porn use can take advantage of resources like those at Fight the New Drug, or see a CSAT therapist. They can start conversations with their peers and significant others about the effects of pornography on their relationships and their views of women.
For society-wide problems like these, we all have a part to play. Universities like Notre Dame can simply enforce its already existing laws against porn use on their servers. We can also ask the Department of Justice to enforce the U.S. laws currently on the books that outlaw the distribution of hardcore pornography. Half of the work has already be done; we just need to enforce it.
But enforcing it is near impossible, some say. To which I respond: somehow, no one doubts that explicit content can and should be banned when it comes to child porn. When we know someone's been exploited in porn, which by definition children are, it clarifies things. Which is why we're better off facing the facts and trying to make a change, instead of giving up. Giving up means conceding damage to our relationships, loss of kids' innocence, and the rampant exploitation including human trafficking that keeps the porn industry going. And that simply isn't acceptable.
So here's to men and women standing up. Universities are often the setting where activism takes off, so it shouldn't surprise us. I hope they have success and that their efforts ignite calls for change at campuses across the nation. And similarly, I hope the conversations these campuses are starting offer hope for young people who wonder if there's anyone safe to date out there, who will view them not as a sex object, but as a multifaceted person of dignity.