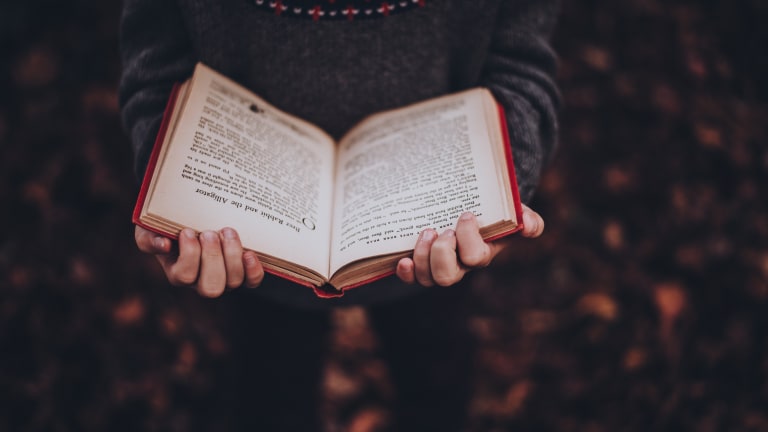 5 'Little-Girl Books' That Are Still Worth Reading
We're never too old for a truly good story.
Late in my college career as an English major, while exhaustedly (if enthusiastically) running the gauntlet of Faulkner, Dante, O'Connor, and Shakespeare, I found myself longing to re-read the books that helped me fall in love with literature: the simple, classic tales of girls having adventures that didn't demand a lot of brain power or four levels of literary analysis. Those were the stories that had kept my childhood self up late with a flashlight under the covers. So I tracked down copies, started reading a chapter or two of my favorite books from childhood each night, and found them even more relatable and delightful than I remembered. Their simplicity and joy in life is something we should all still aspire to—and other, more surprising lessons about courage and suffering can be learned from them as well. We're never too old for a truly good story.
01. Mandy
Mandy is a beautiful children's story of home and family by Julie Andrews Edwards (yes, the Julie Andrews of Sound of Music and Mary Poppins fame! She's a woman of many talents.) Mandy is a sweet young orphan who longs for a home and family: "She would cry for no reason at all, seemingly, and it frightened her when she did. She tried to be brave and put away her feelings," the book relates in its introduction of Mandy. Despite her loneliness Mandy is plucky, cheerful, and full of ingenuity—ingenuity that leads to a secret cottage in the woods all her own, a dangerous adventure, and eventually finding the family she so deeply longs for.
"What if . . ." said Mandy to herself, "what if I pretended this cottage were mine? I could sort of adopt it. Who would know? Who would care? Nobody lives here. I'm sure of that, now. And somebody needs to take care of it. And oh, I could take care of it." She sprang to her feet. "I could. This place could really be mine, a house of my very own." She ran back into the little garden. "I could pull all the weeds out of here, and plant flowers and mend the fence and make the path tidy.

"I could sweep and dust inside and clean the shell room and wash the curtains and the windows. Oh—little house," and she turned to it. "I could take such good care of you." 
02. The Secret Garden
The Secret Garden by Frances Hodgson Burnett is a title now basically synonymous with childhood literature, but with good reason! It tells a classic and archetypal story—Mary Lennox, a sour child spoiled by circumstances and neglected by her parents, comes to the lonely mansion of Misselthwaite. The garden that she discovers and secretly cultivates will transform her own life and the lives of everyone around her.
One of the strange things about living in the world is that it is only now and then one is quite sure one is going to live forever and ever and ever. One knows it sometimes when one gets up at the tender solemn dawn-time and goes out and stands out and throws one's head far back . . . And one knows it sometimes when one stands by oneself in a wood at sunset and the mysterious deep gold stillness slanting through and under the branches seems to be saying slowly again and again something one cannot quite hear, however much one tries. Then sometimes the immense quiet of the dark blue at night with the millions of stars waiting and watching makes one sure; and sometimes a sound of far-off music makes it true; and sometimes a look in someone's eyes.
03. Anne of Green Gables
Okay, I have an Anne obsession. If you haven't read the girlhood classic about the delights and misadventures of L.M. Montgomery's eleven-year-old Anne Shirley—I'll just say I'm jealous. If you're already familiar with Green Gables, try another book in the series—Anne's full and interesting life spans a series of eight books, and their depth, complexity, and hilariously clear vision of human nature just gets better and better. Anne's contagious delight in all of reality, so clear in this passage from the original, will not leave your heart untouched:
"Dear old world," she murmured, "you are very lovely, and I am glad to be alive in you."
04. A Little Princess
Also written by Frances Hodgson Burnett, A Little Princess is a strikingly beautiful story that stands on its own: Young Sara Crewe, the daughter of a dizzyingly rich father, moves from India to England to attend boarding school, only to have her father's fortune collapse shortly thereafter. A vividly imaginative story of both suffering and unexpected joy, A Little Princess will inspire you no matter what you're going through.
"Whatever comes," she said, "cannot alter one thing. If I am a princess in rags and tatters, I can be a princess inside. It would be easy to be a princess if I were dressed in cloth of gold, but it is a great deal more of a triumph to be one all the time when no one knows it."
05. An Episode of Sparrows
An Episode of Sparrows, by the deft and sensitive author Rumer Godden, is a heart-wrenching and gritty rendition of the secret-garden motif. It tells the story of young Lovejoy Mason, who is left to live in the down-and-out Catford Street neighborhood by her mother, who is "on the stage." As the story progresses, Lovejoy becomes the center of a drama that transforms the lives of many previously-unconnected people when she begins to cultivate a little garden of her own. Godden's work is vastly underappreciated, if not forgotten, so if you're looking for something you've probably never read, her meditative little novel An Episode of Sparrows is a great place to start.
From everyone who passed, there went up, though Sparkey was too young to know it, a little steam of thought, of plans and hopes and worries—in Catford Street it was mostly worries. "Is everyone unhappy?" the child Lovejoy was to ask Vincent in despair.

Vincent said, "Everyone," but after a moment, when he had thought, he added, "That doesn't prevent them from being happy."
It's never too late to read the stories that were written for us as little girls. And you might find, as I did, that now is just the right time. As C.S. Lewis put it, "Some day, you will be old enough to start reading fairy tales again."