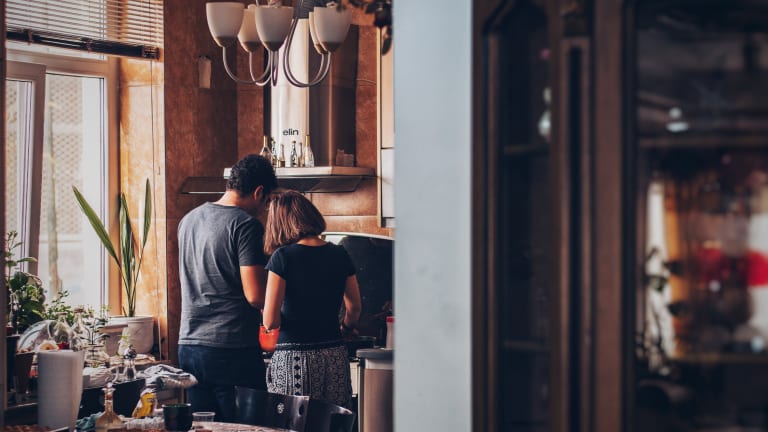 A Therapist's Tips for Handling the Holidays as a Newlywed
Times have changed, but for the good.
There can be a lot to adjust to in the first year of marriage, but one notoriously tricky topic for newlyweds to navigate is how to spend the holidays. Like most things that couples commonly argue about, it is the meaning behind the holidays that can make this such an emotionally-charged issue. If your family's Christmas is steeped in tradition or your faith is significant to you and your family, that makes Christmas with your family much harder to give up. If neither you or your husband's families gave much weight to Christmas, but Thanksgiving is the jackpot holiday for both of you, sharing the turkey with someone else seems like it won't taste the same.
However you decide to work out new holiday plans with your spouse, change is inevitable. New foods on the table, sustained time with in-laws, and missed old traditions can throw a wrench in an otherwise-blissful first year of marriage. The following tips will help you and your spouse navigate the holiday season saying, "It's all gravy."
You're a Part of Two Whole Families Now
For couples lucky enough to have their families close together, they may be able to celebrate together or spend part of the day with one family and part of the day with the other (talk about being stuffed with stuffing, though). Others opt to spend one holiday with one family this year, one holiday with the other, then rotate next year. Some newlyweds are forced to celebrate a holiday alone in their new home because they can't take time off work. Whatever the case, try to be respectful and sensitive to both families' traditions. No one's asking you to be in two places at once, but coordinating with other married siblings to arrange for all couples to be home during the same holiday allows each whole family to continue to get together. Maybe you and your married siblings can all come home for Thanksgiving and spend Christmas with your in-laws, then switch next year. However you split it up, try to find a way (within reason) to honor both your and your spouse's families' traditions throughout the holiday season.
Know Thyself
Like most things in life and in relationships, a little self-knowledge goes a long way. Being aware of our own and our spouse's tendencies helps us anticipate the difficulty (or ease) that holidays as a married couple might involve for us. For example, I hate change and cling to traditions—two characteristics that seem to go hand in hand. My husband Anthony, on the other hand, finds change exciting and appreciates tradition but is not married to it. While neither view is inherently better or worse, knowing and discussing these differences—without value judgments—helped us recognize that new holiday experiences would likely be harder for me than for him.
Knowing yourself also means knowing your family of origin. Just as it can be helpful to be aware of your personal feelings about the holidays, take into account your family's tendencies as well. My family goes to the exact same place, does the exact same activities, and sees the same people for Christmas every year; they adhere to tradition religiously (I wonder where I get it…). So, coupled with my own love of tradition, missing out on the family fun incites a bad case of FOMO for me.
Your family of origin's season of life also may impact how you feel. As one of the oldest of many siblings, and the only married sibling, I felt an intense sense of missing out as my entire family was still very much able to carry on our traditions in my absence. If you are one of the younger siblings or the last to get married, it may be easier to go with the flow.
Acknowledge Your Feelings
Your first holiday (or every holiday) spent away from your family of origin may elicit feelings of sadness. Marriage and the joining of families is joyful and exciting, but there is still a natural loss, as with any life milestone, so it is important to appropriately "grieve" that loss. While we don't want to be controlled by our emotions, it is also vital to acknowledge them, whatever they are. For instance, if you're feeling sad about not being with your family, you don't have to walk around sulking, but it also won't help to try to completely ignore it. Instead, mention it to your spouse privately and ask when a good time to talk about it would be. Writing about your feelings in a journal, going for a walk, or simply letting yourself have a little cry session can all be cathartic.
Check in With Your Spouse
Remember that when your spouse is with your family of origin, he might be feeling some of the same things you would feel when away from your family for the holidays—and this is perfectly normal. When my husband spent Christmas with my family, I was in heaven—I didn't have to sacrifice any of my favorite traditions, and, better yet, I got to include him in all of them. But I had to recognize that while I was having my best Christmas ever, being away from his family and their traditions for the first time didn't necessarily make it my husband's best Christmas ever, even while he loves my family as his own. While I was relishing the fun, this was all new territory for him.
Your spouse may have his own grieving to do about missing out, so recognize this and ask him how he is doing, just as you would want him to do for you. Additionally, don't take it personally if and when he acknowledges that he isn't having as much fun as you are or if he is a bit down. Simply remind him that this is normal and let him know you're here to listen if he wants to talk about it more.
Bring a Little of Your Home to Your In-Laws
This piece of advice actually came from my ever-thoughtful mother-in-law. Leading up to my first married Thanksgiving, which I would spend with my husband's family, she called to ask me if there was a special dish of my mom's that I would like to contribute. This kind gesture not only allowed me to bring a little piece of my family's tradition to the table, but it also conveyed that she recognized that this might be hard for me, even while I love my in-laws dearly. (Definitely something I want to remember when I become a mother-in-law someday!)
Whether your in-laws suggest this or not, you can kindly ask for one of your beloved traditions to be included. This polite but honest request can save you from silently stewing because you aren't watching It's a Wonderful Life on Christmas Eve like you always did growing up. Sure, it doesn't mean your request can always be honored, but most families would be happy to indulge you if they can so you can all experience some of your family's traditions.
Accept That—No Matter What—Things Will Be Different
Whether you bring your mom's cranberry relish to Thanksgiving dinner or not, the holidays will be different than you remember with your new spouse and in-laws. If you can go into the holidays accepting and expecting that fact rather than trying to force your traditions on your new spouse or in-laws or asserting Thanksgiving dinner must look like this, you will make it easier on yourself and everyone around you.
I remember staring at the cubes of steamed sweet potatoes my first married Thanksgiving, silently wondering why they didn't have marshmallows on top like my mom's. I wondered, Is it even Thanksgiving without sweet potato and marshmallow casserole? My rigidity about the sweet potatoes nearly kept me from enjoying how delicious (and how much healthier) my in-laws' version actually were. If you go into the holidays with your arms crossed and nose up metaphorically, then nothing will compare—your mindset has already set you up to be disappointed. But if you approach the time with an open mind, anticipating changes, you will be able to take them in stride and appreciate the richness of every family.
Create Your Own Traditions as a Couple
Whether you are spending your first holiday as a newlywed with your family of origin, with in-laws, or alone with your spouse, creating new traditions now helps you solidify your identity as a unique couple. New traditions, such as hosting a "Friendsgiving" with your local crew, deciding on a dish you will always make on Christmas morning, or starting a notebook with New Year's resolutions to be used annually will prove meaningful to both of you. Your own rituals give you traditions in addition to your families' and give you things to look forward to every holiday season regardless of whom you spend it with. Plus, as your own family grows and years pass, these will be fun for you to teach your children—who someday may be lamenting missing out on those traditions the first time they are away for the holidays.
At the end of the day, no matter what your holiday configuration, remember that you finally get to spend this special time of year with your new spouse! Whether you're with your family or his, or it's just the two of you at home, you have accomplished the primary goal—for the two of you to be together. As sad as you may be spending the holidays without your favorite traditions, imagine spending them without your favorite person.