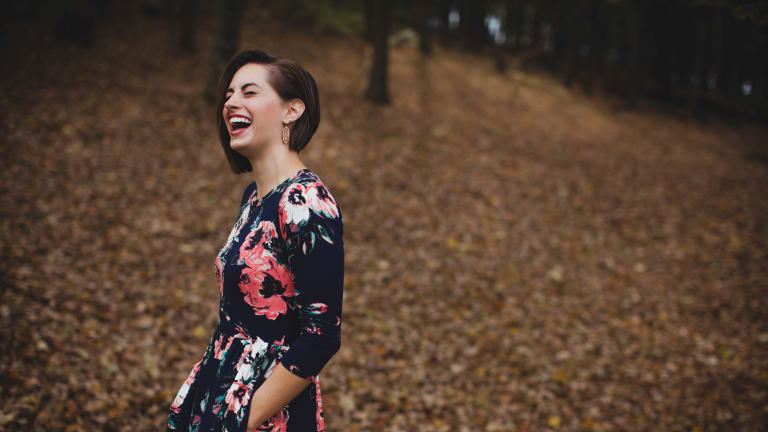 Fall into November Florals
Keep blooming through cold months.
We are breaking all the fashion rules when it comes to style advice here at Verily. We already established back in September that you should definitely wear white after Labor Day, and now contrary to popular belief, I'm advocating that you can and absolutely should wear florals in the fall. While temperatures may be dropping, you can maintain your flower power and keep blooming through the cold months, here are four tips to get started:
Style Tip #1: Autumnal-Tone Florals
The most important style advice I can give when it comes to wearing florals in the fall is to look for pieces that come in muted, autumnal hues. You're looking for burgundy, hunter green, navy, black, marigold, or camel, to name a few. A dark lace in a floral pattern is also a great option here. Get the look!
Style Tip #2: Dark & Moody Floral
If you stick to the aforementioned color palette you should end up with floral pieces that have a darker and moodier vibe. Get the look!
Style Tip #3: Small Autumn Floral Detail
If wearing flowery clothing is too bold for your personal style, opt for a fall floral in something smaller like an accessory or a shoe. Or a pop of print in a small detail on a pair of jeans like this one below from LOFT. I love how it's a tiny detail, but it still makes a statement. Below are also some subtle fall floral accessories.
Style Tip #4: Add Layers
Remember that in fall, layering is key. Use layers to add warmth and texture to your look; this will help to balance the floral focal point of the outfit. One of my favorite things to do for business casual days at work is to throw on a leather jacket and infinity knit scarf to add warmth and texture to a floral wrap dress. Pro tip: Adding a black turtleneck under a floral sundress makes a year-round outfit, just be sure to choose a darker floral sundress.
Now that you know how to make florals work in the fall, use these easy to copy outfits below for inspiration on how to rock a flowery outfit in November. I've included options for the office, going-out, or a casual weekend.
Work Casual: Floral Sun Dress + Black Turtleneck
Work Formal: Floral Camisole + Suit
Going-Out: Outfit 2: Floral Jumpsuit + Jacket
Weekend: Chunky Knit + Distressed Jeans + Floral Flats