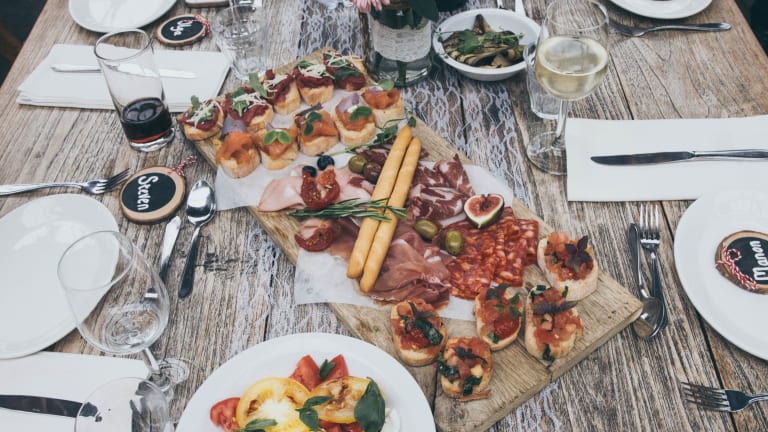 Hostessing 101 for the Anne Shirleys Among Us
Avoid Anne's misadventures with these easy tips.
If you've read Anne of Green Gables, you know that hostessing isn't always Anne's strong suit. She accidentally gets her best friend drunk on currant wine and nearly serves her teacher dessert that has already been sampled by a mouse—and the best cake she can bake is fictional (made with Rollings Reliable, of course!).
Over the years, I have made some equally hilarious mistakes while learning to entertain guests. There was the time I left the eggs out of my chocolate chip cookies and ruined my mother's best baking pans with a buttery, melted mess. Or the time I gave cookies as Christmas gifts to all of my friends' families—only to realize later that they were as hard as rocks. And there may or may not have been one time that I tripped in the kitchen and dropped all of my asparagus in the preheated oven.
Fortunately, Anne learned to laugh at her mistakes—and so have I. Also, learning from these mistakes has left me with a few tips for keeping dinner parties as simple and accident-proof as possible.
01. Buy extra wine and have simple hors d'oeuvres.
The last time my roommates and I hosted a dinner party, our main dish took longer than expected to cook all the way through. The recipe promised dinner would be ready at six on the dot—but a quick peek in the oven said otherwise.
Fortunately, we had prepared a large spread of meat, cheese, and freshly-baked bread to tide us over. Instead of fretting over the delay, we poured our guests glasses of wine and settled in for spirited conversation. The sampler lasted until our entree was finally ready.
An added bonus to serving drinks and hors d'oeuvres at your next party is that this small touch makes everything feel a little more special and festive. It gives your guests something to do while they wait for a hot meal and it gives you an excuse to socialize while working on dinner.
Don't overthink cocktail hour, either. Unless you moonlight as a bartender, there is no need to run a full-service bar. You can set the stage for almost any dinner party, no matter how formal, with one signature cocktail (try the French 75 or go classic with an Old-Fashioned) and one red and one white wine, paired with two to three cheeses (mix hard and soft varieties) and two to three kinds of meat. Serve with bread and olive oil mixed with whatever spices you have in your cabinet, and you're golden! If you're going more casual, pick a really easy cocktail (here's looking at you, Moscow Mule), and offer your guests chips and guacamole, or hummus and pita chips. It doesn't have to be complicated!
02. Plan ahead, instead of trying to cook all at once.
I remember the first time I saw my aunt and uncle's new oven. Or rather, ovens—they had two, stacked right on top of each other! At the time, I thought it was excessive. Now I wish I enjoyed the same luxury. One of the greatest challenges when hosting a dinner party is keeping appetizers, sides, and entree warm enough to serve in the proper sequence.
So simplify. Instead of cooking up elaborate hot appetizers, stick with your meat and cheese sampler and a room-temperature salad. Prep sides ahead of time so that you can heat them up just before serving. The key is to map out prep and cook time in advance so things run like clockwork the day of.
Here's an example timeline assuming guests arrive around 5 pm:
3 pm - Start preheating the oven and preparing appetizers and sides. Toss a salad, pour chips into a bowl, or place cheese and crackers on a plate.
4 pm - Put the meat in the oven and whip up anything else that needs to be cooked on the stovetop, like vegetables.
5 pm - If guests are coming at 5 pm, I will either set the table for a sit-down meal or get out plates for buffet-style just before they arrive.
5:15 pm - While the meat cooks, help guests to prepare drinks and relax a little. I usually aim to serve guests about half an hour after their arrival, but if things are running behind schedule, there's still a grace period and things to munch on while we wait!
03. Invest in a meat thermometer.
This may seem like a small thing, but it's important. You can purchase a meat thermometer cheaply at your local grocery store, and most come with the appropriate internal temperature for different kinds of meat right on the thermometer. Just guessing when dinner is ready is not good enough; undercooked meat is a major health hazard, and it's not very tasty either. Temperature is consistent, time less so: Once you adjust for the individual quirks of your oven, you may need to cook a dish for longer than it says on the recipe for it to cook thoroughly.
Remember when Anne accidentally bakes a layer cake with liniment instead of vanilla? It didn't taste very good—but, as usual, everyone got a laugh out of it! Fortunately, cooking your meat all the way is a whole lot easier to fix—just pop the dish back in the oven.
04. Let your dinner playlist do its thing.
Even parties with the best of friends can feel a little awkward at first—particularly if you are introverted, like me! A little bit of background music keeps the awkward silence at bay and helps guests to relax. You can craft your own playlist on YouTube or Spotify or opt for a mood radio station at Pandora or Apple Music.
Pair your playlist with your party the same way you would pair wine with a meal. If the setting is more formal, cool jazz or classical can elevate dialogue. Pop music can liven up a summer barbeque and of course you can't go wrong with Christmas carols once the snow starts falling. I love to play acoustic folk whenever friends drop by for brunch. It makes everything feel so cozy and relaxed!
05. Prepare last things first!
Make dessert a day in advance. Trust me on this one.
Baking is a more precise science than cooking, so if you want to serve baked goods like cake or cookies, the devil is in the details. If you are a less experienced baker, like me or Anne, that means a larger margin for error—remember Anne's ill-fated layer cake! If you give yourself extra time to prepare, you will be a lot less stressed when guests arrive, and you can even whip up a second batch if you make a mistake.
Or outsource dessert and pick up a treat from your local bakery. Sometimes when my mom hosts a large dinner and is pressed for time, we preorder seasonal pies from across town. It saves us a ton of time and stress.
When you're playing hostess, the point is for your loved ones to spend time together. Hopefully these tips will give you more time to focus on what's important. And if things don't go according to plan, you can always order pizza and have a laugh about it the next day.
When Anne's layer cake doesn't go quite as planned, her guest, Mrs. Allan, reminds us why good friends get together in the first place. She tells Anne, "I assure you I appreciate your kindness and thoughtfulness just as much as if it had turned out all right."
That's the right spirit for hostessing—it's about showing loved ones how much you care. So long as love and friendship are the spirit of the event, you can't go wrong!