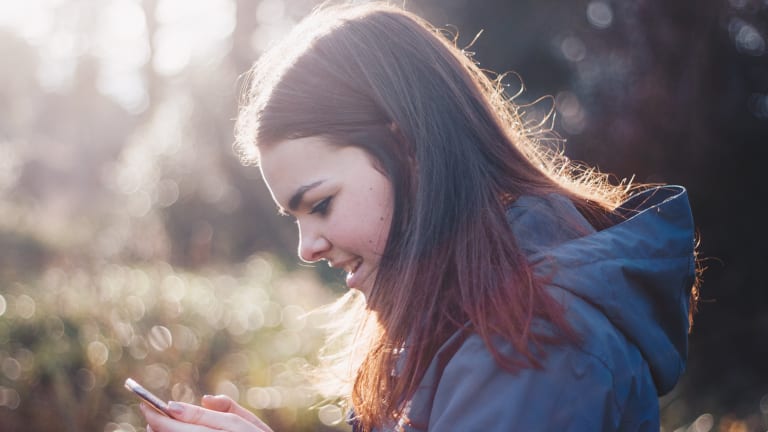 Success With (Online) Dating May Include These Mindsets
Incorporate intentionality into your approach to dating.
Online dating isn't what it used to be. From getting matched, to getting ghosted, to finally meeting in person after weeks of small talk online, and everything in between, the dating script today is very different thanks to online dating. While there is still some stigma attached to it in some circles, most people see online dating as an acceptable way to meet someone.
Whether you're currently online dating, considering getting back onto an app or site, or still in the "never would I ever date online" camp, I think we all can agree we need some more intentionality and reflection in online dating.
I have found that online dating has helped me to see healthy and unhealthy patterns in my love life. And in recent conversations with friends—some of us single and some of us married—I've identified three mindsets that could make online dating not only more tolerable, but perhaps make dating more successful.  
01. Use it as a self-awareness tool
A friend of mine recently signed up for a few dating sites for the very first time. As soon as she did, she wanted to quit. She was creeped out by the number of people who viewed her profile, she told us. That led me to ask her why she felt so uncomfortable about it.
My friend is smart and beautiful. As some people might say, she's a catch. I wondered if she didn't believe it herself; if she was joining dating sites because she believed she couldn't find people "in real life." She seemed to assume the attention on her profile meant they were attracted to her on the surface alone.
My friends and I suggested she think differently about those profile views. Think: "These guys want to get to know me" rather than "These guys are hitting on me." Then she still has the choice of reaching out to the men she wants to get to know.
Also, it's important to recognize that dating (online or not) is a way to get clarity about who you are and what you want. I had a list of questions I wanted to make clear about myself and the person I was looking for before I wrote my profile. But once I put it out there, I made sure not to stress if I didn't find someone who met those requirements. Instead, I thought of each date as a learning opportunity to fine-tune who I was and what I wanted!
02. Know and hold onto your standards
With countless users, it's inevitable that there will be some men who reach out who you immediately can tell will not be a match from their profile . For example, in the case of one friend, her faith is very important to her, and she'd like to share it with a boyfriend and ultimately husband. If a man is upfront about his own lack of faith, that was a dealbreaker for my friend. It can feel uncomfortable ignoring messages or turning down seemingly nice men without giving them a chance to chat more online. Yet, for non-negotiables, I think that is exactly what a woman should do.
In no way should you feel bad for going after what you want. In fact, part of the way you can sift through a large pool of men is by being upfront about your deal breakers. Online dating was most successful for me when I literally wrote down a list of what I wanted and then put that on my profile. I just framed it in a nice, respectful way. Once you have those expectations upfront, it's fine to respond only to the men who meet those items.
03. Accept it as one of many ways to meet men today
At first, my friend insisted that she was joining a dating site just for the heck of it and because she was curious. She didn't actually expect to meet anyone. She just wanted to try online dating before she met someone in real life. In her words, she wanted to "experience it before settling down."
Her response showed me that the stigma surrounding online dating makes women unconsciously feel that it isn't actually a "good" way to meet someone. There isn't anything wrong with wanting to find a serious relationship from online dating. For some people, it might truly be the only way they can meet new people.
I started online dating when I moved to a new city, knew no one, and only had two other co-workers who were also new to town. Female teachers I know use dating sites and apps because they work with so many other women and have tight schedules. My own husband joined an online dating site because he was an engineer, a field which still (sadly) has few women. A lot of people who work full time have difficulty finding time in their schedule to meet people, so meeting people through a dating site makes total sense. This doesn't make the date or the relationship any less meaningful!
At the same time, you shouldn't put pressure on yourself to settle down with someone you meet online. Sometimes the only thing you'll get out of online dating is practice on going on some low pressure dates. There's nothing wrong with that!
I had the most success with online dating when I was content to be single, but also fine to start a relationship. I wasn't worried either way. I just wanted to get to know new people. Plus, it didn't hurt that I would get to explore the city and check out a lot of good restaurants.
The underlying theme of these three mindsets can be summed up in one phrase: Be confident. My friend went through all of the things I did when trying online dating. I thought there was something wrong with me because I had to turn to online dating. I didn't believe that I was a catch. I was worried that being clear about my expectations would make me look mean.
Thankfully, since I had done the exact same thing, I was able to point this out to her. When I first used dating sites, I felt like my straight forward self was not something a guy would want. Specifically, I was self conscious about my blunt honesty because I had been told by a lot of guys that it was a bad quality. This made me worried that I wasn't "girly enough." How I worded my profile, responded to men, and ultimately dated was impacted by these beliefs.
Therapy helped me with insecurities and unhealthy mindsets that hindered my dating life. I also realized how negatively I was looking at myself. I started to remind myself that I am who I am, and that my future spouse could handle me exactly as I am. The guys who told me my honesty wasn't good? They weren't ultimately who I would end up with.
You are not too much for the person you're meant to be with. You're meant to be with a person who can reflect deep, genuine love back to you. You're meant to be with a person who can reflect deep, genuine love back to you, whether you meet them in real life or online.