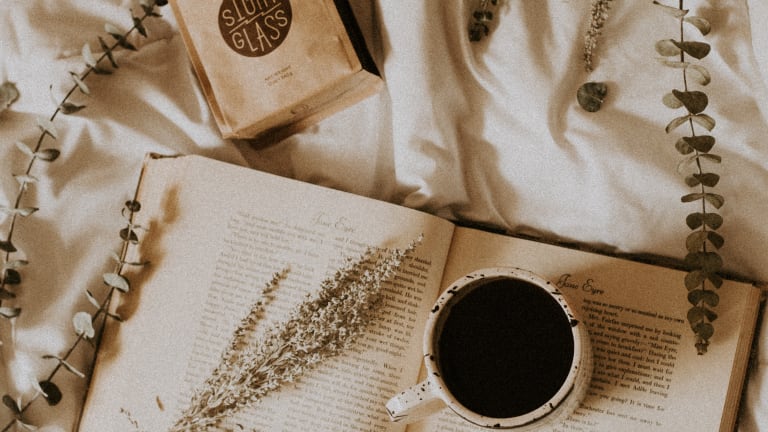 Restoring My Energy Through Book Club
Getting swept up in a story doesn't have to be a thing of the past.
I remember falling in love with literature the summer I was twelve. It was then that I discovered the power of a really good story. For years, I could get lost in a book for hours on end. I would imagine the world of the characters, become involved in their struggles, learn from their journeys, and begin to miss them even as I finished the last page. Reading was a way for me to understand the world and my place in it.
As with so many other things, though, my romance with books changed as I grew into adulthood. With work and then motherhood, there seemed to be less and less quiet time to reflect, less time to let a story dwell inside me and move me.
And of course, conversations about books had always been for the classroom. When I gathered with friends, our talk naturally revolved around shared preoccupations: dating, love, marriage, work drama, babies. While these conversations were and are important, often engrossing, they weren't everything. They didn't reach into a certain corner of my heart.
As I've found recently, I wasn't the only one who missed musing on life's larger ideas.
Marcie Stokman, founder of the Well-Read Mom book club, recalls the day her adult daughter Beth called to tell her she was done with mothers' groups, where the conversation centered on diapers, binkies, and kids. "Mom, isn't there a place after college where women can get together and talk about the things that really matter?" Beth exclaimed. What Marcie heard was, "Isn't there a place for me, to thrive and grow as a woman?"
That conversation spurred Marcie into action, which ultimately resulted in a book club called the Well-Read Mom. Despite its name, Well-Read Mom invites women at all stages of life to nurture their hearts and develop their person through reading and friendship.
"I don't do anything that's really good for me by myself," Marcie tells me. "I seem to need friends to do anything that helps me actually live as a person, live a higher quality life." She continues, "I think in our society we're missing this communal element, that we're increasingly connected but ever more isolated. Women needed to get together in the flesh. Women grow in friendship. It's not about how well you understood the book," she says of the book club, "It's as if you experience some kind of forming of your person through the literature.
I joined a Well-Read Mom book club when I first moved to town a number of years ago. Since then, the women who have joined our club have become my closest friends in the area. Outside my family, my book club has been one of the most fulfilling parts of my new life as a wife and mother.
A book club is unique in that it prompts you to move into a new space in your conversations. You look at life through the eyes of pioneer women and French revolutionaries alike, ask yourselves the same questions they asked, and try to make sense of your own purpose here on earth, together.
"We sort of glean from the story what we need at a certain time in our life," Marcie explains. During the month's book-club discussion, as women share their thoughts on the literature, real life comes up. People explore the ideas on a personal level. "You don't know what's going to happen," Marcie says, "You don't know where the conversation is going to meander." But we can be sure it will meander to somewhere that matters to us.
Cultivating imagination in our lives
Consider a scene from my book club earlier this year. Everyone sits cozily around the room sipping tea. My friend Veronica searches for the words to explain her impression of the book. "It's just so powerful, this mystery of what forms a person," she says, "all these experiences that make you who you are."
"I kept thinking of my Ben as I read," Sarah says, pausing to picture some detail in her mind.
We were discussing the first selection of this year's book club, An American Childhood by Annie Dillard, an episodic memoir of the author's life growing up in 1950s and 60s Pittsburgh. For some, it had been work to get through the meandering narrative. For others, the sparkling prose had left us invigorated and wanting more. For all of us, it was meaningful. It made us reflect on our own childhoods and those of our children. We wondered at wonder. We thought of the meaning of an individual life and the waking of a child to the splendor of the world.
This wonder and imagination is an important part of developing as a person. Exercising the imaginative "muscle" in our minds through reading helps us to make sense of life. "It's not going to develop by looking at images on a screen," Marcie explains. "It's like a muscle that has to be worked. When we read books that are true to the way reality works, it forms our moral imagination…We want to move our imagination in a way that helps us see what's good and true and beautiful and move in that direction in our lives."
Take for instance Tolstoy's Anna Karenina, a past Well-Read Mom selection: "We can picture a woman who's sort of trapped because of different actions in her life, and we can see where a particular action can lead, in a new way," Marcie explains, "so, it moves us toward virtue."
This thinking strikes me as a little countercultural in the modern world. We don't often see people pull out books in waiting rooms or hear a lot of talk about virtue. The cultivation of the interior life and meaningful human connection is perhaps not foremost in our minds.
In my little Well-Read Mom group, however, I find a place to wonder about life's big questions again, with the friendship of other women doing the same. We are accompanied on this journey through adulthood and family life by authors, characters, timeless ideas, and each other.
Of course, I am still rarely able to lose myself in a book; laundry, dishes, and kids always call me back. But the discussions and friendships in this book club call me to live a higher quality of life. I'm happier when I go to book club. I come home completely refreshed for having had meaningful conversation. It is a place for me to grow and thrive and take care of my own heart, which blesses my whole family. And that, as Marcie tells me, is a thing not to be missed.