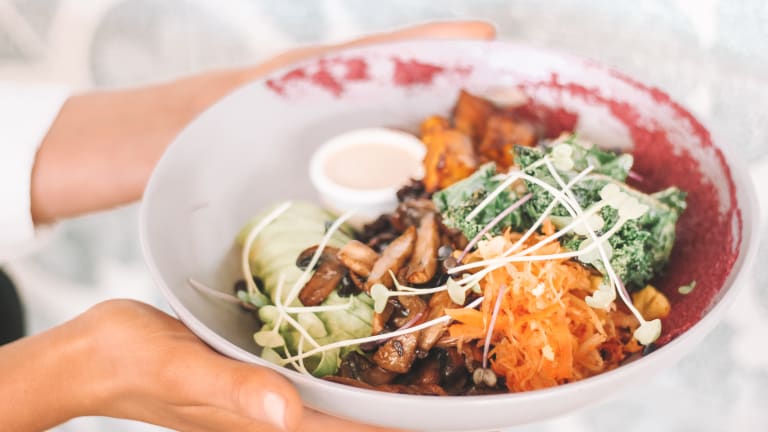 Put These Foods in Your Shopping Cart to Boost Your Immunity Everyday
Plus some recipes to whet your appetite.
While it's tempting to indulge in warm comfort foods this time of year—slow-cooked chili, biscuits and gravy, mac and cheese, apple pie—they aren't the kind of nourishment your body needs to fight prowling bacteria and viruses.
Besides frequent hand-washing, drinking fluids, and getting plenty of sleep, help get your immune system in peak condition by regularly feeding your body foods rich in vitamins and anti-bad-stuff properties (more on this below). The key word here is regularly. Scientists test patients over a period of weeks to months to research the power of immune-boosting foods and have found that our bodies need time to reap their full benefits on our health.
So don't wait until your first sniffle to treat yourself. Start tossing these foods into your grocery carts now and throughout cold/flu season. Try these 7 simple recipes to give your body a great fighting chance.
Apples
Apples boost the body's resistance against infections according to the University of Maryland Medical Center.
Try this recipe: 15 Minute Homemade Unsweetened Applesauce by Life Made Simple
Broccoli
Packed with vitamins and nutritional fiber which aid the body's natural digestion and detoxification processes, broccoli is best eaten raw or lightly cooked.
Recipe to try: Broccoli Salad by Tastes Better From Scratch
Citrus
As a high source of immune-boosting vitamin C, citrus may help reduce the length and severity of colds.
Try this recipe: Citrus Yogurt with Citrus Honey Syrup by Like Mother Like Daughter
Dark Chocolate
Dark chocolate contains 98 percent of the recommended daily intake for manganese which plays a role in maintaining the immune system and immune response.
Try this recipe: DIY Dark Chocolate Almond Bars by Minimalist Baker (pssst, they're vegan!)
Elderberries
These berries are full of antioxidants, and research indicates their properties can help fight flu viruses.
Try this recipe: Homemade Elderberry Syrup by Love and Olive Oil
Fish
Research shows the omega-3s in oily fish—salmon, mackerel, sardines, trout, and herring—enhance antibody production which boosts the immune system.
Try this recipe: Fisherman's Eggs by The Sophisticated Caveman
Garlic
A large 12-week study found that garlic reduced the number and length of colds or flu by 60 to 70 percent.
Try this recipe: Roasted Garlic by Simply Recipes