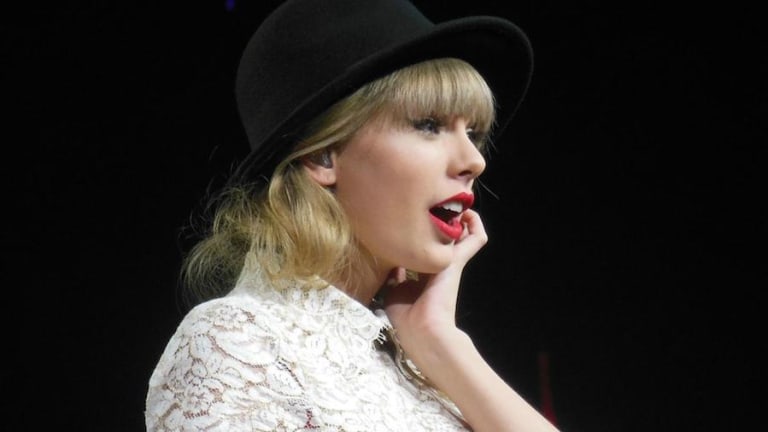 Taylor Swift Calls Us to Vote, And Other Notes from the Week
Catch up on all the news you might have missed with our handy summary of the week's top stories.
We're pleased to bring you "While You Were Out"—the Verily editors' quick takes on the happenings of this week.
World Mental Health Day
World Mental Health Day was Wednesday, which means this week is the perfect time to check in on yourself and your loved ones. First, learn the stats: One in five Americans have some sort of mental health condition, and women are particularly affected. We're 70 percent more likely to develop depression and 60 percent more likely to develop anxiety than men. There's good news, though. Women from Kate Middleton to Kristen Bell have spoken about the importance of keeping our minds healthy. Whether you're helping a friend struggling with depression or practicing self care, supporting mental health doesn't have to be shrouded in stigma.
This summer, the deaths of Kate Spade and Anthony Bourdain began a national conversation about depression and suicide, but it shouldn't take tragedies like those to open up dialogue about something so many of us face. To take care of your mental health this week, try keeping your thought patterns in check, not checking your email every five minutes, and expressing self love. —Madeline Fry
Judge Kavanaugh Is Appointed to the Supreme Court
Judge Brett Kavanaugh was sworn into the Supreme Court this past Saturday following a close vote within the Senate. Kavanaugh's confirmation comes following discussions about whether or not he was fit to take a seat on the Supreme Court due to allegations of sexual assault made against Kavanaugh by three separate women including, most notably, Dr. Christina Blasey Ford. Ford testified that Kavanaugh had sexually assaulted her at a house party in the early 1980s when they were in high school. Kavanaugh testified that although he doesn't doubt Dr. Ford experienced assault at some point in time from some person, he was not there. The FBI investigation of Kavanaugh found that there was "no corroboration of the allegations" made against him.
Still, the assault accusations created much public outcry and led to activist rallies across the country. In our #MeToo era, we cannot deny that there are many misconceptions about sexual assault that make it all the more difficult for women to come forward about their experiences. While the drama of politics and its news coverage might tempt us to think the confirmation hearing means a loss for women's voices being taken seriously, there's no doubt Dr. Ford had her moment to speak and was heard by many. Verifying accusations with factual investigation assists everyone in the legal process. And, of course, the fallout of one highly politicized accusation does not change the ability of women everywhere to stand up for ending assault. —Gabriella Patti
Taylor Swift Wants You—to Vote
Unlike many celebrities who have been known for weighing in on political issues, Taylor Swift has kept quiet on her beliefs throughout her career. This week, however, the Tennessee resident explained who she'd be voting for in the midterm elections and why in an Instagram post. She encouraged everyone to vote for the candidates they agree with the most, even if they don't find a candidate whom they agree with completely. "Please, please educate yourself on the candidates running in your state and vote based on who most closely represents your values," she wrote. When she won Artist of the Year at the American Music Awards on Tuesday, she repeated the same message: Go vote. "I just wanted to make a mention of the fact that this award and every single award given out tonight were voted on by the people," she said. "And you know what else is voted on by the people is the midterm elections on November 6. Get out and vote."
T-Swizzle's celebrity status doesn't mean she's more qualified to dish out political advice, but she offered some wisdom we can all get behind: Vote your values. You can register to vote and find polling places near you at vote.org. —MF
U.S. Ambassador to United Nations Suddenly Resigns
In a surprising move, the United States ambassador to the United Nations, Nikki Haley, announced her upcoming resignation after two years of service. The daughter of Indian immigrants, she was widely considered as one of the strongest leaders of our nation's foreign policy team. She championed human rights, criticized Russia, and showed iron-clad, albeit polemic, support for Israel. She also memorably stood in front of a missile at the UN last year and insisted that Iran had delivered weapons to Yemeni rebels. In short, though the New York Times mocked her for possessing "zero foreign-policy experience" she quickly rose to prominence due at least in part to her striking determination and smarts.
Though she has stated that the reason for her departure is because she merely wants a break from public service, speculations abound as to other motives. As she was formerly Governor of South Carolina—she was the state's first female governor—some believe that she may pursue South Carolina Senator Lindsey Graham's senatorial seat if he is appointed Attorney General by the President. Others wonder if she hopes to pursue Republican candidacy in 2024. Still others wonder if she might run as Vice President, in place of Mike Pence, on the upcoming Trump 2020 ticket. With so many theories abounding, it's difficult to predict Nikki's next political move. Regardless, as a mother, wife, and prominent politician, she has achieved much already. —Mariel Lindsay
Greatest Showman Soundtrack Gets a Celeb-Studded Reimagining
Variety reports this week that the music many of us spent the year listening to on repeat, upbeat tracks like "This Is Me" from the Greatest Showman soundtrack, will be reimagined in a star-studded new album expected mid-November. The songs from the late-2017 film will be covered anew by such artists as Pink, Sara Bareilles, Kelly Clarkson, Panic! at the Disco, Kesha, Missy Elliott, and others. This reimagining comes after the very successful Hamilton mixtape, in which stars sang covers of the musical's famous tracks. Suffice it to say, I am very much enjoying this trend. —Mary Rose Somarriba
This is Us Explores IVF
This is Us fans have watched this season as Kate and Toby embarked on a journey to have a child via IVF. In true Hollywood fashion, the show has ever so briefly addressed the costs, pain, success rates, and risks associated with IVF, but seemed to indicate that sheer desire is enough reason to ignore fair and loving cautions from others, and that barriers don't exist if there is a strong enough desire.
The show writers have, however, depicted a true-to-life showing of the marital discord that can often arise from infertility and IVF. We've seen an ever-loving Toby tell Kate he was terrified at the risks of IVF to Kate physically, only to see Kate charge ahead when the doctor gives the all clear, without giving a thought or conversation to Toby's expressed fears. Flash forwards have also alluded to severe depression for Toby, following his suddenly stopping his medicine in order to bolster his fertility; also done without Kate's knowledge or consent. While both seemed well-intentioned in their desires to grow their family, their inability to communicate and get on the same page with each other first could mean bigger troubles for their marriage and family. —Meg McDonnell
Furrowed Brows Over FDA's Acceptance of a Popular App as a Contraceptive
With a heavy dose of skepticism, The New Yorker reported on the FDA's inaugural acceptance of a mobile app as contraception. Created by a married duo of Swedish particle physicists, Natural Cycles calculates days of fertility and infertility based on the onset of menses and daily temperature readings inputted by the user. Natural Cycles has been cleared for marketing in Europe as well as in the United States. While testing confirms the reported 93% typical use effectiveness rate (that is, 7 women in 100 will get pregnant while using the app as a contraceptive), questions apparently remain as to whether women are capable and willing to understand how their bodies work.
The article recognizes that women are frustrated with how quickly the Pill is recommended by doctors and that healthcare providers who have information on fertility-awareness based methods (FABMs) are met with enthusiasm when they can offer a natural option to their patients (one doctor says, "they act as though they have been without water for days and they just found an oasis"). However, there is concern that the increase in use of FABMs will interfere with the distribution of other forms of contraception (ones the articles refers to as "effective," without giving numbers) under Title X, which provides low-income families with preventative health services. It's suggested that the most effective FABMs are too complicated to teach with minimal funding. Fortunately, this isn't the case; the Billings Ovulation Method, for one, is designed to used by any woman, including those who are "visually impaired, [with] no access to technology, low income or reduced literacy." While it's true that FABMs are better learned from a trained instructor than via an app, we have no doubts that the FDA's validation of FABMs is a step in the right direction. —Lindsay Schlegel
Greta Gerwig is Directing a New Star-Studded Version of Little Women
Little Women, the beloved novel by Louisa May Alcott, has captivated readers since its original publication in 1868. It also boasts various film adaptations. It's most traditionally well-known versions include that of 1949, starring a young and visually dazzling Elizabeth Taylor as Amy, and its 1994 rendering, starring the doe-eyed Winona Ryder as Jo opposite a young, brooding Christian Bale as her neighbor Laurie. If director Greta Gerwig has her way, hers will rise to the same heights.
Gerwig, whose recent film Lady Bird portrayed modern-day adolescence with sardonic verve, has embarked on a star-studded remake of the heartfelt tale of four sisters. The list of actors rumored to have signed on will undoubtedly thrill legions of their fans: Emma Watson as sensible eldest sister Meg; Saoirse Ronan as the fiercely independent writer, Jo; Laura Dern as firm and loving Marmee; and Meryl Streep as the impossible Aunt March. Actor Timothée Chalamet has reportedly signed on to play the role of the girls' roguish but good-hearted neighbor Laurie.
With such a cast, the film looks promising. And while some are already wondering if we really need yet another remake of a film that was done quite well in the '90s, the story's timeless message will undoubtedly resonate with new generations who are perhaps unfamiliar with its earlier film adaptations. The message of Little Women is one worth repeating, as it both examines love in all its shape-shifting forms and reminds of the need for authenticity in a culture that promotes posturing and materialism. Perhaps this newest adaptation will inspire audiences once again with a heartrending portrayal of what it means to become yourself. —ML
Avril Lavigne is Back!
After a 5 year music hiatus, the pop-rock star is back, although her new Christian single, "Head Above Water," will sound a little different to fans of "Sk8er Boi" or "Girlfriend." A bit unconventional for the singer-songwriter, Avril hinted last year that she is "going back to her roots" with this new album, explaining that "I got my start in church and at country fairs when I was a young child, and I think those earlier influences are definitely coming out now."
She released the music video on her 34th birthday on September 27th, and while the singer is using this new song to tease her upcoming album, she is also using it to shed light on Lyme disease, the disease that has kept her out of the spotlight (and largely in bed) for the past 4 years. The end of her video even directs fans to visit The Avril Lavigne Foundation, which "supports individuals with Lyme disease, serious illnesses and disabilities."
In a letter posted on her website, Avril shares with her fans how this song was born one night when she truly believed she was dying, and how this experience resulted in a new spiritual direction for the superstar. "One night, I thought I was dying, and I had accepted that I was going to die. My mom laid with me in bed and held me. I felt like I was drowning. Under my breath, I prayed 'God, please help to keep my head above the water.' In that moment, the songwriting of this album began. It was like I tapped into something. It was a very spiritual experience. Lyrics flooded through me from that point on." We look forward to hearing the rest of her new album. —Madeleine Coyne
A Star Is Born Brings It to the Box Office
This past weekend, the fourth remake of A Star is Born, starring Lady Gaga and Bradley Cooper was released. An immediate box office hit, the movie initially brought in $41.3 million, and is destined to bring in more following rave reviews, particularly about Lady Gaga's debut performance. This story has been remade four times since the 1930s; read our coverage this week of how each version has brought something unique to the table. —GP
Katy Perry's Taking a Break
USA Today reports this week that Katy Perry is taking a step back from music to focus on her "spiritual and emotional side." "I've been on the road for, like, 10 years, so I'm just going to chill. I'm not going to go straight into making another record," she said. "I've been trying to find the balance and not overindulging, just trying to stay grounded." Very #worldmentalhealthday of her! We couldn't agree more with such priorities, and for someone who has accomplished so much, she certainly has earned a break. —MRS
Image courtesy of Flickr Creative Commons 2.0