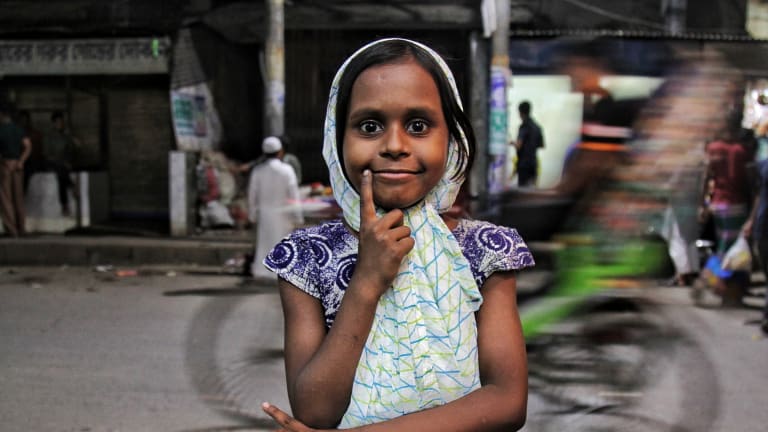 Nepal Bans Online Pornography, and Other Notes from the Week
Catch up on all the news you might have missed with our handy summary of the week's top stories.
We're pleased to bring you "While You Were Out"—the Verily editors' quick takes on the happenings of this week.
More Details Emerge on Journalist's Murder in a Saudi Consulate
Media outlets have been buzzing wildly this week with news updates concerning the mysterious murder of Jamal Khashoggi, one the Arab world's leading journalists and a vocal critic of the Saudi Arabian government. His gruesome death in a Saudi Consulate has sparked widespread outrage as well as questions of to how the United States should respond, given that his murder occurred inside a Saudi Consulate.
The exact how and why behind Khashoggi's killing is still being uncovered, the whole world watching as new pieces of the puzzle fit into place. What is known for certain is that on October 2, Khashoggi entered the Saudi Consulate in Istanbul, Turkey, never to reemerge. The next day Saudi Crown Prince Mohammed bin Salman told the media that Khashoggi had, in fact, left the Consulate within an hour of arriving. Turkish Officials began investigating the case and soon reported that the journalist was indeed killed at the Consulate. The Saudi government denied the factuality of this claim, sparking an extended public argument between the countries as Turkish officials continued to uncover new evidence and the Saudi administration continued to adamantly deny its validity. As of last week, Saudi Arabia's public prosecutor finally admitted that the killing did occur and added that 18 Saudi nationals were being detained in connection with it. The Crown Prince deemed the murder a "heinous crime." Then, this Wednesday new intelligence emerged indicating that Khashoggi's murder was not only horrifically executed (his body parts reportedly found) but premeditated as well.
Now even more pressing questions looms over those appalled by the Consulate's flagrant disregard for human rights: Why was Khashoggi murdered? Why did Saudi officials initially lie in an attempted cover-up? And, on a related note, How will the President of the United States respond, given that Saudi Arabia has long been an ally, even joining the USA in opposition to Iran? Officials are working to discover more about the murder and, one hopes, with some time, both the truth and some sort of justice for Khashoggi will both be realized. —Mariel Lindsay
In Response to Sexual Violence, Nepal Bans Online Pornography
Nepal's Ministry of Communication and Information Technology has banned online pornography, as a response to the nation's recent swell of sexual violence against girls and young women. The rate of sexual assault has risen 60 percent over the last five years, with some particularly heinous crimes—rape, murder, acid attacks—being reported earlier this year. In demonstrations in the streets, people accused police of cover-ups and tampering with evidence to protect suspects.
Many view the ban as ineffective and a diversion from more potentially useful measures that would properly prosecute attackers. A similar ban in India lasted only a week before opposition demanded it be relaxed due to violations of free speech elements of the Indian Constitution. A previous ban was also instituted in Nepal in 2010, but was relaxed shortly thereafter. This time, internet service providers that do not comply will be subject to fines and prison time.
Critics say enforcing the ban will be impossible, and some question whether there is a connection between pornography and the increase in violence. Research has shown that there definitely is a link between the two. Making it at least more difficult to access porn raises awareness, but is by no means a complete solution to a multi-faceted problem. The people are rightfully calling for more intentional action, and we hope the government will respond. —Lindsay Schlegel
Sandra Day O'Connor Announced Dementia Diagnosis
Former Supreme Court Justice, Sandra Day O'Connor, announced Tuesday that she has been diagnosed with Dementia. O'Connor became the first female Supreme Court Justice in 1981 and retired in 2006. In a letter released to the public, O'Connor said that she was diagnosed with dementia sometime ago, and has decided to withdraw from public life. She said that she had devoted her retirement to help young people engage in political and social issues in the United States, and that she now looks forward to seeing others take up the cause.
"While the final chapter of my life with dementia may be trying, nothing has diminished my gratitude and deep appreciation for the countless blessings in my life," O'Connor said. "How fortunate I feel to be an American and to have been presented with the remarkable opportunities available to the citizens of our country. As a young cowgirl from the Arizona desert, I never could have imagined that one day I would become the first woman justice on the U.S. Supreme Court."
O'Connor pioneered the way for women who sought positions previously closed off to them. Now she offers an example of grace and honesty. —Gabriella Patti
An Inspiring "Silobration" Makes Dreams Come True
HGTV's Fixer Upper may have ended earlier this year, but Chip and Joanna Gaines are still very much active and giving back to their fans and fellow entrepreneurs (not to mention welcoming a new baby to the family and releasing a new design book). This past weekend, thousands of people gathered at the couple's Magnolia Market and Silos in Waco, Texas, for the fourth annual Silobration. This three-day event commemorated the store's anniversary with events and opportunities not just for fans of Magnolia, but for aspiring entrepreneurs as well. Over a hundred small businesses from around the country came to Texas to set up their booths for the Vendor Fair. In addition, Chip announced the winners of his extremely popular Chipstarter 2.0 competition (and flew them in for it) to help jumpstart their business ideas or otherwise make their dreams come true.
Joanna shared a very uplifting and inspiring message on her Instagram profile on the first day of the event, stating: "After walking through the vendor fair last night, I started thinking about all of the courage and creativity that's lining the streets for #silobration this weekend. I don't know all of your stories but what I do know is that when you started your businesses, you stepped out of your comfort zone and left "safe" to do something you love and are passionate about. That's a big risk and a hard leap to take. But you did it and now the world is a more beautiful place because of it. Thank you for sharing your gifts and talents with us!"
With rising numbers of entrepreneurs and small businesses this year, it's safe to say that a little motivation from one of our favorite entrepreneur couples is most welcome! —Madeleine Coyne
Red Sox Take the Lead in Opening Games of the World Series
This week saw the Boston Red Sox win the first two games of the World Series over the Los Angeles Dodgers. Some may not take this to be much of a surprise, considering the Red Sox were arguably the best team in the MLB during the regular season, with 108 wins. It took a little more for the Dodgers to make it to the top, but their eyes are certainly trained on victory. Just last year, the west coast team made it to the Fall Classic, but lost to the Houston Astros, 4 games to 3.
Despite the Red Sox and the Dodgers winning their league championships 17 and 19 times, respectively, the 2018 meeting is only the second time the two franchises have met for the World Series. The last time was in 1916, and featured Babe Ruth, though he wasn't yet the baseball icon that he is today. The Red Sox won that contest, four games to one.
Game Three will be played tonight in Los Angeles. While it takes four wins to earn a ring, the Dodgers need to win tonight if they don't want to risk history repeating itself. Not only have the Red Sox have won 14 of their last 16 World Series games, but no team has ever come back from a 3-0 game deficit. With the next three games at home for the Dodgers, perhaps it won't get to that. Either way, the stakes will be high when the ump cries, "Play ball!" —LS
Glamour Highlights the Women of This Is Us
Glamour magazine's November cover features the women of This is Us. The NBC hit drama, through flashbacks and scene swaps, tells the story of a couple and their three children as they carry both their dysfunction and their love for each other into adulthood. Part of what makes the show great are its leading ladies, played by Mandy Moore, Chrissy Metz, and Susan Kelechi Watson, whose characters have wrestled with motherhood, loss in childbirth, self image, and expressing vulnerability with those they love.
The show, which is now on season three, isn't afraid to address difficult topics, and neither are its female stars. According to their Glamour profiles, Moore, Metz, and Kelechi have a lot in common with the women they play on screen. Moore worries about being stereotyped as a "girl next door," Metz has struggled with and overcome body-image issues, and Kelechi is just as strong and tenacious as her character, Beth Pearson. Whether these ladies are facing family issues or creative challenges, here are some more reasons why This is Us has inspired us—and we'll be tuning in to the rest of season three. —Madeline Fry
Taylor Swift's Gift to Utah Family in Need Inspires Others to Help
Singer-songwriter Taylor Swift donated $15,500 to a worthy cause after seeing a tweet from one of her fans. Nineteen-year-old Sadie Bartell of Orem, Utah had posted on Twitter about her mother's illness in conjunction with a GoFundMe account she had also created. Her mother has been in a coma for the past three years due to a bleeding ulcer that culminated in severe brain damage. Sadie's father has been unable to work as he is constantly with his ailing wife so the financial responsibility had fallen primarily to Sadie and her siblings. Now, due to endlessly mounting medical bills, the whole family feared losing their home and Sadie was reaching out to friends in a desperate plea for help.
Then, this past weekend, Sadie received a shocking donation from none other than Taylor Swift, who had chanced upon her fan's heartrending tweet. (Sadie had in fact specifically mentioned Taylor in her plea when she wrote that her mother fell into the coma only two days before Sadie attended the singer's 1989 tour.) Taylor donated over $15,000 to the GoFundMe account and sent her "love" in a brief but touching message. And although such a sum of money may not seem like much to the singer whose net worth is estimated at $320 million, she certainly knows how to put her income to good use. Her actions are a reminder that those in powerful positions are capable of transforming the lives of those less fortunate.
Whatever one's opinion of Swift's music or public image, she exhibited impressive grace and compassion by taking the time to consider a fan's tragic situation and then actively help a family in great need. The world could certainly use more of such gestures, and, for one family in particular, she has provided a reminder that miracles are real. —ML