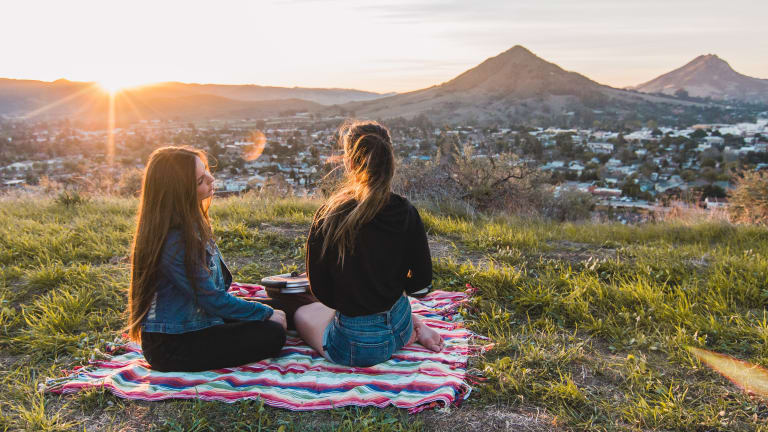 10 Enriching Ways to Bond with Your Girlfriends—Besides Happy Hour
Sometimes we all need a change in routine.
The busier we become, the more we need to lean on our friends. Not only does friendship boost our happiness, it also reduces our stress levels. Furthermore, research suggests that strong friendships lead to better health, from lower blood pressure to increased longevity.
But as we approach our late twenties and thirties, quality time with our friends is harder and harder to come by. Burgeoning careers, growing families, and numerous other obligations pose increasing demands on our time, and we need to work hard at tending our relationships in order to keep them alive.
So is it any surprise that when we do finally make plans, we often turn to the familiarity and habit of a standard happy hour at our favorite local watering hole?
While this is innocent enough, it's tempting to use these types of meetups as a crutch, rarely considering other options to have fun, connect, and bond with our people. Not only is there a universe of fun options that go beyond a Thursday night happy hour, but many of these activities may also work better for people in different walks of life, with different budgetary restraints, interests, lifestyles, and needs.
Whether it's a Friday night in with classic movies or a family-friendly backyard cookout, expanding our horizons beyond the bar can enrich our adult friendships tremendously. If you are feeling stuck, here are ten happy hour alternatives to get you started.
01. Host a game night. 
Invite a few friends over and ask them each to bring two board games. Prepare some appetizers, gather around the coffee table, and teach one another your favorites. Game nights are a fantastic way to integrate groups of old and new friends—and relationships that start with lighthearted banter over Monopoly may eventually morph into much deeper, lasting friendships.
02. Organize a progressive dinner. 
Enlist a few friends to share in hosting a multi-course meal, from salad to desserts—each one served at a different person's house or apartment. This is a fun way to take a peek at each other's homes, while also sharing the burden of preparing a full meal.
03. Plan a backyard barbecue. 
Unfold some lawn chairs and card tables and break out disposable tablecloths, seasonal centerpieces, and paper plates. Grill burgers, chicken, and vegetables and set up yard games. Invite several of your friends and their families to join in the fun. If a number of your friends have young children, this is a fantastic way to let them know that you love and embrace their entire family, rather than only seeking out "grown-up time."
04. Host a clothing swap party. 
Invite your friends to scour their closets for new or gently-used clothes that they no longer wear. Set up racks in your living room to create a makeshift boutique, and invite your friends to come over to "shop" each other's collections. Not only is this a fun excuse to get together, but it will also serve the dual purpose of purging old items while finding new and unexpected treasures from your friends' closets.
05. Throw a themed potluck brunch. 
The theme can be a particular holiday or season, or it can simply be the "theme" of friendship and an excuse to get together! Ask each guest to bring an on-theme dish and have fun taste-testing one another's favorite recipes. The best part of this type of event is that it can easily become a monthly tradition.
06. Cheer on a local team. 
Look up your town or city's various sporting teams and spend a Friday night cheering them on. Alternatively, throw it back by stopping by your alma mater to tailgate and watch football. This is a unique way to bond and catch up with your friends while showing some local spirit.
07. Launch an unofficial book club. 
If there is a particular book that has spoken to you lately, invite your friends to buy a copy and read it together. Meet once a month at a coffee shop or someone's house to discuss the book. If the characters or the plot of the book inspire your group to talk about your own lives, even better!
08. Enjoy a classic movie night. 
Offer up your couch for a movie night. Bring out some classics, and use the money you would have spent on movie tickets to splurge on wine, cheese, and chocolate. This is a budget-friendly way to kick back after a long week and introduce one another to your lifelong favorites. A few classic options include: Roman Holiday, An Affair to Remember, It's a Wonderful Life, To Kill a Mockingbird, and Casablanca. If you'd like to give it a spooky vibe, try out a classic Hitchcock film like Rear Window.
09. Plan a day trip. 
Locate a spot within a few hours of your town and plan a day trip. Depending on where you live, this can involve a beach or lake day, a mountain hike, or a sojourn to a historic site or a small town. No matter what you choose, taking a small trip with your friends will give you ample opportunity to talk, experience new places, and broaden your horizons together.
10. Track local festivals. 
Glean the same benefits as a day trip or vacation, but keep it local: Many towns host local culinary or cultural events like a wine and cheese party, an international food festival, a parade of homes, or a pop-up farmers market. The fall is prime time for these types of gatherings, with the advent of seasonal vegetables and the flurry of excitement over the upcoming holidays. Follow your town or city on Instagram to stay up-to-date on upcoming events.
Finding time to nurture our friendships is a challenging but worthwhile endeavor, as investing in relationships will expand our lives and hearts beyond measure. The next time you are tempted to phone it in and grab a quick cocktail, scan this list, gather your favorite people, and enjoy experiencing life together.