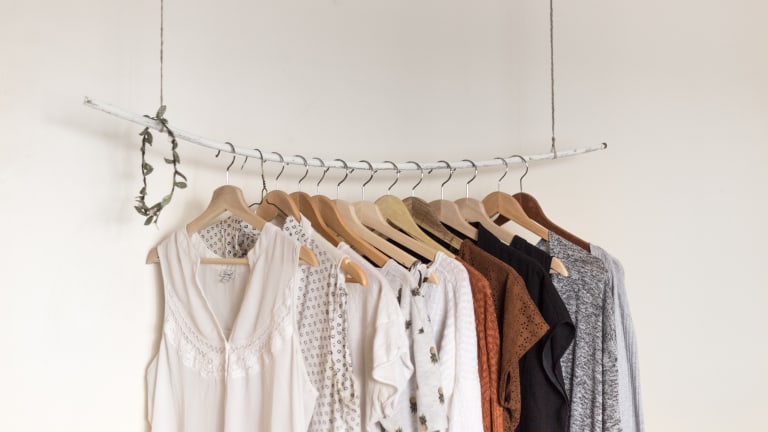 Recycling Unwanted Clothes and Getting Paid
Cleaning out and taking care of the environment
Does it take you more than thirty minutes to get dressed every morning because you have to dig through so many clothes to find one item? Is there a bag of unworn clothes sitting in your closet for when you finally have time to make that trip to Goodwill? Are you "saving" certain items you don't actually like, hoping the right occasion will arrive when you'll change your mind and wear it? If your answer to any of these questions is "yes," you may be dealing with closet overwhelm, a classic condition of being burdened with too many unwanted clothes.
Sometimes we just don't have time to deal with the clutter, right? And when we do, there has to be a better way to deal with unwanted clothing, than dumping it in landfills or handing it over to often overflowing donation centers. Thanks to a 2016 Newsweek article, we now know that Americans on average toss out at least 80 pounds of clothing per person each year; essentially that's 26 billion pounds of clothes dumped into landfills yearly.
Yikes. Putting fashion first should not mean we have to put the environment second, you know?
My solution: recycling and getting paid.
As a wardrobe stylist, I always educate my clients, family, and friends that the best options when it comes to managing unwanted clothing are to recycle and sell. Not one or the other, but both because each have built-in incentives, which I'll explain more in detail. But essentially, I advise people dealing with closet overwhelm to make two piles of clothes when going through a closet purge.
Pile 1 contains items for recycling Items that are stained, damaged, and from lesser-known or no-name brands should always be recycled, not given away.
Pile 2 is for items to be sold. Items that are still in great shape, still have tags, and are from a well-known brand should always be sold.
Why do I this?
Recycling
First, most people don't know this but up to 95 percent of textile fibers from damaged or stained clothing have enough tensile strength to be up-cycled into fabric for new clothes, or down-cycled into a fabric that can be used for things like housing insulation. So why not just recycle it instead of putting it in the trash? The ugly sweater your grandmother gave you three Christmases ago could help keep a family's house warm in the winter or become this season's off-the-shoulder sweater.
To make all of our lives easier several well-known retailers have established "in-house" recycling programs where all you have to do is drop your bags off and walk out with coupons for your next visit. Some of these retailers' programs are in their genesis stages, so they're not perfect, but they're a huge step in the right direction for responsible, sustainable fashion. If you're headed to the mall this weekend, take a bag of your old clothes to one of these retailers below.
Recommendations for Recycling: 
Selling
Second, anything that you own that is essentially still in good condition or still has a tag on it could be someone else's treasure! A great incentive for cleaning out your closet is to make some extra cash. Whether you choose an online retailer or a brick and mortar location, there are plenty of places to sell your clothes depending on how much effort you want to put in.
01. Buffalo Exchange
If you are short on time and just spent three hours purging your closet (and your other closet) you may want to haul a bag to vintage shops like Buffalo Exchange. You can find a location near you here. The process is simple: Bring your bags in, and they will sort through your items. Any items they think they can resell they will buy from you at a percentage of the price they plan to sell it for, paying you either in store credit or cash. If you take the store credit, you'll be paid 50 percent of the price they plan to sell the item for. If you decline their store credit and ask for cash, the cash payout is 30 percent of their resale price. But it is cash-in-hand that day. If there isn't a location near you, Buffalo Exchange has just launched a sell-by-mail option! Minimal effort and a payout.
02. Tradesy or LePrix
Feeling crafty, got a bit more time on your hands? I recommend using online resale marketplaces, I am currently using Poshmark, but there's also Tradesy and LePrix—for more luxury items. I like Poshmark because once you download the app, setting up a seller profile is fast and easy. When the item you posted sells, the buyer pays to ship, and Poshmark gives you a mailing label. All you really need is a box or large envelope for your items.
While clothing resale sites are rapidly growing in popularity, the idea of selling stuff online can be time-consuming. Plus, you may not get a payout immediately, however you will get more bang for your buck than a same-day thrift store.
03. ThredUp, Poshmark, and The Real Real
For selling recognizable items from well-known brands, I recommend ThredUp. You can sign up online, and they will mail you a bag. Toss all your items into the bag and they will decide how much each item is worth and send you payment. The Real Real works similarly, but is better for high-end, designer brands like Chanel or Louis Vuitton.
04. Instagram and Venmo/PayPal
Now, if you're really short on time, take a photo of your items, and make a carousel to post on your Instagram. State how much each item costs in your post. You can always put a Venmo or PayPal link in your bio and direct folks to pay you there. Think of this as a kind of virtual garage sale, a great option for your local network of friends and family that follow you on socials.