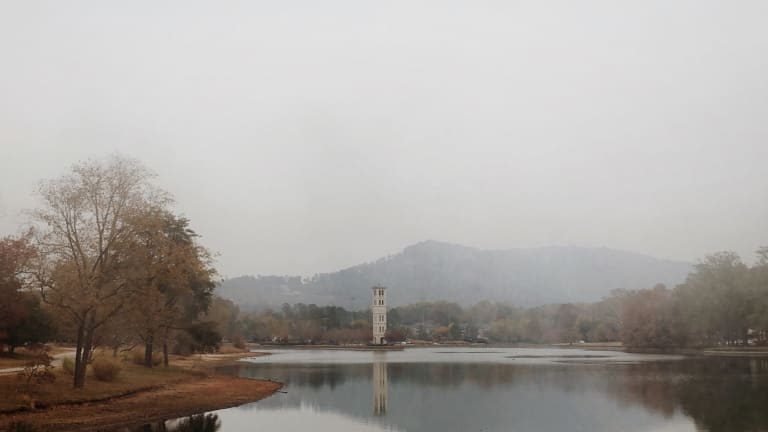 Travel With a Local: Greenville, South Carolina
A weekend of adventures for the lovers of the outdoors
Destination: Greenville, South Carolina
Tour Guide: Kristina Hernandez
Why you should visit
Greenville, South Carolina has been ranked by numerous travel magazines as one of the best cities to live and visit. I could not agree more.
It's full of Southern charm, fantastic food fresh from local farms, and a killer downtown that features a huge waterfall and gorgeous suspension bridge. The family-friendly atmosphere is wonderful for kids both little and big. For outdoor lovers especially, the hiking trails, kayaking, and camping are second to none (OK, maybe to the Grand Canyon).
Where you should stay
1 Logan Street, Greenville, SC 29601
This bed and breakfast offers charm and comfort at two locations.
The Greenville location (Logan Street) is walkable to restaurants and shops in the downtown.
The Travelers Rest location is in a charming mountain town ten miles outside Greenville and located right across the street from the popular Swamp Rabbit Trail, a 20+ mile bike trail to Greenville.
You can rent bikes or walk to all the great restaurants close to either location.
The Embassy Suites at Riverplace
250 Riverplace, Greenville, South Carolina 29601
A wonderful option that puts you right in the middle of Greenville's downtown and overlooks Falls Park.
Where should you eat?
The At the Chef's Table Culinary Tour
Try the best of everything in Greenville! Take a walking tour of five restaurants in downtown Greenville (including the below-mentioned Soby's) and receive a history lesson in between each stop. Dishes are specially made by each chef and a drink is included.
205 Cedar Lane Rd, Greenville, SC 29611
This is an amazing small business that sources all their goods from local farms and artists. They have incredible baked bread and pastries, cooking classes, and events that bring the community together. Parents, take note that you can sit outside with your coffee and snacks while the kids play in the enclosed play area.
207 S Main St, Greenville, SC 29601
A staple in downtown Greenville with shrimp and grits to die for. They boast that they are "one of the city's best, most iconic and beloved restaurants," and they're right.
860 S Church St, Greenville, SC 29601
A healthy alternative to unhealthy fast food. They source 80 percent of ingredients from local farms and just introduced a "no kill" menu with vegan options.
Where you should get coffee
531 South Main Street, Greenville, SC 29601
This coffee house and creamery is located right next to the Liberty Bridge downtown. They serve coffee as well as ice cream in waffle cones made right in front of the customer.
101 N Main St, Greenville, SC 29601
A hipster coffee shop with unique brews. Don't let the term hipster scare you off—they're so nice and not pretentious at all!
110 S Main Street, Simpsonville, SC 29681
This cute little coffee shop in nearby Simpsonville gives a cozy vibe with exposed brick walls, where they not only serve the best lavender latte in town but make amazing crepes for the enjoyment of their patrons. If those options are not enticing enough to visit, they donate a portion of proceeds to local foster care and adoption agencies.
What sites should you see?
Falls Park is the epicenter of Greenville where the Liberty Bridge stretches over enormous waterfalls. The paved trails weave through the picturesque gardens and lead to a shopping lover's dream on Main Street, which is lined with restaurants, shops, and art galleries.
The Peace Center is the cultural hub for Greenville, known for its live theatre shows and stunning architecture that mixes modern design with history. Whether it's a musical, play, or concert, you're sure to find something fun to see while you're in town.
For more stunning outdoor experiences within an hour of Greenville, visit Lake Jocassee at Devil's Fork State Park, where you can hike, kayak, swim, and camp. For views of the mountains that stretch for miles, head to Caesars Head State Park or hike the seven mile round trip to the top of iconic Table Rock.
Depending on when you plan your visit, Greenville is likely to be hosting an amazing festival. There's Artisphere (May 10–12, 2019), Fall for Greenville (October 2019), and Euphoria (September 19–22, 2019) to name a few. If you can come for any or all of these, it would be a trip well worth it.