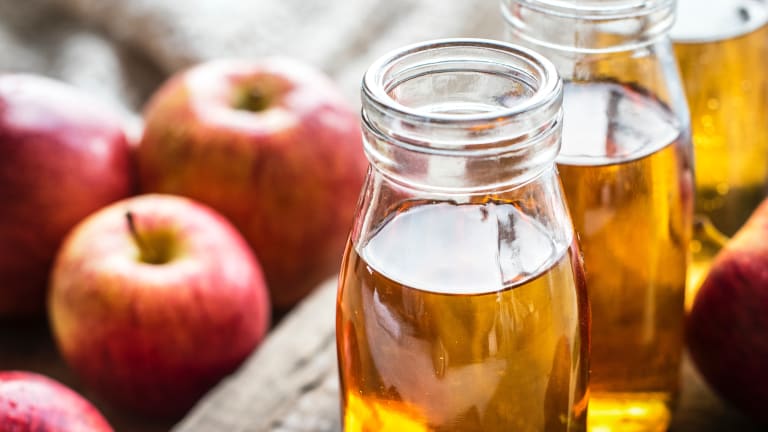 Don't Leave Trader Joe's Without These 9 Cozy Fall Foods
9 comfort foods to consider on your next trip to TJ's.
Trader Joe's is a class act. You won't find pumpkins in July or Christmas cookies in October. Instead, the shelves are slowly stocked with specialty items just as the seasons are about to turn.
I mean, cozying up under a blanket with a favorite book is an autumn dream. But doesn't it sound even better with a mug of warm tea and a side of crispy Hot Cocoa Dunkers studded with chocolate chunks and marshmallow bits?
Since the company often works with smaller producers (think artisan or family-owned), many seasonal items are made in limited quantities. If you spot these nine comfort foods at your nearest store, grab them before they're gone.
These sugary cinnamon-y morsels are made by a family-owned bakery in Massachusetts with...wait for it...real apple cider that results in a super fluffy (read: delicious) texture. ($3.99)
This isn't just any old apple pie. Inside the flakey crust, you'll find golden apples enveloped in caramel sauce made from scratch—just like grandma's. ($6.99)
Six single servings of chocolate cake topped with chocolate mousse and dipped in Belgian chocolate for under $3? Treat yourself, lady. ($2.99)
Trade in your green juice for a cider so fresh it tastes like it was just squeezed off the apple tree. ($1.99)
To satisfy those pumpkin spice latte cravings at a fraction of the café price, pick up a box of 12 Keurig-ready pumpkin spice coffee cups. At 41.5¢ a cup, that's a cool weather indulgence we can get behind. ($4.99)
Fill a grilled cheese sandwich with this creamy, buttery goodness made by Trappist monks in a Belgian abbey since 1876 with all the profits donated to charity. This may sound cheesy, but isn't that grate? ($12.99 per pound)
With its three cheeses, a classic bechamel sauce, and butternut squash, it's no surprise TJ's ran out of this seasonal mac and cheese fast last fall. Lest history repeat itself, grab a few boxes from the freezer aisle to last you until winter. ($2.99)
Brisk weather calls for a warm bowl of soup so comforting it will melt your insides. This creamy bisque is filled with veggies from the fall harvest—squash, pumpkin, and tomato. ($3.99)
If a big bowl of chili topped with melty cheese is more your style, this vegetarian one made with butternut squash, sweet potatoes, and smoky spices ought to make a regular appearance in your microwave. ($4.49)