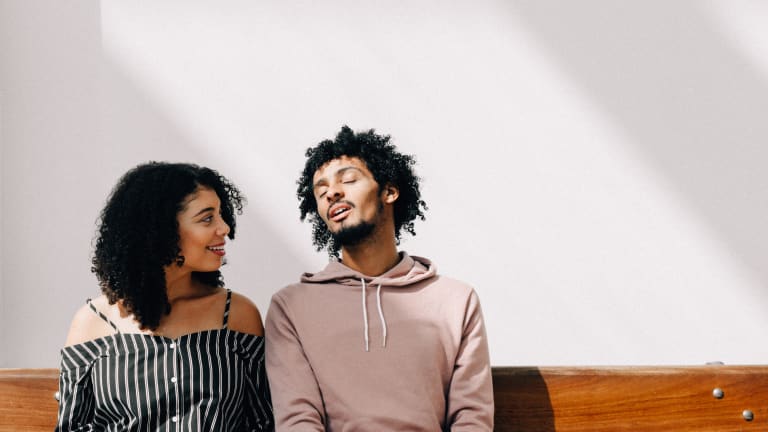 What I Wish I Asked Before Getting Back Together With My Ex
Breaking up (twice) is hard to do.
My phone lit up. It was a text from Ben.
"It was great to see you tonight. I liked your dress."
I smiled and picked up my phone. Then I paused. Wait. Think through this. Do you really want to encourage him? Whatever, it's just a text.
I typed, "It was great to see you, too." Hmm, maybe I should add more. An exclamation point works—an emoji would be too much. "It was great to see you, too!" Send.
And so began our getting-back-together story.
That night we were at a party with a lot of our mutual friends, one of the few times we'd seen each other since breaking up about six months earlier. I was eyeing him the whole night—trying not to be obvious—as he socialized and chatted with other girls. This was the fun side of him that first drew me in and that I missed.
We exchanged some brief banter throughout the night. His flirtiness surprised me. I broke up with him; so I was nervous about awkward moments or resentful vibes. But this was the friendliest he'd been toward me since our breakup. I felt my guard start to go down and my feelings for Ben start to flare up again.
At the time, I believed I had made the right decision to stop dating him, but I can't deny that I had plenty of doubts—not just under the party lights. Part of me even hoped he would be there. It was much harder to ignore my lingering feelings when he was right in front of me, being so charming. I caught myself imagining the 2.0 version of us.
That night I also learned some big news. Ben told me that he had got the dream job he had been pursuing whenwe were dating. I was impressed. His job stability and ambition was one of the biggest insecurities for him and hesitations for me in our relationship. I took it as a sign. Maybe this was the reason why we needed some time apart!
I was convinced. I would give it another try.
Spoiler alert: We broke up again.
Looking back, I realize I overlooked some fundamental things about our compatibility. While every situation is different, if you're thinking about getting back together with an ex, it's worth really taking your time to think about why. I wished I had spent more time rationally reflecting. Asking these questions would have saved both me and Ben from hurt.
Why did you break up?
Think about the reasons why you broke up. Maybe it was a mutual breakup, or maybe it was initiated by him or you. However your relationship ended, start by remembering why. This might even be the only question you need to ask to make the right choice.
It will force you to reflect on your relationship as a whole—not just the smooth parts like I did. Do you miss everything about your relationship, conflicts and all? Or just the good stuff? If the reasons weren't clear or you never got closure, that's also an indication of future potential.
With Ben, I pushed away any negative or questionable realities hoping to rekindle our chemistry. But I was quickly reminded of them as the same communication patterns and core compatibility issues that led to our breakup happened all over again.
Has anything changed to make you more compatible?
This question is critical. There are so many things that influence compatibility, and it's different for every person and couple. Unless you broke up over something trivial, there was likely a deep-rooted cause that made it not work out the first time.
In my situation, the change I relied on did not relate to our emotional or intellectual compatibility as a couple, but rather the similarity of our personal careers. I was rightfully impressed by Ben's success, but I put too much emphasis on it when there was much more to consider.
Are you longing for companionship, not him?
It's natural to long for a romantic connection—and miss it when you're single. Try not to put a specific face or name to this desire. I did miss Ben's friendship, but later it was clear that these feelings weren't just about him.
Getting back together temporarily filled this void, although it didn't last. I applied my longing for a lifelong companion to Ben instead of recognizing its innateness to my being. I wanted a relationship, not our relationship.
Did you talk it out together?
Ben and I did talk about what we'd do differently, but we danced around our past problems. I was nervous about communicating my real concerns since I really wanted it to work. Together we concluded that we didn't take the time to work through our conflicts, while it was actually about the nature of the conflicts. Time wouldn't make a difference.
For a while it seemed to be the start of a new-and-improved relationship. Yet if we were both honest with each other (and ourselves) upfront, I'm sure we would have come to a different conclusion.
Are you taking it slow?
If you discern to start dating again, don't rush back into it. You have history, so it will be easy to slip into previous levels of intimacy. Treat it as a new relationship. Set specific boundaries for the time you spend together. Ben and I picked up right where we left off, confusing our emotions.
Again, this isn't a PSA against dating an ex. I know some on-and-off couples who are now in secure relationships and happy marriages. If you're meant to be together, it will happen. In my case, however, I never asked any of these questions. I went along with my emotions without enough reflection. The result was heartbreak—again—for me and for him. So, a word to the wise, protect your heart, and his heart, with just the right amount of caution.
The author and her ex's names have been changed to respect their relationship while still sharing the real-life lessons learned. Submit your own Dating Unscripted story here.